President Obama's Approval Rating Is the Highest in Years
A post-election survey has good news for the outgoing commander in chief—and suggests Republicans are optimistic about a GOP takeover of Washington.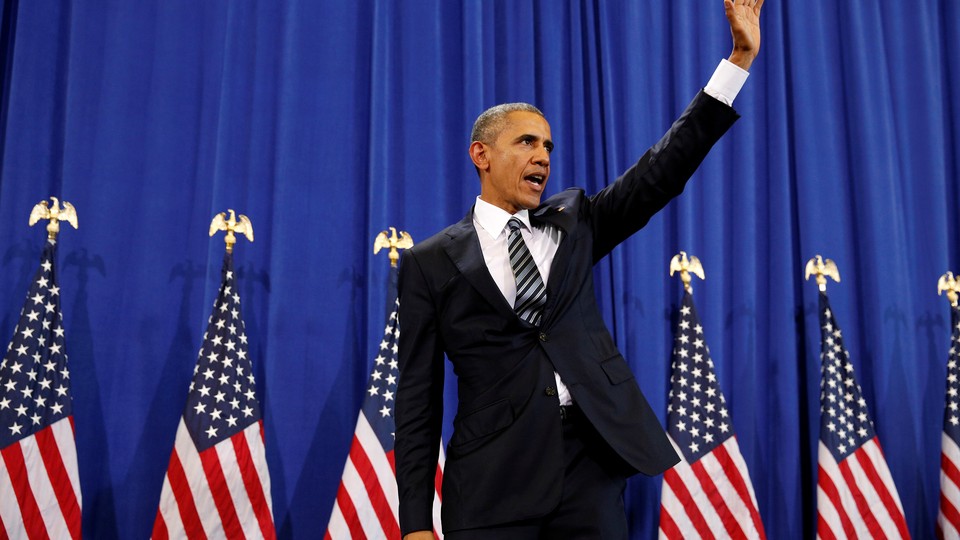 President Obama is leaving office on a high point, though that may be cold comfort as his successor Donald Trump prepares to dismantle major components of his agenda at home and abroad.
In the latest Allstate/Atlantic Media Heartland Monitor Poll, 56 percent of adults said they approved of Obama's job performance, an increase of five percentage points just since June and his highest rating in the survey since July 2009. Fully 37 percent of adults said they strongly approved of Obama's performance—a showing he exceeded on that measure only in the very first Heartland poll in April 2009.
The latest Heartland Monitor Poll is the 27th in a series examining how Americans are adapting to the changing economy. The new survey focuses on reactions to the 2016 election and the public's priorities and expectations for the new administration and Congress. The Atlantic has been reporting results from the survey over the past week.
An uptick in optimism rippled through several measures in the poll. On some fronts, like Obama's approval rating, that brightening reflects a steady gain evident over a period of months. Most notable is the continued improvement in the way adults assess their own financial situation. In Heartland surveys from September 2013 through September 2015, the share of adults who described their financial situation as "excellent" or "good" varied only between 42 percent and 44 percent. But that number ticked up to 45 percent in January, hit 49 percent in June, and reached 51 percent in the latest survey. That's the first time a majority of Americans have ever described their finances in positive terms in Heartland surveys dating back to April 2009.
That long-term trajectory doesn't appear to have been significantly affected by the election result: The share of Republicans who described their finances as "excellent" or "good" in the new poll was slightly lower than it was last June, while the number improved most since then for Independents.
But other important measures show a clear Trump effect, with expectations soaring among Republicans and sagging among Democrats. That partisan repositioning, which is common in the immediate aftermath of presidential elections, is most conspicuously apparent in the sharp rise in adults feeling positive about the country's direction. In the latest poll, 36 percent of adults say the United States is headed in the right direction, a big increase from 22 percent in June and the highest number during Obama's second term. (Though, notably, that is still below the 41 percent who described the country as moving in the right direction in the survey immediately after Obama's 2012 reelection.)
These gains reflect a powerful partisan reversal. In the most recent Heartland Monitor Poll last June, 40 percent of Democrats described the country as moving on the right track; that skidded to just 18 percent now. The share of Republicans convinced it's on the right track, meanwhile, soared from 11 percent in June to 61 percent now. And the number among Independents improved as well, doubling from an anemic 17 percent in June to a still-modest 34 percent. Likewise, while just under one-fourth of non-white adults in the new poll describe the country as headed the right way—essentially unchanged from June—the share of college-educated whites feeling positive about the nation's direction bumped from 28 percent to 42 percent. Whites without a college education, Trump's core constituency from the outset, recorded even greater gains, from 15 percent in June to 42 percent now. Those blue-collar whites haven't expressed nearly as much optimism about the country's direction at any point since the very first Heartland Monitor Poll nearly eight years ago. The share of whites older than 50 who say the country is on the right track also more than doubled since June.
A very similar dynamic is visible in the dramatic rise, from 22 percent in June to 39 percent now, in the share of adults who expect the national economy to improve over the coming year. That's the highest level since immediately after Obama's reelection—though, as with the right-track number, the new measurement fell just below the 44 percent reached then. Since the June survey, the share of Democrats expecting better times ahead slipped from 31 percent to just 14 percent. But now 40 percent of Independents are anticipating gains—up substantially from 18 percent in June—and Republican optimism has skyrocketed: from 20 percent in June to 72 percent now.
Other questions showed much more modest change. The percentage of adults who expect improvement over the next year in their personal financial situation—as opposed to the national economy—only edged up from 39 percent in June to 43 percent now; 44 percent still expect no change, while 10 percent anticipate they will lose ground. Republicans, with 56 percent currently expecting gains, are much more optimistic than Democrats or Independents.
The share of adults who describe the national economy as "excellent" or "good" improved from 21 percent in June to a still-restrained 29 percent now. Ratings for Congress saw an even more limited bump: from 13 percent approval in June to just 17 percent now.
Obama enjoyed a modest gain on another key question the Heartland Monitor has tracked since he took office. In the new survey, adults split almost exactly in thirds over his impact on their personal economic opportunities: Thirty-four percent said he had increased opportunity for people like them to get ahead, 33 percent said he had decreased their opportunities, and 30 percent said he had not affected their opportunities. That 34 percent who believe he's helped them, though still modest, is actually the highest level since two polls in the fall of 2012. This is the first time since the November 2012 survey immediately after Obama's reelection when more people said he had improved than diminished their opportunities. The share of whites (26 percent) that said Obama has helped in the new survey was the highest since November 2012, while the share of non-whites (51 percent) was the highest since May 2015. Still only about one in five whites without a college degree say Obama's agenda has improved their opportunities.
In this final grading of his presidency, Obama's approval rating touched second-term peaks across a wide array of groups. It reached 90 percent among Democrats, his best showing since November 2012; 54 percent among Independents, the highest since May 2011; 77 percent among non-whites, the best since November 2012; and 46 percent among whites—the most since July 2009. He even nudged up to 41 percent among whites without a college degree, which is his best number with them since November 2012, and 17 percent among Republicans—his highest since May 2011.
But Obama, as well as Hillary Clinton, faltered on the measure that mattered most of all. Among the poll respondents who disapproved of Obama and indicated that they voted in the presidential election, 88 percent said they backed Trump. But among the respondents who approved of Obama and indicated that they voted, just 81 percent supported Clinton. That was very similar to the results of the exit polls conducted on Election Day by a consortium of media outlets, which found that 84 percent of Obama approvers backed Clinton, while 89 percent of disapprovers supported Trump.
From that small disparity—a slight wavering in the coalition that twice elected Obama—Trump squeezed through to his narrow victory. And that victory has now positioned Trump to undo many of his predecessor's core achievements, even though Obama is heading for the exit with his strongest public approval since the very first months of his tumultuous tenure.
---
Assistant editor Leah Askarinam contributed.
The latest Allstate/Atlantic Media Heartland Monitor Poll is the 27th in a series examining how Americans are experiencing the changing economy. This poll examines the public's to-do list for Washington in the coming year, and which political leaders Americans trust most to respond to the nation's most pressing problems. It surveyed 1,000 adults by landline and cell phones from November 16 to November 21, and has a margin of error of plus or minus 3.1 percentage points. The survey was supervised by Ed Reilly, Megan McNally, and William Cullo of FTI Consulting's strategic-communications practice.