Trump Is Making Little Attempt to Reconcile the Country
His tone and temperament haven't changed since the campaign, and he's poised to enter office with historically low approval ratings.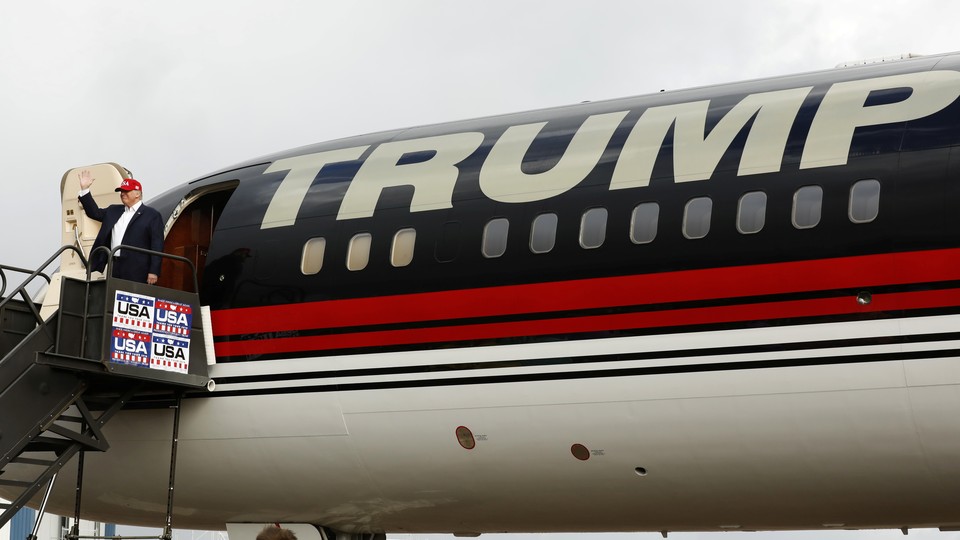 On the night in December 2000 when the U.S. Supreme Court stopped the Florida recount and effectively decided the presidential race for George W. Bush, the Texas governor delivered a nationally televised speech soon after Al Gore called him to concede.
Speaking from the stately chamber of the Texas House of Representatives, Bush seemed tentative, even nervous. But his message to a nation bitterly divided by his controversial victory was clear. "Here in a place where Democrats have the majority, Republicans and Democrats have worked together to do what is right for the people we represent," Bush said. "The spirit of cooperation I have seen in this hall is what is needed in Washington, D.C. … Our nation must rise above a house divided."
As president, Bush only imperfectly met his standard from that night. To use his own famous formulation, he governed as a "uniter" on some issues (education, immigration) but as a "divider" on others (tax cuts, the Iraq War). Yet Bush's first instinct just before taking office was to acknowledge the fragility of his position and to try to reassure voters who had resisted him.
The contrast could not be starker between Bush and Donald Trump, both of whom lost the popular vote while winning the electoral college.
Since his election, Trump has dampened his attacks on Hillary Clinton, and both he and President Obama have conscientiously adhered to a personal nonaggression pact. But through his tumultuous transition, Trump has made little attempt at national reconciliation. At his post-election rallies, he has continued to launch sweeping denunciations of the news media; he's regularly directed disparaging tweets toward voices critical of him (an Indiana union leader, Bill Clinton, the cast of Broadway's Hamilton) and belittled the intelligence community's conclusions about Russian hacking; he's made the inflammatory and unfounded accusation that "millions of people … voted illegally"; and he's claimed "a historic electoral landslide victory"—even though his electoral college margin ranked in the bottom fourth of elections to date, and even though he lost the popular vote by more votes than any winner ever. In short, in tone and temperament, the distance between Trump the president-elect and Trump the presidential candidate has been vanishingly small.
Simultaneously, Trump has appointed a Cabinet and White House staff that braid the competing factions of the Republican Party, but offer virtually no outreach to voters beyond them. His nominations for most Cabinet agencies—as well as for the Office of Management and Budget and the Environmental Protection Agency—point toward Trump launching a much more ideological crusade to retrench government than he stressed during the campaign. "He is appointing people who are ideologically conservative in a way that will sometimes run counter to what his populist and nationalist [voter] base is all about economically," veteran Democratic pollster Geoff Garin told me.
All of this helps explain why recent surveys signal Trump is on track to enter the White House facing more initial resistance in public opinion than any president since modern polling began.
In Gallup surveys tracing back to Dwight Eisenhower's first term in 1953, the lowest approval rating for an incoming president in his first post-inaugural poll was 51 percent, for both Ronald Reagan in 1981 and George H.W. Bush in 1989. The highest initial disapproval rating was 25 percent for George W. Bush in 2001, followed by 20 percent for Bill Clinton in 1993.
Despite some post-election gains, Trump likely will take office with a lower approval, and higher disapproval, rating than any of those predecessors. In recent Gallup and NBC/Wall Street Journal surveys, only about half of Americans gave him positive marks for his transition, far lower than the share for previous presidents. In Gallup's polling for Obama, George W. Bush, and Clinton, voters gave them initial job-approval ratings that were, on average, eight points lower than the ratings for their transition; if anything near that precedent holds, Trump will become the first modern president to start with less-than-majority public approval.
Trump's first moves have drawn broad support from Republican partisans. But he also seems guaranteed to start with less goodwill from voters beyond his coalition than any of his predecessors did. The share of voters from the opposite party who approve of a new president in his first Gallup Poll steadily declined from Eisenhower's 60 percent to around 50 percent for presidents from John F. Kennedy through Jimmy Carter; was 40 percent for Reagan and George H.W. Bush; and was about one-third for Clinton and George W. Bush, before reviving to around 40 percent for Obama.
Based on assessments of his transition, Trump's initial approval among Democrats probably won't reach much into double-digits—and he could also begin with less-than-majority approval from Independents, a first in Gallup surveys. And as the latest Allstate/Atlantic Media Heartland Monitor Poll found, many key elements of Trump's agenda—including prioritizing fossil-fuel production over renewable energy and rolling back federal regulatory protections—face overwhelming opposition from Americans who did not vote for him. Cutting entitlements for seniors could deeply antagonize not only his opponents, but also his base.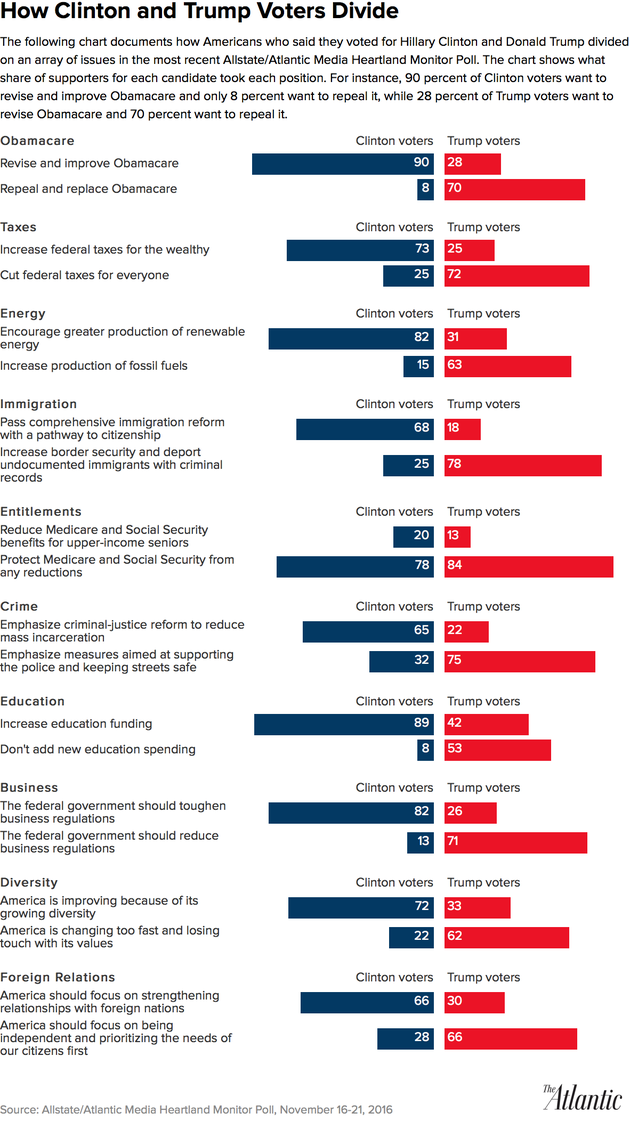 None of this guarantees Trump will fail. Presidents can solidify support even if Americans oppose many of their specific policies—or question some of their personal qualities, like temperament or mastery of policy—if they are seen as providing prosperity and security. Trump's greatest asset remains that he is viewed as embodying change while many Americans believe the political system desperately needs it. But by all indications, Trump is preparing policy change at home and abroad appropriate to a landslide mandate of support—despite facing skepticism, if not hostility, from more Americans than any recent incoming president. If anyone should recognize the risk of constructing a soaring edifice on an unsteady foundation, it ought to be a politician who began his career as a builder.