Trump's Choice of Tillerson Defies Senate Skeptics
The president-elect has nominated Exxon's CEO as secretary of state, despite the protestations of some senators.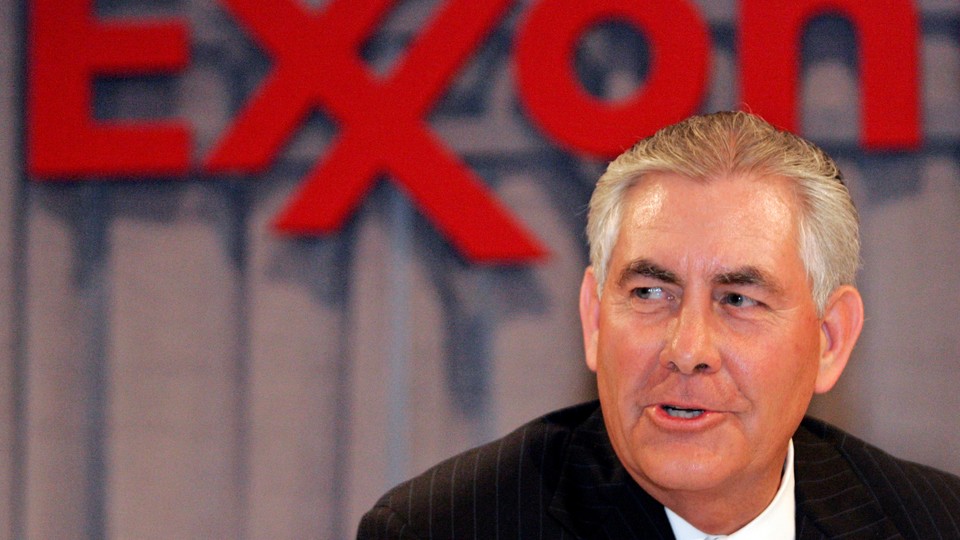 For a moment, it looked like Donald Trump might have lost heart. On Saturday, well-sourced reporters were indicating that the president-elect's appointment of Rex Tillerson as secretary of state was imminent. But then things went quiet. Trump tweeted noncommittal praise but made no announcement. Meanwhile, some leading Republicans began voicing concerns about the Exxon CEO's relationship with Russian President Vladimir Putin. Had the Saturday reports been a trial balloon that was shot down?
Apparently not. Early on Tuesday, Trump announced Tillerson as his nominee for secretary of state. The pick sets up a battle between the Trump administration and Republicans in the Senate—likely the biggest showdown so far, with ramifications that include not just the conduct of American foreign policy but also the shape of Trump's relationship with the GOP-led Congress for the foreseeable future.
Like many of Trump's picks, Tillerson has stunned observers, though not necessarily for the same reasons. He has no history of wild-eyed statements, like National Security Adviser-designate Michael Flynn, nor a declared agenda against his intended agency, like EPA Administrator-nominee Scott Pruitt, nor a self-declared inability to run a department and a total lack of experience in it, like Ben Carson, nominated to lead Housing and Urban Development. Tillerson is judged to be supremely competent, even by his harshest critics—too competent, they might say. But he also has no experience in diplomacy or government, a resume without precedent in the history of secretaries of state. (The closest analogue might be Bainbridge Colby, a close friend of Woodrow Wilson's handed the job in 1920; his appointment "ran the gamut from puzzlement to outrage," a Wilson biographer wrote, and Colby's single year in office was undistinguished.)
Like many of Trump's most interesting stances and allies, the Tillerson nomination cuts across typical coalitions and ideological lines. Many Democrats will instinctively oppose him, in part because he's a Trump pick and the head of Exxon, a liberal bogeyman. But others may back him, calculating that a successful business executive is not a soft political target. But the Senate has a rhythm of its own and can move unpredictably. Depending on how tightly Democrats whip their votes, a few Republicans defecting could sink a Tillerson nomination. And that's where things get interesting.
Tillerson has a long history of business with Russia, and in particular with the Putin regime. A lifelong Exxon employee, he managed the oil giant's Russia business before ascending to the corner office, in part on the strength of his ties in Russia. The company inked a major deal with Rosneft, the Russian state petroleum company, and it has been critical of sanctions levied on Moscow by the Obama administration, as they cost Exxon dearly. In 2013, Putin awarded Tillerson the Order of Friendship, a special if eccentric national prize.
Although Trump won the election while promising improved relations with Russia—even calling on the country to hack Hillary Clinton's emails and saying he might recognize the annexation of Crimea—many Republicans remain more hawkish on Russia, and they have expressed hesitations of varying degrees about Tillerson. To a certain extent, their concerns are amplified by the ongoing story of Russian hacking into the presidential election, which the CIA says was intended to help elect Trump. On Sunday, Senator Marco Rubio of Florida tweeted, referring to the Order of Friendship:
On Tuesday, Rubio followed up with a statement:
While Rex Tillerson is a respected businessman, I have serious concerns about his nomination. The next secretary of state must be someone who views the world with moral clarity, is free of potential conflicts of interest, has a clear sense of America's interests, and will be a forceful advocate for America's foreign policy goals to the president, within the administration, and on the world stage. I look forward to learning more about his record and his views.
Senator John McCain, who has been outspoken in his concerns about Russian electoral interference, also expressed reservations on Sunday. "I don't know what Mr. Tillerson's relationship with Vladimir Putin was, but I'll tell you it is a matter of concern to me," he said on Fox News. "You want to give the president of the United States the benefit of the doubt because the people have spoken. But Vladimir Putin is a thug, a bully and a murderer, and anybody else who describes him as anything else is lying."
McCain's friend Lindsey Graham took a similar line. "Based upon his extensive business dealings with the Putin government and his previous opposition of efforts to impose sanctions on the Russian government, there are many questions which must be answered," the South Carolinian said in a statement. "I expect the U.S.-Russian relationship to be front and center in his confirmation process."
A spokesman for Ben Sasse, the Nebraskan who has been a staunch critic of Trump, tweeted that "Mr. Tillerson is a man of tremendous accomplishment, but U.S. policy toward Russia's Soviet-style aggression demands rigorous oversight." Iowa's Chuck Grassley, in his trademark inscrutable Twitter pidgin, seemed to voice similar concerns, asking that Trump and Tillerson read a Wall Street Journal column critical of Putin.
Trump spokesman Jason Miller told CNN, without providing examples, that Tillerson had stood up to Putin.
Sitting somewhat to the side of the debate, as often, is Senator Rand Paul. It's been reported, though not confirmed, that Trump will buttress Tillerson's lack of experience by appointing John Bolton, the superhawk and former ambassador to the United Nations, as deputy secretary of state. The Kentuckian says he's an "automatic no" on Bolton.
On the other hand, plenty of Republicans are already on board. Majority Leader Mitch McConnell says he'll support Tillerson's nomination. And even Jeff Flake, an Arizona senator who was a noisy critic of Trump, seemed positive:
The fact that Condi Rice, James Baker and Bob Gates are recommending Tillerson carries considerable weight. I look forward to the hearings.

— Jeff Flake (@JeffFlake) December 13, 2016
That support from respected former Republican Cabinet secretaries is indeed interesting and notable. All three were critical of Trump during the campaign, and all three hail from rather different foreign-policy lineages than Trump. It is impossible to tell how they might overlap or diverge from Tillerson, who has articulated only a limited sort of diplomatic worldview.
But just as a Secretary Tillerson might have an incentive to be friendly to Russia, Rice, Baker, and Gates might have some incentive to boost Tillerson. As Isaac Arnsdorf lays out, Baker's law firm represents Exxon and Rosneft, as well as Gazprom, the Russian state natural-gas concern. Rice and Gates, meanwhile, run a consulting firm that does business with Exxon.
Hill-watchers see the Tillerson nomination as Trump's most audacious pick, because of the risks. Not since 1989, when Democrats blocked John Tower's nomination as secretary of defense, has a Cabinet nominee been rejected, and the president at the time came from a different party. But several nominees have been withdrawn when their confirmation chances ran into difficulty, most of them in the last 25 years.
The critics of the Tillerson nomination all left the door open to backing Tillerson, essentially pleading with him to make so unequivocal a condemnation of Putin that he they can confidently support him. But what if they don't? Or what if he won't? What would have led Trump to take that chance, despite the warning shots over the weekend?
Perhaps Trump is willing to risk dying on this hill because his affinity for Russia is truly strong. There's ample evidence to suggest that: His praise for Putin, his disdain for NATO, his steadfast refusal to even countenance the idea that Russia might have been behind hacks in the election. Selecting Tillerson reinforces his desire to reach an understanding with the Kremlin. Or perhaps Trump sees in Tillerson some sort of foreign-policy brilliance not yet revealed to the public.
But who knows? While there's probably no single answer, a central factor may be that Trump just doesn't think the Senate is a threat. Consider the track record. Republican leaders in the House and Senate criticized Trump for his policy ideas, called his statements racist, and otherwise distanced themselves from him for months. In the end, they split into two main camps. There were those, like Sasse and Flake, who never wavered, and while their stand was courageous, Trump can look back now and see it didn't come near stopping him. Then there were those, like McConnell and Speaker Paul Ryan, who choked back their reservations and endorsed Trump. The president-elect has learned his lesson: There's nothing Republicans in Congress can or will to slow him down, whether it's his extensive conflicts of interest or his Cabinet nominations. Until they prove him wrong, why would he believe otherwise?