The Year in Election Coverage
Selections from The Atlantic's coverage of 2016, when a lot happened in the world of politics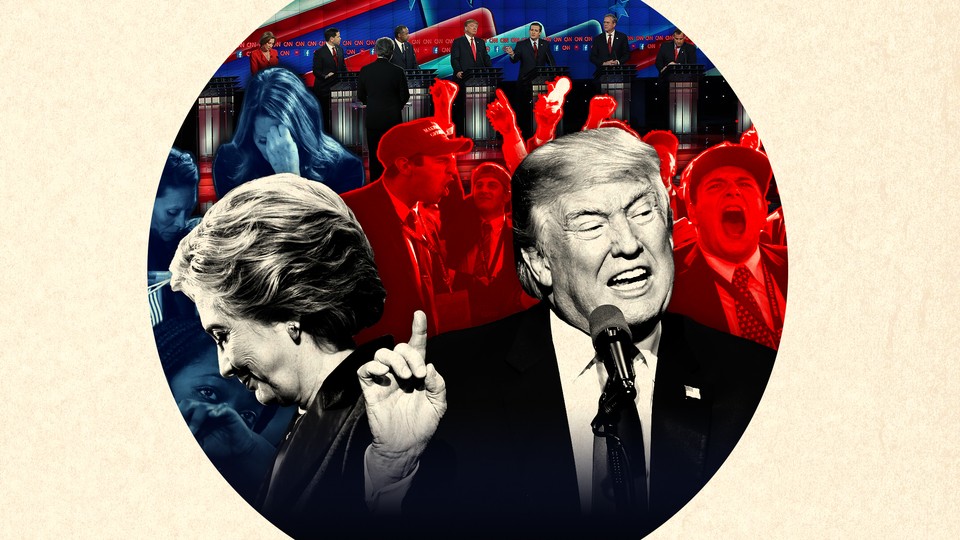 Every December, The Atlantic looks back on the previous year—to highlight not just the big moments, but the progression of big ideas. Below, the first of three installments looks at the year in election coverage.
---
The presidential race began in the spring of 2015 as a free-for-all between 17 Republicans and 6 Democratic candidates—and culminated in a months-long face-off between a billionaire businessman with no political experience and the first female nominee of a major party. On November 8, 2016, Republicans came away with majorities in both the House and the Senate, and Donald Trump was elected to serve as America's 45th president.
Here are a few of the best stories The Atlantic told along the way.
The Primary Season
Covering the Democrats: Ron Fournier explored "Hillary's Challenge With Trust"—an issue he warned might well cost her in the general election, and Russell Berman followed along as Bernie Sanders fought to overtake the former first lady in his native New York. When Sanders's path to victory began to narrow, Ronald Brownstein predicted that a Trump-Clinton race would accelerate the transformation of the country's political parties. Clare Foran spoke with Sanders supporters who promised to go down fighting, a clear sign that Clinton still hadn't united the Democratic Party around her. And Molly Ball explained that "This Is How a Revolution Ends," its "optimism drained, it's hope turned to bitterness."
Covering the Republicans: Donald Trump quickly pulled ahead of the pack in the Republican primaries, and Norm Ornstein offered thoughts about "The Eight Causes of Trumpism." Yoni Appelbaum suggested that Trump exercised his greatest appeal within a distinct political culture. And Molly Ball painted a "Portrait of a Party on the Verge of Coming Apart."
Nora Kelly wrote about Senator Ted Cruz's early win in the Iowa caucuses—a victory that defied pollsters' predictions. When the only female Republican candidate, Carly Fiorina, pulled out of the race, Clare Foran argued it was "A Defeat for Conservative Feminism." John Kasich's cancelled D.C. appearance led Nora Kelly to write about the dogged persistence (and eventual disappointment) of the Ohio governor's presidential campaign. To show how much conservatism has changed, Emma Green highlighted the weaponization of Heidi Cruz and Melania Trump on social media. David Frum examined the internal class war threatening to tear the GOP apart in "The Great Republican Revolt."
Former employees of Trump University alleged that the businessman targeted customers' economic anxieties and offered himself as a solution, which Matt Ford wrote, was also a strategy Trump used in his campaign. Conor Friedersdorf's "Dialogue With a 22-Year-Old Donald Trump Supporter" expanded upon many Americans' resistance to "political correctness," a major reason many were attracted to the candidate. As it became clear the nominee would be Trump, David Frum wrote about the seven established norms he had shattered along the way. David Graham took note of the violent undercurrents he experienced at the candidate's rallies and reflected on "How Donald Trump Speaks To—and About—Minorities."
The Conventions
It's Trump: The Republican National Convention kicked off in Cleveland, but, Michelle Cottle pointed out, a lot of establishment Republicans skipped it. "I alone can fix it," Donald Trump told Americans as he accepted the nomination. Using interviews with Trump backers, David Frum explained "Why Trump Supporters Think He'll Win." And Molly Ball dubbed it the "Triumph of the Chaos Candidate."
The Very First Lady: In Philadelphia, the Democratic Party nominated Hillary Clinton, making her the first female nominee of a major political party. First Lady Michelle Obama gave a speech that Yoni Appelbaum called "a masterful performance." And Michelle Cottle explained "How Chelsea Beat Ivanka at Being a Candidate Daughter."
The Run-Up
Stronger Together: The Democratic nominee managed to keep her cool during the presidential debates, but as her lead over Trump began to erode, David Graham questioned Clinton's ability to unite supporters around a single message, and Ronald Brownstein warned that Clinton might be neglecting several states that were vital to a win on Election Day. Another problem plaguing her campaign, wrote Clare Foran, was "The Curse of Hillary Clinton's Ambition," and as some on the right began questioning Clinton's physical well-being, Nora Kelly was prompted to explore America's long tradition of "using women's health to discredit them."
In late October, FBI Director James Comey announced he'd discovered new emails from Clinton's private server, a move Adam Serwer argued cast unnecessary suspicion on the former secretary of state.
Making America Great Again: The Republican nominee successfully appealed to Americans' fears throughout the primary season and would continue to do so in his quest for the presidency, Molly Ball wrote. Andrew McGill broke down "The Trump Bloc," showing that most of the candidate's support came from working-class whites. Many African Americans, wrote Elaine Godfrey, wouldn't even consider voting for Trump, and Vann R. Newkirk II warned that the nominee's ability to ignite the fears of aggrieved whites would mean a reckoning in North Carolina over the state's Jim Crow past.
Conor Friedersdorf took stock of Trump's behavior throughout the campaign, concluding that to vote for Trump would be to "knowingly empower cruelty." A leaked Access Hollywood recording sparked protests across the country, and Candice Norwood spoke with "The Women Who've Had Enough." But many of Trump's supporters were willing to overlook his brash comments, Salena Zito explained, because while "the press takes him literally, but not seriously, his supporters take him seriously, but not literally." It was perhaps that fact that led to "Donald Trump's Stunning Upset" on November 8, when America elected him the 45th president of the United States.
The Aftermath
Trumped: The businessman emerged victorious, and so did the Republicans, like Speaker Paul Ryan, who took a gamble on him, Russell Berman wrote. But Adam Serwer saw the win as a defeat in "The Battle for Pluralism," and Clare Foran warned that Trump's victory sent the message that sexism and misogyny are acceptable behaviors. The election revealed a lot—both good and bad—about America's character, Vann R. Newkirk II wrote in "This Is Who We Are."
Molly Ball offered five theories as to "Why Hillary Clinton Lost," one of which was overconfidence in "the Obama coalition": Clinton was supposed to have had a significant advantage over Trump in support among Latinos, but Priscilla Alvarez explained that only two-thirds actually voted for the Democrat. In the end, Andrew McGill concluded, "America's Educational Divide Put Trump in the White House." And to close out what was one of the longest and most unusual election seasons in American history, David Graham compiled "A Devil's Glossary" of the 2016 campaign.
---
Related Videos