The Senate Will Investigate Russian Election Interference
With Mitch McConnell's backing, a bipartisan inquiry could tee up the first confrontation between Donald Trump and Republicans in Congress.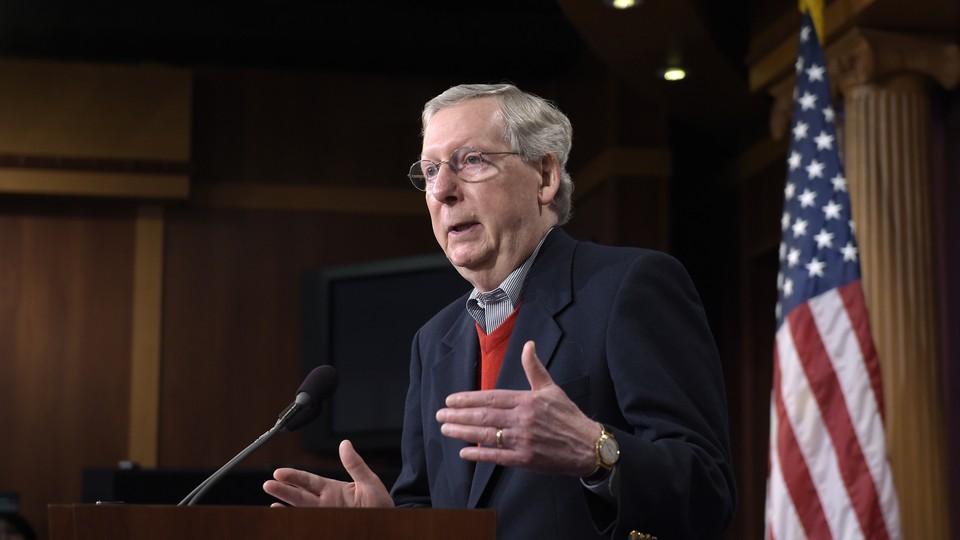 Updated on December 12 at 1:26 p.m.
The Senate will investigate claims that Russia interfered in the election on behalf of Donald Trump—whether the president-elect likes it or not.
Senate Majority Leader Mitch McConnell on Monday gave his backing to bipartisan inquiries after the CIA reportedly concluded that not only did Russia meddle in the campaign, it did so with the goal of elevating Trump over Hillary Clinton. Trump has mocked the CIA and dismissed the suggestion of Russian hacking as the whining of Democratic sore losers, even after GOP Senators John McCain and Lindsey Graham joined the call for a formal congressional investigation.
On Monday, McConnell broke sharply with Trump on the Russia question and in his confidence in the CIA's credibility. "The Russians are not our friends," he told reporters at the Capitol, as he recited a series of examples of how Russia has escalated hostility with its neighbors—including its invasion and annexation of Crimea—and acted counter to U.S. interests. "I think we ought to approach all of these issues on the assumption that the Russians do not wish us well."
The Republican leader began a press conference that was supposed to trumpet the accomplishments of the 115th Congress instead by announcing his support for a pair of Senate investigations: one to be held by the Senate Intelligence Committee, and another that McCain plans in his capacity as chairman of the Armed Services Committee. "This simply cannot be a partisan issue," McConnell said, echoing comments by McCain as well as by the incoming Democratic leader, Senator Charles Schumer.
The Senate investigations could set off the first confrontation between the incoming Trump administration and congressional Republicans—one that could jeopardize as well the confirmation chances of Trump's reported top choice for secretary of state, ExxonMobil CEO Rex Tillerson, who has close ties to Vladimir Putin. Following the Washington Post's report on Friday that the CIA had concluded Russia was trying to help Trump win the election by hacking into Democratic email accounts, the Trump transition team released a fiery statement blasting the CIA. "These are the same people that said Saddam Hussein had weapons of mass destruction," the statement read. And after McCain joined Schumer in calling for a Senate investigation of the allegations, Trump fired off a pair of tweets on Monday morning.
Can you imagine if the election results were the opposite and WE tried to play the Russia/CIA card. It would be called conspiracy theory!

— Donald J. Trump (@realDonaldTrump) December 12, 2016
Unless you catch "hackers" in the act, it is very hard to determine who was doing the hacking. Why wasn't this brought up before election?

— Donald J. Trump (@realDonaldTrump) December 12, 2016
As a matter of fact, the charges were brought up repeatedly before the election, including when the director of national intelligence and the Department of Homeland Security formally accused Russia of trying to interfere with the election by stealing emails from the Democratic National Committee. The government stopped short of saying that Russia was explicitly trying to elect Trump, although the implication was clear that its actions would benefit the Republican.
McConnell did not directly criticize Trump or weigh in on the specific CIA findings, pointing out that anything beyond the government's official unclassified statements remained secret. President Obama has ordered an additional review of Russian interference, although that might not be completed until after Trump takes office. McConnell did say he had the "highest confidence" in the CIA and other intelligence agencies, specifically praising their effort to do a dangerous job. He also faulted the Obama administration for the failure of its Russian "reset" to constrain Putin's ambitions, noting that Republicans have been calling for a tougher policy for years. "It defies belief that somehow Republicans in the Senate are reluctant to either review Russian tactics or ignore them," McConnell said.
Republicans in the House have been notably less enthusiastic about probing Russian interference. In his first extended statement on the matter, Speaker Paul Ryan on Monday did not call for any new investigations but said the House Intelligence Committee had already been looking into "cyber threats posed by foreign governments and terrorist organizations to the security and institutions of the United States."
This important work will continue and has my support. As I've said before, any foreign intervention in our elections is entirely unacceptable. And any intervention by Russia is especially problematic because, under President Putin, Russia has been an aggressor that consistently undermines American interests.
Yet at the end of his statement, Ryan made clear that he did not believe Russia's meddling threw the election to Trump. "Exploiting the work of our intelligence community for partisan purposes does a grave disservice to those professionals and potentially jeopardizes our national security," he said. "As we work to protect our democracy from foreign influence, we should not cast doubt on the clear and decisive outcome of this election."
Trump is expected to name his pick for the State Department this week, but if it is Tillerson, he will be far from a shoo-in for confirmation. Both McCain and Senator Marco Rubio, a member of the Foreign Relations Committee, voiced concerns with the oil executive, a recipient of the "Order of Friendship" from Putin. Republicans will have only a 52-48 majority next year, meaning that if even three join Democrats, Tillerson wouldn't get confirmed. McConnell praised the Cabinet nominees Trump has put forward to date, but he notably did not defend Tillerson and said he wouldn't comment on "a phantom nominee."
It's all a reminder that Trump's desire to embrace Putin goes against years of GOP hawkishness on Russia, and that tenuous friendship between the president-elect and his putative allies in Congress could go sour fast.