The Atlantic Politics & Policy Daily: Not With a Bang, but With a Tweet
The president-elect tweeted that the U.S. should "greatly strengthen and expand its nuclear capability."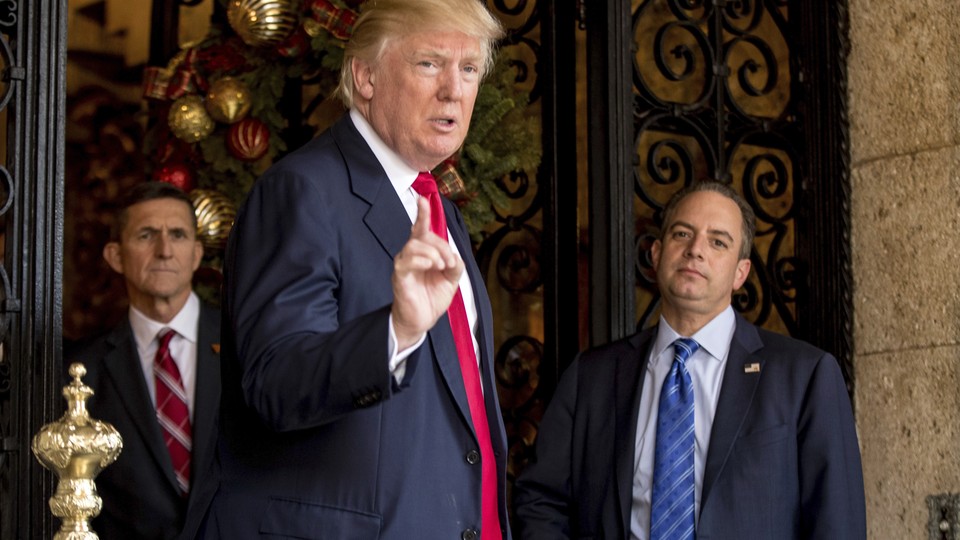 Today in 5 Lines
President-elect Donald Trump chose Sean Spicer, the Republican National Committee's communications director, to serve as White House press secretary, and tapped his former campaign manager, Kellyanne Conway, to serve as counselor to the president. On Twitter, Trump called for the United States to "greatly strengthen and expand its nuclear capability," but did not offer more detail. The Obama administration moved to dismantle a national registry program that tracked visitors from countries with active terrorist groups and was last used in 2011. The Syrian government has recaptured the rebel-held city of Aleppo, according to state media.
---
Today on The Atlantic
Obama Failed African Americans: The black community's excitement over Barack Obama's ascent to the White House frequently blinds them to one of the president's crucial flaws: He neglected policies that could significantly improve the racial wealth gap. (William A. Darity Jr.)

Backtracking on Washington: Donald Trump ran as an anti-establishment candidate who pledged to "drain the swamp" and challenge government corruption. But now that he's president-elect, he's stayed mum on those promises. What gives? (David A. Graham)

Divided We Stand: Trump is set to enter the White House in January with historically low approval ratings. But between his campaign and transition period, he has not changed his tone and temperament in a way that would win over more of the country's support. (Ronald Brownstein)
Follow stories throughout the day with our Politics & Policy portal.
---
Snapshot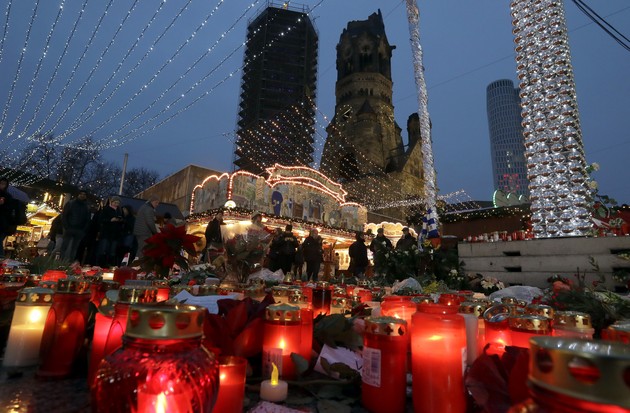 ---
What We're Reading
Importing Workers?: Trump Winery has reportedly applied for permission to hire six foreign workers under the H-2 visa program. BuzzFeed reports that "combined with this latest request, companies owned by Trump or bearing his name have sought permission from the Department of Labor to hire at least 263 foreign guest workers since he launched his presidential campaign." (Jessica Garrison, Ken Bensinger, and Jeremy Singer-Vine)
Pick a Side: Many question whether Donald Trump favors his relationship with Russia over U.S. foreign policy interests. But his loyalties will be tested in early 2017 when he decides whether to continue with, or back away from, the Obama administration's plan to deploy troops to Poland to deter Russian military actions. (Paul D. Shinkman, U.S. News & World Report)
Meanwhile in North Carolina: On Wednesday, state lawmakers held a special session to consider repealing the state's controversial "bathroom bill," but the Republican-led Senate killed the measure, and with it, "the hope of compromise between legislators and Charlotte." (Bruce Henderson and Jim Morrill, The Charlotte Observer)
Never Say Never: Democrats had high hopes for Latino voter turnout in 2016, as a result of Donald Trump's controversial rhetoric on immigration. But in the end, their assumptions did not pan out as expected. (Asma Khalid, NPR)
Too Quick to Judge: The CIA accused Russia of interfering in the 2016 election. Critics argue, however, that one fact is being overlooked: "The U.S. has a long history of attempting to influence presidential elections in other countries—it's done so as many as 81 times between 1946 and 2000." (Nina Agrawal, The Los Angeles Times)
---
Visualized
Year in Pictures: A lot happened in 2016, "a year to be confounded, shocked, humbled." Check out this gallery for an incredible trip down memory lane. (The New York Times)
---
Question of the Week
Last year, the Obamas and the Bidens released their holiday playlists on Spotify. One of the Obamas' favorites is "8 Days of Christmas" by Destiny's Child, and the vice president and his wife like Bruce Springsteen's "Santa Claus Is Comin' to Town." What are the top three songs on your holiday playlist?
Send your answers to hello@theatlantic.com, and our favorites will be featured in Friday's Politics & Policy Daily.
-Written by Elaine Godfrey (@elainejgodfrey) and Candice Norwood (@cjnorwoodwrites)