The Atlantic Politics & Policy Daily: Obama Drops the Mic
The president gave his year-end press conference at the White House.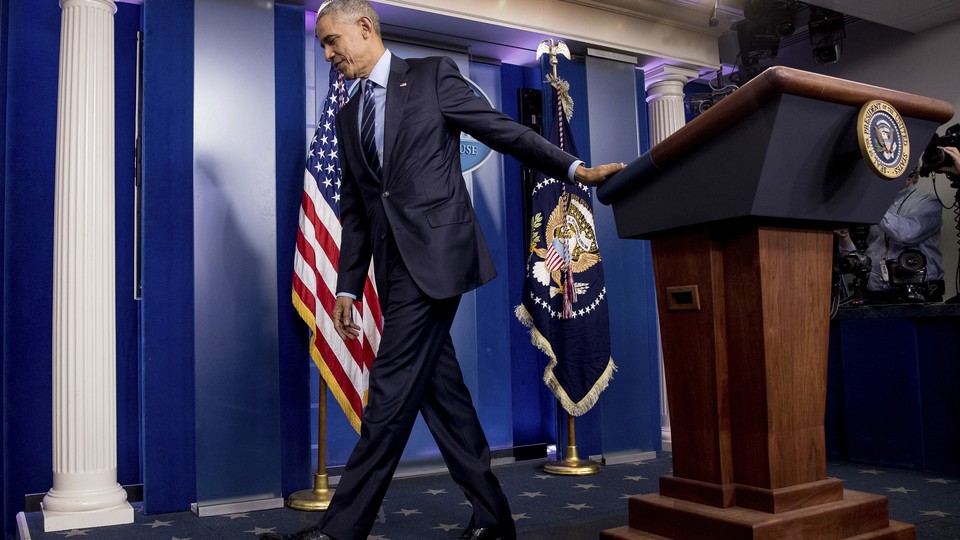 Today in 5 Lines
President Obama defended his administration's approach to the intelligence community's findings that Russia hacked the Democratic National Committee, saying he had told Russian President Vladimir Putin to "cut it out." U.S. officials said FBI Director James Comey and Director of National Intelligence James Clapper Jr. agree with a CIA assessment that Russia intervened in the presidential election to aid Donald Trump. North Carolina Governor Pat McCrory signed legislation limiting some of the powers of incoming Democratic Governor-elect Roy Cooper. Trump will hold a rally in Orlando, Florida, as part of his post-election "thank you" tour. A Pentagon spokesman demanded China return an American underwater drone that was seized by a Chinese navy vessel in a contested area of the South China Sea on Thursday.
---
Today on The Atlantic
He's No Diplomat: Donald Trump has appointed David Friedman—a bankruptcy lawyer and "extreme hard-liner on the right"—to serve as his ambassador to Israel. But will his policy stances and string of controversial comments bode well for this new diplomatic role? (David A. Graham)

Finding Another Way: The Brennan Center recently released a report that suggests alternatives for prisoners "without a justifiable public-safety rationale." Matt Ford spoke with two members of the Brennan Center's Justice Program about the report's conclusions and implications.

Losing Your Country: After Donald Trump won the election, Peter Beinart's father shared his experiences as a 16-year-old in South Africa in 1948 when "a reactionary candidate rode a wave of racial and economic resentment to power." The similarities to Trump's political rise underscore the fleeting nature of moral progress.
Follow stories throughout the day with our Politics & Policy portal.
---
Snapshot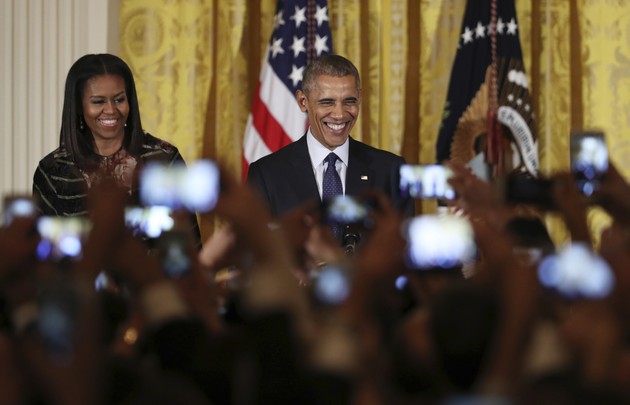 ---
What We're Reading
A Check on Trump?: Retired General John Kelly "has struck a decidedly measured tone on some of the issues that helped propel the president-elect to victory." If confirmed by the Senate to lead the Department of Homeland Security, could his more moderate views balance out Trump's? (Bryan Bender, Politico)
Golden State Warriors: California's leaders have expressed their opposition to the president-elect through "carefully calibrated messages of tepid cooperation, outright declarations of defiance and Twitter brawls." Here's a who's-who of Trump's biggest adversaries in the state. (Melanie Mason, Los Angeles Times)
In Over Her Head?: Ivanka Trump is reportedly hoping to advise her father from a position in the West Wing, but, writes Emily Jane Fox, "what tends to happen with someone who's long been told how extraordinary and remarkable they are is that they often don't see when they are completely, totally wrong." (Vanity Fair)
To Be Determined: The leaders of Saudi Arabia are reevaluating their relationship with the United States following Donald Trump's election and "the recent passage of legislation that could allow U.S. terror victims to sue" the country. (Justice Scheck and Brody Mullins, The Wall Street Journal)
A Web of Conflicts: Many of Trump's business deals and relationships directly conflict with U.S. international interests—and by neglecting to address them, he threatens to upend America's foreign policy. (Kurt Eichenwald, Newsweek)
---
Visualized
Where'd the Jobs Go?: The United States has lost millions of manufacturing jobs over the years, but since 2011, about a half-million have returned. Look at these charts to see which jobs are growing and in what states. (Ted Mellnik and Chris Alcantara, The Washington Post)
---
Question of the Week
This week, we asked you to share your favorite characters from political films and television. Here are some of our favorite responses:
Neel Lahiri's pick was Selina Meyer from the TV show Veep, a character "who epitomizes the kind of farcical, utterly vain and insatiably power-hungry [politician] that the electorate despises."
Terry Nugent picked Bill McKay from the film The Candidate, "an elegant chronicle of the withering effect of electioneering on ethics."
And from reader Christina Kopp: "My favorite political figure on TV is Laura Roslin, President of the Twelve Colonies in the reboot of Battlestar Galactica. When faced with the annihilation of the human race, she doesn't give up and doesn't give in. Ah, only on TV!"
Visit our Notes section for more great responses, and stay tuned for next week's Question of the Week contest.
-Written by Elaine Godfrey (@elainejgodfrey) and Candice Norwood (@cjnorwoodwrites)