The Atlantic Politics & Policy Daily: Trump Thinks the CIA Is Russian to Conclusions
The president-elect disputes the intelligence community's findings on Russia's suspected interference in the election.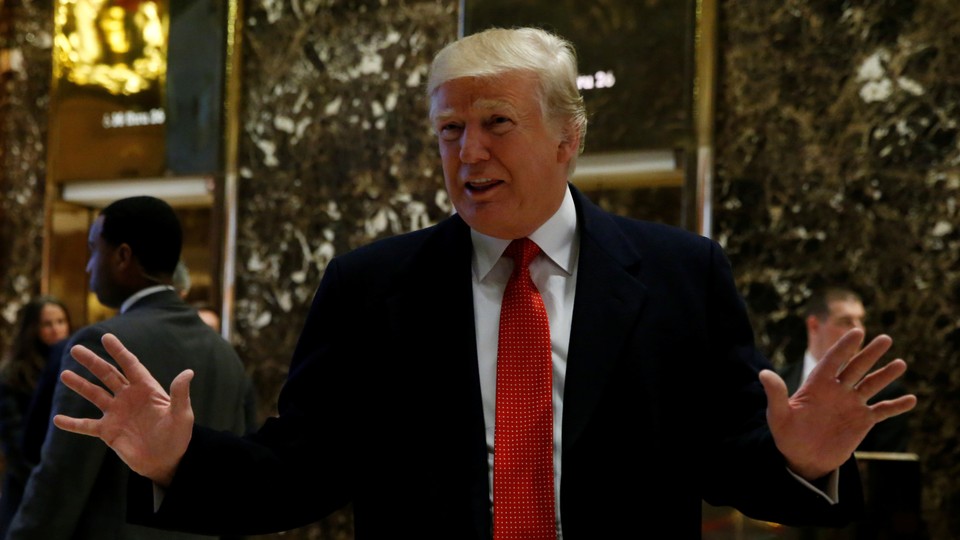 Today in 5 Lines
On Twitter, President-elect Donald Trump criticized the military's F-35 program, calling its cost "out of control." Trump said he will nominate retired Marine Corps General John Kelly to head the Department of Homeland Security and Goldman Sachs President Gary Cohn as director of the National Economic Council. John Podesta, Hillary Clinton's campaign chairman, said the campaign supports requests from members of the Electoral College to receive an intelligence briefing on suspected Russian intervention in the election; their calls came after The New York Times recently reported that the intelligence community believes Russia interfered to help Trump. Senate Majority Leader Mitch McConnell said the Senate Intelligence Committee will investigate that intervention, telling reporters that "the Russians are not our friends." Roughly 150 miles from the Dakota Access pipeline protesters' campsite in North Dakota, more than 176,000 gallons of crude oil leaked from the Belle Fourche Pipeline into a nearby creek.
---
Today on The Atlantic
Tell Me More: Specific details of the CIA's investigation into Russia's election involvement are still unknown. Here are five remaining questions that voters may want answered. (David Frum)

Nothing Has Changed: Those calling for electors to revolt against Trump are forgetting that the Electoral College "remains the dishonorable, botched, terrifyingly fragile lash-up it has always been," writes Garrett Epps—and their demands likely won't be appeased.  

Employers v. Workers: Advocate Health Care Network v. Stapleton, a new case on the U.S. Supreme Court's docket, has become a battle between cash-strapped church-affiliated organizations and their own employees—who fear they could lose their pensions. (Emma Green)
Follow stories throughout the day with our Politics & Policy portal.
---
Snapshot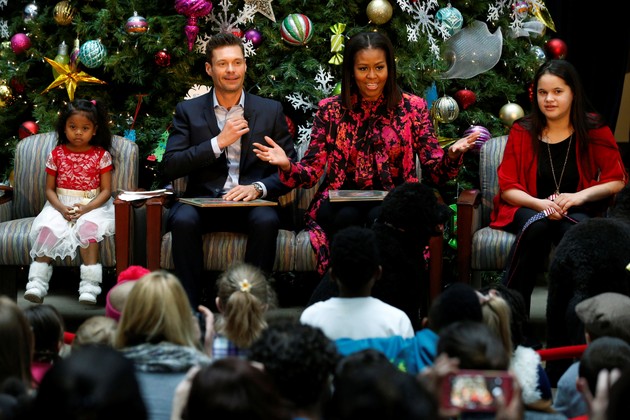 ---
What We're Reading
Tipping the Scales?: The New York Times writes that the CIA's conclusion that Russia tried to aid Donald Trump's election is "one of the most consequential analyses by American spy agencies in years." (Mark Mazzetti and Eric Lichtblau)
Trump Turns Right: During his campaign, Trump didn't rigidly stick to a conservative script, entertaining policies that would seem anathema to the Republican Party. Yet his Cabinet picks include some of the most conservative nominees of all time. Why? (John Fund, National Review)
Can the Dems Fight Back?: There is a serious power vacuum within the Democratic Party as President Obama leaves office and the Democratic National Committee awaits a permanent chairperson. Congressional Democrats are worried the party won't be able to get its act together in time to block Trump's early initiatives. (Gabriel Debenedetti, Politico)
'A New Mission': Khizr Khan, the father of an Army captain killed in the Iraq War and one of the speakers at the 2016 Democratic National Convention, is working to encourage young Muslims to become more politically active in the wake of the election. (Jaweed Kaleem, The Los Angeles Times)
Naming Names: The New Yorker's Amy Davidson identifies 13 women she thinks should run for president in 2020—including two Republicans. "Here's another test to think of before asking whether a woman is enough of a national figure to jump into the presidential race: How well known was the state senator Barack Obama in 2004?"
---
Visualized
What Happened to the Ghost Ship?: Using photographs and 3D graphics, The New York Times analyzes the factors that contributed to a deadly warehouse fire in Oakland, California, earlier this month. (Ford Fessenden and Anjali Singhvi)
---
Question of the Week
The Hollywood Foreign Press Association announced its nominees Monday for this year's Golden Globe Awards, which has us thinking about our favorite characters from political films and television. Candice loves Parks and Recreation's Leslie Knope, the lovable deputy director of an Indiana city's parks department, and Elaine is partial to Bob Roberts, the conservative Senate candidate in the 1992 mockumentary film Bob Roberts.
Who are your favorite political characters in movies and TV—and why?
Send your answers to hello@theatlantic.com, and our favorites will be featured in Friday's Politics & Policy Daily.
-Written by Elaine Godfrey (@elainejgodfrey) and Candice Norwood (@cjnorwoodwrites)