The Atlantic Politics & Policy Daily: A Rudy Awakening
Former New York Mayor Rudy Giuliani took his name out of the running for secretary of state.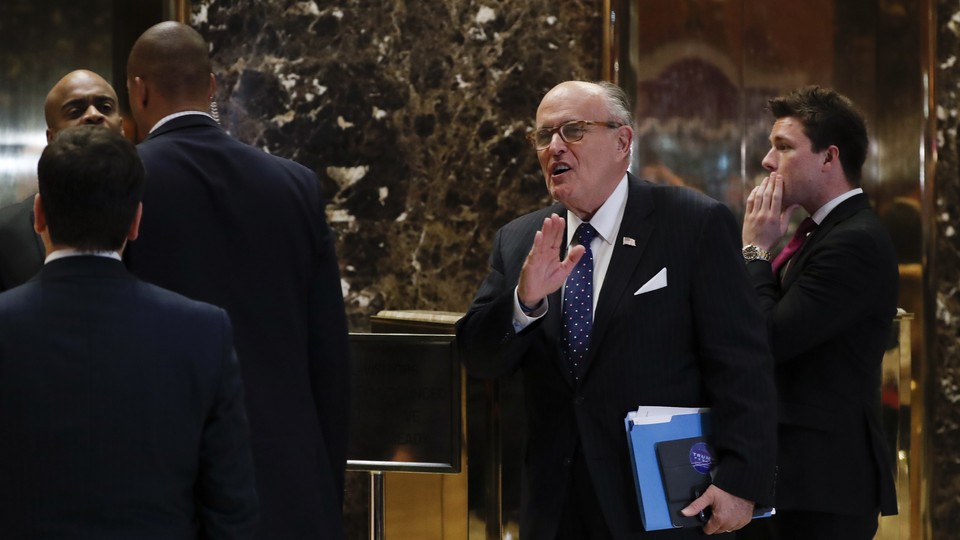 Today in 5 Lines
President-elect Donald Trump's transition team announced that former New York Mayor Rudy Giuliani has taken his name out of consideration to serve as secretary of state. Trump will appear at a rally in Grand Rapids, Michigan, tonight as part of his post-election "thank you" tour. The White House said President Obama has ordered U.S. intelligence officials to examine the cyber attacks perpetrated during the 2016 presidential campaign. Senators have until midnight to pass a short-term spending bill that would fund federal agencies through April and avoid a government shutdown. A bipartisan group of senators introduced a bill that would temporarily extend legal protections for at least 740,000 young immigrants—who were brought to the United States as children—if those safeguards are repealed by the Trump administration.
Today on The Atlantic
Who's Who in Trump's Congress?: The election of Donald Trump has significantly altered the political landscape in Washington, D.C. Here's a rundown of the people who "saw their fortunes reshuffled on Election Day in ways good, bad, and ulcer-inducing." (Michelle Cottle)

The Battle for Obamacare: As congressional Republicans look for ways to repeal and replace the Affordable Care Act, Democrats are gearing up to launch a political coalition to protect the health-care law. (Russell Berman)

A Pro-Business Appointee: Trump announced this week that Andrew Puzder, a fast-food CEO, will lead the Department of Labor. Puzder "has argued against raising the minimum wage and offering paid leave and health insurance to employees." Will his position clash with that of Trump's blue-collar supporters? (Alexia Fernández Campbell)
Follow stories throughout the day with our Politics & Policy portal.
---
Snapshot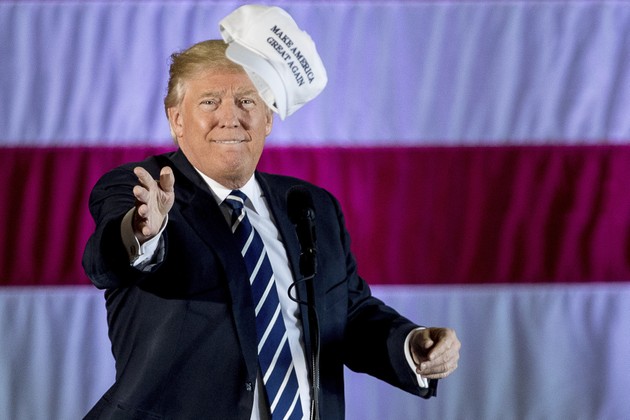 ---
What We're Reading
So Long, Harry Reid: The Senate minority leader is heading home after more than three decades in Washington. In a farewell interview with Politico, Reid offered his thoughts on the state of the Democratic Party—and predicted the end of the 60-vote filibuster. (Seung Min Kim, Burgess Everett, and John Bresnahan)
Priebus vs. Bannon: An interesting power struggle is developing in Trumpland between the president-elect's chief of staff and chief strategist. "In this administration, titles will not matter," one Trump staffer told New York magazine. "It's like Game of Thrones." (Gabriel Sherman)
'Popular but Problematic': The Economist predicts that Trump's approach to corporate America could hurt "the very workers Mr. Trump is promising to help."
Multitasking: Trump is set to have a jam-packed four years as president of the United States. But he will also reportedly remain an executive producer on NBC's Celebrity Apprentice. (Cynthia Littleton, Variety)
It's Not Just Pizzagate: The Washington Post explains why it's tough for law enforcement to track online conspiracy theories and the threats they may pose. "In an age when fake news is magnified by those with political and financial interests, the problem is getting harder to stop." (Matt Zapotosky)
---
Visualized
Trump's Millions: These interactive charts show how much each of his businesses profited during the 2016 campaign. (Bill Allison, Michael Keller, Blacki Migliozzi, Bloomberg)
---
Question of the Week
For the next four years, Trump will be tasked with lighting the National Christmas Tree and pardoning America's Thanksgiving turkeys. So this week, we asked you about your favorite presidential traditions. Here are some of our favorite responses:
From Harry Olmstead: "My favorite White House tradition is the hunting of Easter eggs and President Obama and the First Lady interacting and playing with the children. Nobody has ever been so genuine and real when they are around children."
Christina Kopp said she loves "the pomp and circumstance that comes with announcing the president's arrival before Congress at the State of the Union address."
And reader Howard Cohen would like to suggest a new presidential tradition: "Twitter silence."
Keep an eye out for next week's Politics & Policy Daily to enter our Question of the Week contest.
-Written by Elaine Godfrey (@elainejgodfrey) and Candice Norwood (@cjnorwoodwrites)