The Atlantic Politics & Policy Daily: Veni, Vidi, A/C
President-elect Donald Trump touted his deal with the heating and air conditioning company Carrier in Indianapolis.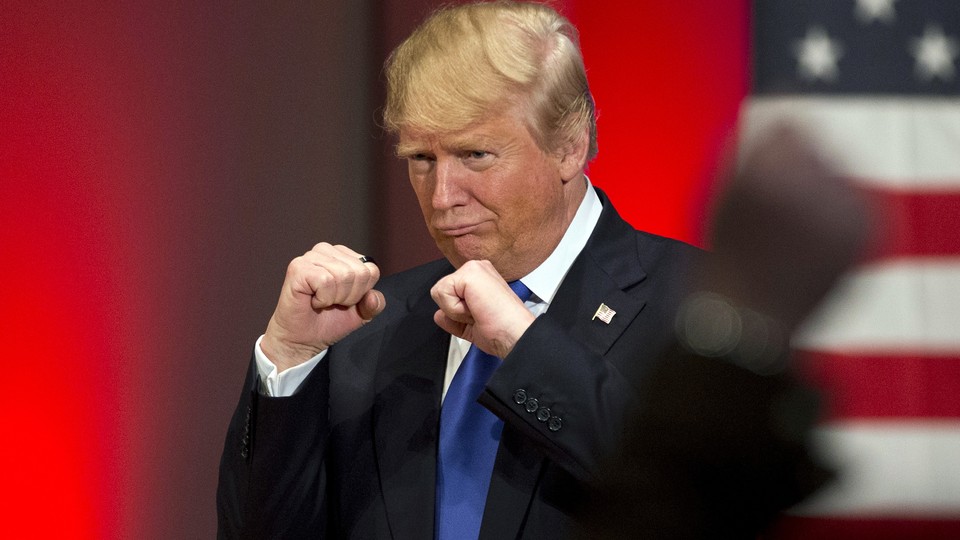 Today in 5 Lines
In a visit to the Carrier plant in Indianapolis, President-elect Donald Trump touted his deal with the heating and air conditioning company to keep roughly 1,000 jobs in Indiana in exchange for $7 million in tax breaks from the state. Trump will kick off his "USA Thank You Tour" at U.S. Bank Arena tonight in Cincinnati. California Governor Jerry Brown nominated House Democratic Caucus Chairman Xavier Becerra to serve as the state's next attorney general. French President François Hollande announced he will not run for reelection. The Anti-Defamation League questioned whether Representative Keith Ellison should serve as chair of the Democratic National Committee, citing Ellison's 2010 comments about Israel.
---
Today on The Atlantic
Mixed Feelings: Nearly half of Trump's voters don't think he'll actually improve the country, according to a post-election PRRI/The Atlantic poll. Still, "they are a lot happier about the United States than they were on November 7." (Andrew McGill)

A Need for Change: While Nancy Pelosi will continue to serve as the leader of the minority party in the U.S. House, her challenger, Tim Ryan, represents a section of the party that has grown weary of "caucus elders' death grip on the levers of power." (Michelle Cottle)

Bruised, Not Broken: Phoenix Mayor Greg Stanton is on the front lines of an effort by big cities to push back against Trump's "racially divisive nationalism" in order to promote their values and strategies for economic growth and cultural diversity. (Ronald Brownstein)
Follow stories throughout the day with our Politics & Policy portal.
---
Snapshot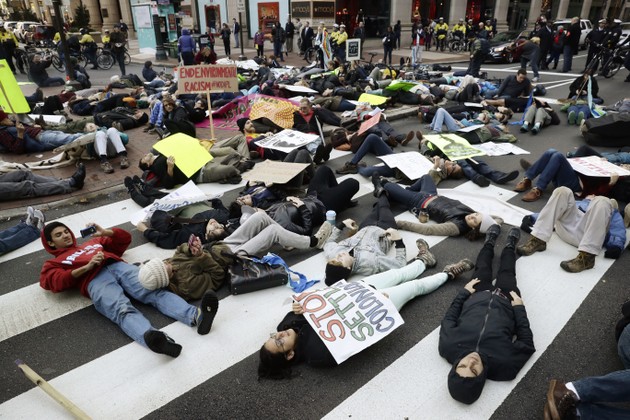 ---
What We're Reading
Stranger Things: Paul Gottfried, a retired Jewish academic, was a mentor to Richard Spencer, a self-described leader of the "alt-right," a term both claim credit for coining. (Jacob Siegel, Tablet)
'Ivanka Trump, Climate Czar?': Over the summer, Donald Trump's eldest daughter touted liberal causes, such as paid parental leave and pay equity. Now, she reportedly wants to bend her father's ear on another issue: climate change. (Annie Karni, Politico)
If I Were a Rich Man: George W. Bush's first Cabinet was criticized for being wealthy and out of touch with middle-class Americans. But Donald Trump has assembled a team that is shaping up to be "the wealthiest administration in modern American history." (Jim Tankersley and Ana Swanson, The Washington Post)
'Calexit' Only: The push for a 2018 ballot measure that could allow California to secede from the United States and become an independent country has gained national attention. But while supporters find the proposal feasible, it is "blocked with financial and political hurdles." (Taryn Luna, McClatchy DC)
Keeping Up With the Times: In September, Carla Hayden became the first woman and the first African American to head the Library of Congress. In this interview with the Washingtonian, she discusses her plans to bring the country's oldest library into the digital era. (Greta Weber)
---
Visualized
A Complex Web: Check out these graphs illustrating four examples of the potential conflicts of interest between President-elect Donald Trump's private business affairs and presidential duties. (Larry Buchanan and Karen Yourish, The New York Times)
---
Question of the Week
Vice President-elect Mike Pence has officially moved to Washington, D.C., and President-elect Donald Trump is expected to follow suit in the coming weeks. President Obama and Michelle Obama's go-to restaurants in the District have long been documented. Which restaurants do you expect Pence and Trump to frequent?
Send your answers to hello@theatlantic.com, and our favorites will be featured in Friday's Politics & Policy Daily.
-Written by Elaine Godfrey (@elainejgodfrey) and Candice Norwood (@cjnorwoodwrites)