The Atlantic Politics & Policy Daily: Season's Tweetings
Donald Trump tweeted "things will be different after Jan. 20th" in response to the United States allowing a United Nations Security Council resolution condemning Israeli settlement construction.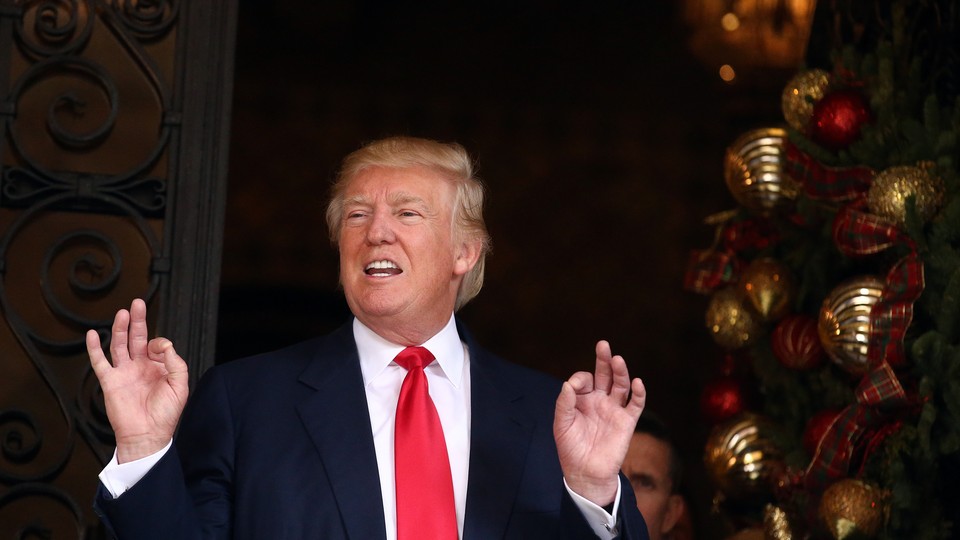 Today in 5 Lines
One day after calling for the U.S. to expand its nuclear capabilities, Donald Trump reportedly told Morning Joe host Mika Brzezinski "Let it be an arms race," adding "we will outmatch them at every pass and outlast them all." The president-elect's transition team released a letter from Russian President Vladimir Putin in which Putin said he hopes to work with Trump to "restore the framework of bilateral cooperation in different areas." The United States abstained from voting on a United Nations Security Council resolution condemning Israeli settlement construction. In response, Trump tweeted "things will be different after Jan. 20th." Italian authorities said that Anis Amri, the suspect in Monday's Berlin Christmas market attack, was killed in a shootout with police in Milan. The Maltese prime minister announced that all passengers and crew members have been safely evacuated after a Libyan commercial plane carrying 118 people was hijacked and diverted to Malta.
---
Today on The Atlantic
On the Right Foot: Representative Mark Meadows, the newly elected chairman of the House Freedom Caucus, recognizes the potential for conflict with the Trump administration. But he hopes an early push for deregulation in 2017 will unite Trump and congressional Republicans. (Michelle Cottle)

Obama's Drone Problem: Conor Friedersdorf takes a critical look at the president's record on drone strikes, writing: "One day, I hope Obama explains his targeted killing policy more forthrightly, so that the public can benefit from his insights, mistakes, and contested actions."

'War on Celebrities': A number of musicians, including Celine Dion and Elton John, have reportedly refused to perform at Trump's inauguration. On Thursday, the president-elect "seemed to confirm Hollywood and he weren't making nice" in true Trump fashion—with a tweet. (Spencer Kornhaber)
Follow stories throughout the day with our Politics & Policy portal.
---
Snapshot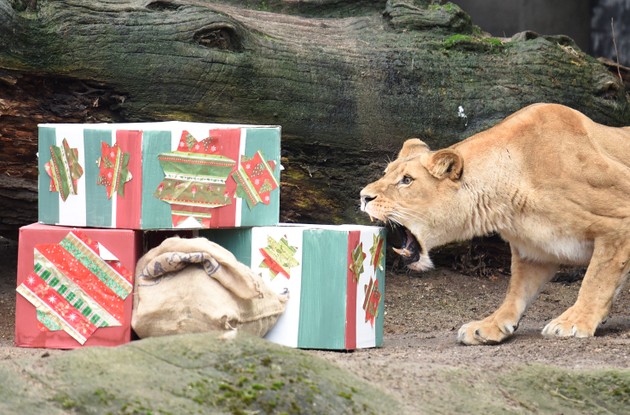 ---
What We're Reading
Promises, Promises: Trump and his team appear to have broken the candidate's vow to "drain the swamp," spending recent weeks "cashing in on government connections by opening lobbying firms; enabling people to enrich themselves from government service; and selling access to the president-elect and his family." (Isaac Arnsdorf, Josh Dawsey, and Daniel Lippman, Politico)
Changing the Game: President Obama has a few weeks left in office, but that hasn't prevented Donald Trump from weighing in on Twitter with recommendations for addressing serious national security issues. (Karen DeYoung, The Washington Post)
Back to Reality: Trump has expressed an ambitious plan to improve the country's economic growth. "Yet even if Trump were to fuel a faster expansion than President Obama, there are questions about what that would feel like for American households." (Simon Montlake, The Christian Science Monitor)
Trouble in the Tar Heel State: The Electoral Integrity Project, which evaluates election quality based on voting district boundaries, legislative power, and access to the vote, gave North Carolina a score of 58/100 for the 2016 election, according to a newly released report. Andrew Reynolds writes that the state "can no longer be classified as a full democracy." (The News & Observer)
Sister, Sister: Ivanka and Tiffany Trump are noticeably different: Ivanka stood out on the campaign trail as one of her father's top surrogates and is now poised to play a prominent role in the new administration, while Tiffany made less of an impact and "is still finding her place in the family." (Sarah Ellison, Vanity Fair)
---
Visualized
'Get Rid of It': Donald Trump and some of his Cabinet picks have called for the dismantling of several federal departments. But these charts show how that might be easier said than done. (Adam Pearce, The New York Times)
---
Question of the Week
This week, we asked readers to share the tunes that get them in the holiday spirit, and we compiled our favorite answers to make the first-ever Politics & Policy Daily Holiday Playlist. Visit our Notes section for the complete list. Here's a teaser:
1."Winter Wonderland" by Ella Fitzgerald
(Recommended by Mack & Cheryl McManus)
2."The Little Drummer Boy" by Bing Crosby and David Bowie
(Recommended by John Micek)
3."Merry Christmas, Happy Holidays" by *NSYNC
(Recommended by Christine)
Stay tuned for next week's Question of the Week contest.
-Written by Elaine Godfrey (@elainejgodfrey) and Candice Norwood (@cjnorwoodwrites)