The Atlantic Politics & Policy Daily: Rick Perry Tangos With Trump
Donald Trump picked the former Texas governor and Dancing With the Stars contestant to lead the Department of Energy.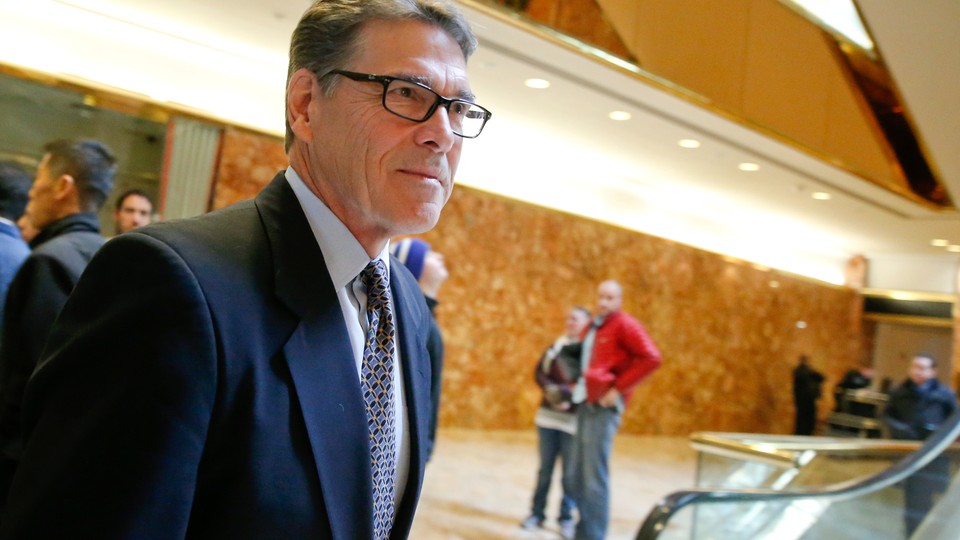 Today in 5 Lines
Tech executives, including Apple CEO Tim Cook, Tesla CEO Elon Musk, and Amazon CEO Jeff Bezos, met with President-elect Donald Trump at Trump Tower. Trump named former Texas Governor Rick Perry to lead the Department of Energy, an agency Perry once said he wanted to eliminate. House Democrats said in a letter that the General Services Administration informed them that Trump must relinquish his stake in his Washington, D.C. hotel to avoid violating a government contract, but a GSA spokeswoman refuted the claim, saying the agency has made "no definitive statement" on the matter. The Federal Reserve announced it will raise interest rates for the second time since the financial crisis due to America's steady economic growth. The National Transportation Safety Board released transcripts of the final conversations between crew members on the El Faro cargo ship before it sank in October 2015.
---
Today on The Atlantic
The Bait-and-Switch: Donald Trump has followed a pattern throughout his candidacy and transition: Whether the topic is tax returns or his relationship with his business, he will "promise to do something at a future date; as that future date approaches, change plans; never follow through." (David A. Graham)

What Now?: On Wednesday, Donald Trump announced his intention to nominate Rick Perry to head the Department of Energy, and now scientists—particularly those invested in mitigating global warming—question what the former governor's skepticism toward climate science will mean for the agency. (Clare Foran)

Where Obama Failed: In response to Ta-Nehisi Coates's story My President Was Black, David Dayen writes: "Any rendering of Barack Obama's legacy is incomplete without including his failure to arrest the foreclosure crisis, or to hold anyone accountable for the widespread damage it inflicted."
Follow stories throughout the day with our Politics & Policy portal.
---
Snapshot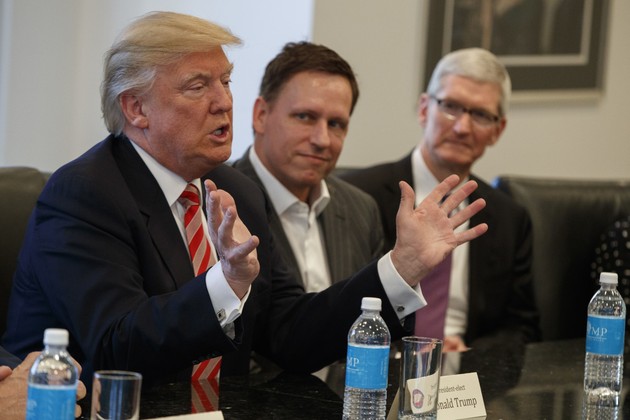 ---
What We're Reading
'Rex Tillerson's 3 A.M. Phone Call': The president-elect's pick for secretary of state is viewed as "a talented practitioner of the art of the deal" and a pragmatist who is used to dealing with "corrupt foreign regimes." Could he be the perfect man for the job? (Blake Hounshell, Politico)
Comey's Mistake: Republicans and Democrats knew FBI Director James Comey as a man of integrity. But he sacrificed his career and reputation when he announced that the bureau would take another look at emails related to Hillary Clinton's use of a private email server shortly before Election Day. What happened? (Tim Weiner, Esquire)
What Happens to Huma?: Hillary Clinton's "adviser, best friend, confidante, and perhaps even surrogate daughter" was expected to get a job at the White House under the nation's first female president. But in the wake of Clinton's surprising loss, Abedin is faced with an abrupt change in fortunes. (William D. Cohan, Vanity Fair)
'Obama's Mad Dash': The Obama administration "had envisioned finalizing a set of regulations and other executive actions that would set the stage for Hillary Clinton's presidency." Now, they are rushing to finish their environmental and energy initiatives before Trump takes over. (Juliet Eilperin, Outside Magazine)
The Road to Salvation: Chico Harlan captures the dangerous, 7,000-mile journey of a Haitian migrant worker who fled the recession in Brazil and traveled through 10 countries with hopes of finding a better life in the United States. (The Washington Post)
---
Visualized
A State-Sponsored Hack: Last week, the Central Intelligence Agency concluded that Russian hackers meddled in the U.S. presidential election in an attempt to help Donald Trump. Follow this chart to see how it unfolded. (The New York Times)
---
Question of the Week
The Hollywood Foreign Press Association announced its nominees Monday for this year's Golden Globe Awards, which has us thinking about our favorite characters from political films and television. Candice loves Parks and Recreation's Leslie Knope, the lovable deputy director of an Indiana city's parks department, and Elaine is partial to Bob Roberts, the conservative Senate candidate in the 1992 mockumentary film Bob Roberts.
Who are your favorite political characters in movies and TV—and why?
Send your answers to hello@theatlantic.com, and our favorites will be featured in Friday's Politics & Policy Daily.
-Written by Elaine Godfrey (@elainejgodfrey) and Candice Norwood (@cjnorwoodwrites)