The Atlantic Politics & Policy Daily: No One Man Should Have All That Tower
The president-elect met with Kanye West at Trump Tower in New York City.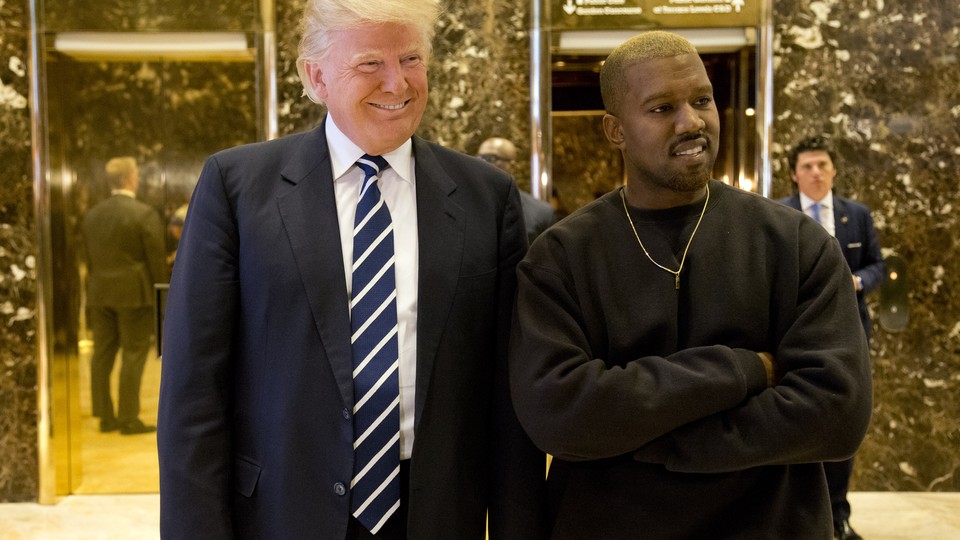 Today in 5 Lines
Donald Trump chose Exxon Mobil CEO Rex Tillerson to serve as secretary of state, calling him "one of the truly great business leaders of the world." The president-elect said he "discussed life" with Kanye West during a meeting at Trump Tower. Syrian rebels have reportedly reached a truce with Russia, and civilians are expected to evacuate Aleppo tonight, after a spokesman for the United Nations human rights office said at least 82 civilians were killed by government forces. The Oklahoma Supreme Court rejected a law requiring doctors at abortion clinics to have admitting privileges at nearby hospitals, saying it violates the U.S. and Oklahoma Constitutions. Ohio Governor John Kasich signed a bill banning abortion after 20 weeks of pregnancy, but vetoed more restrictive legislation that would have prevented abortions after a fetal heartbeat is detected.
---
Today on The Atlantic
'My President Was Black': In the final months of Barack Obama's administration, he and Ta-Nehisi Coates had a series of conversations about his ascension to the White House, race in the United States, and his legacy as the country's first black president.  

What About Those Tax Returns?: Congress should insist that Donald Trump disclose his tax returns, argues Conor Friedersdorf, because if he doesn't, Americans can't be sure whether the president-elect is acting in their best interests or his own.

Tension Building: Donald Trump's pick for secretary of state, Rex Tillerson, "sets up a battle between the Trump administration and Republicans in the Senate" due to Tillerson's connections with Russia. (David A. Graham)
Follow stories throughout the day with our Politics & Policy portal.
---
Snapshot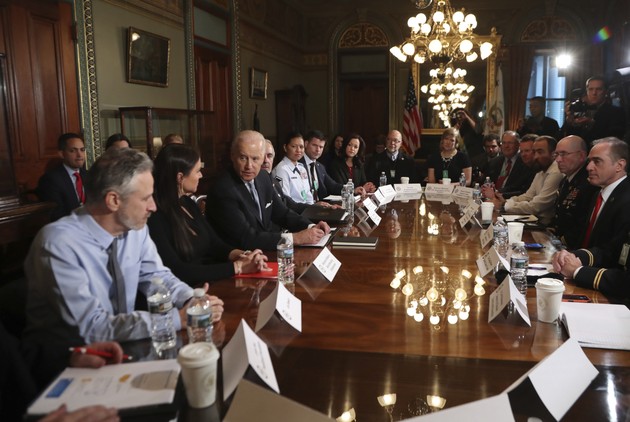 ---
What We're Reading
How They Did It: A New York Times investigation into Russian cyber-interference with the U.S. presidential election "reveals a series of missed signals, slow responses and a continuing underestimation of the seriousness of the cyberattack." (Eric Lipton, David E. Sanger, and Scott Shane)
'Presidential Tweet Risk': Donald Trump's tweets attacking companies like Boeing and Lockheed Martin have had an immediate impact on stock prices. "On Wall Street, a person who can move a stock is called an 'axe,'" and the president-elect, "with his itchy Twitter finger, is quickly emerging as the biggest axe there is." (Ben White and Patrick Temple-West, Politico)
It's Complicated: Under the Affordable Care Act, the uninsured rate in Kentucky fell dramatically. Still, an overwhelming majority of voters in the state supported Trump in the election. What happened? (Sarah Kliff, Vox)
Vanishing Act: Scientists "have begun a feverish attempt to copy reams of government data onto independent servers in hopes of safeguarding it"— specifically from possible attempts by the Trump administration to interfere with crucial climate data. (Brady Dennis, The Washington Post)
Public Frenemy No. 1: The Soviet Union united the American political establishment against a common threat. Those shared opinions appear to be shifting as the Trump team's warm approach to Russia creates divisions between—and within—the major parties. (Greg Myre, NPR)
---
Visualized
'The Making of a Black President': This animation uses snippets of conversations between The Atlantic's Ta-Nehisi Coates and President Barack Obama to illustrate the president's journey to the White House.
---
Question of the Week
The Hollywood Foreign Press Association announced its nominees Monday for this year's Golden Globe Awards, which has us thinking about our favorite characters from political films and television. Candice loves Parks and Recreation's Leslie Knope, the lovable deputy director of an Indiana city's parks department, and Elaine is partial to Bob Roberts, the conservative Senate candidate in the 1992 mockumentary film Bob Roberts.
Who are your favorite political characters in movies and TV—and why?
Send your answers to hello@theatlantic.com, and our favorites will be featured in Friday's Politics & Policy Daily.
-Written by Elaine Godfrey (@elainejgodfrey) and Candice Norwood (@cjnorwoodwrites)