Q of the Week: What's Your New Year's Resolution?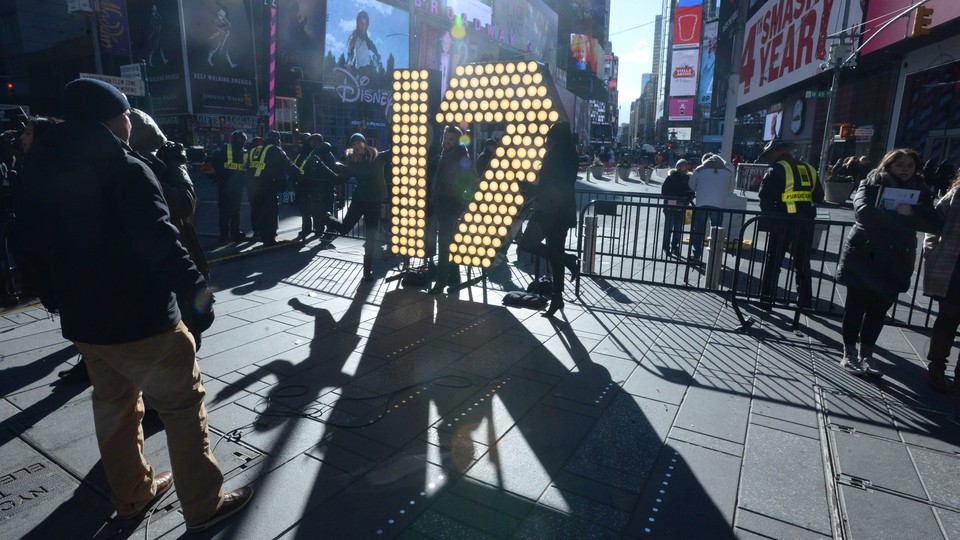 Editor's Note:
This article previously appeared in a different format as part of The Atlantic's Notes section, retired in 2021.
This week, we asked our Politics & Policy Daily readers to share their plans for 2017. Dozens of readers sent in their goals for the new year, and many resolved to become more politically engaged. Here are a handful of our favorite responses:
From Tom Lucas, 42, manager of a reinsurance brokerage firm:
My resolution in 2017 is to take less information at face value and to delve deeper into topics before I form an opinion. I think this will give me a broader perspective on issues and allow me to understand both sides of a debate.
Joanne Allard, 58, from Tucson:
I've recently decided to try and make eye contact with and pass along a cheerful well-wish to people I ordinarily ignore. I'm talking "hellos," "good afternoons," "lovely weathers," etc., with an emphasis on projecting genuine interest. I just got to thinking one day that I tend to avoid contact with people who look as though they'd staunchly disagree with my politics, and it occurred to me that maybe I could help make next year a better one by trying to connect in a positive way.
From Maura Lynch Rubley, 37, high school teacher of government and law:
I have two resolutions for 2017. The first is to find more ways participate in preserving the great American experiment of democracy. The second is to spend more time with my students talking about the importance of reading a variety of reliable news sources, and avoiding both fake news and echo chambers.
Patty Ware, 55, retired from a career in social services:
Normally, I don't make resolutions for the New Year. This year, I will work hard to stick with two:
1) Pay attention to local, state, and national policies and make my voice heard. As an introvert, I'm uncomfortable putting myself out there, but resolve to speak up (in person, via letters, phone calls, public meetings) on important issues.

2) Thank people. I plan to send one handwritten thank-you note/card per week all year. There are numerous things in my life, community, and world to be grateful for. This will force me to notice them and to actually let a person(s) know that what they said or did or didn't do truly mattered. Gratitude is more important than ever.
From Mary Adolphson, 66, retired:
I resolve to become more active in a local non-profit organization that, in addition to other issues, advocates for just and  humane treatment of individuals without legal status in this country.
From reader Anna Bird:
Truthfully, I started early. A few weeks ago I realized I needed to do something about my anger so I made my resolutions. Every time Trump sends out a mean or crazy tweet, I need to do something nice for someone … He is keeping me busy! I open doors for people. I give a compliment to a stranger. I smile at old people who look like they need a friendly smile….That's my way to win against him in 2017 and keep a smile on my face: Show kindness to others.
Richard Brenner, president of a publishing company, writes:
I resolve to listen to myself, to be conscious of my breathing, to reclaim and maintain my balance, to use my being as my tuning fork, and to learn, again, to be still and aware and to meld calmly and gently with the universe; and to not allow the acrimonious strum and drang of noxious politics and hateful tweets to corrupt my consciousness or dictate the rhythms of my life.
And from Don Brocha, 65, retired from software engineering:
My New Year's resolution is a simple one to say, harder to put into practice: I'm going to ignore what Trump says, pay close attention to what he does, and enjoy my family, friends and community no matter what trickles down.

Money talks, I've heard it. It says, "Goodbye."