U.S. Law Enforcement Fatalities Increased in 2016
But officer deaths remain lower than the average annual fatalities over the past decade.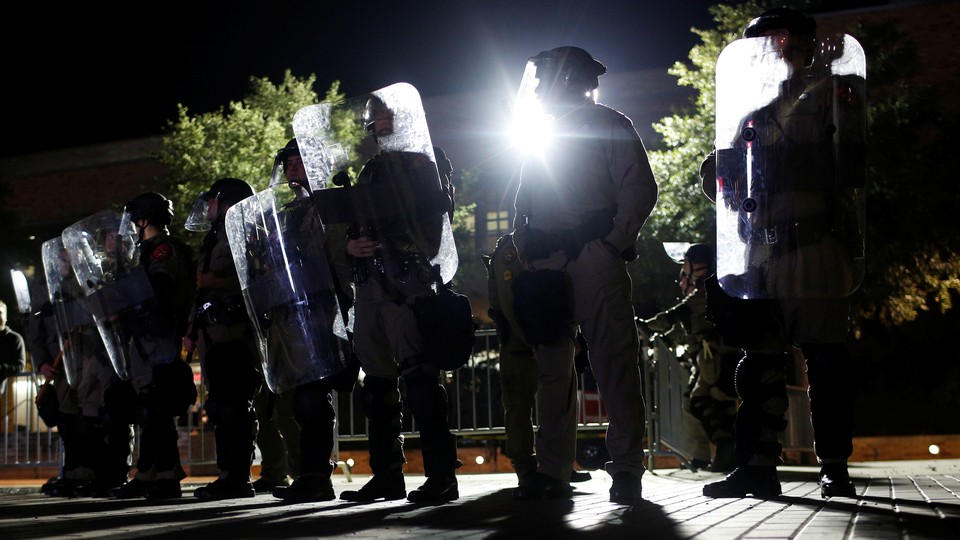 Deadly shootings and ambush attacks contributed to a five-year high in law-enforcement fatalities in the United States in 2016, according to data from the National Law Enforcement Officers Memorial Fund, a non-profit organization based in Washington, D.C.
There were 135 officers killed on the job this year, and gun-related incidents were the leading cause of death, a report released on Thursday indicates. Ambush attacks on officers took place in 21 of the 64 total shooting fatalities, which the memorial fund notes is "the highest total in more than two decades."
One of the most high-profile ambush attacks occurred in Dallas, Texas, in July when five police officers were fatally shot. According to Dallas Police Chief David Brown, the gunman told negotiators that "he wanted to kill white people, especially white officers" and had been disturbed by "recent police shootings." The ambush followed peaceful protests of fatal police shootings of Alton Sterling  in Louisiana and Philando Castile in Minnesota, both of whom were black men. Three police officers were later killed in Baton Rouge, Louisiana, in an another ambush in July.
Texas, California, Louisiana, Georgia, and Michigan were the five deadliest states for law-enforcement agents, according to the report, based on the total number of officer fatalities in each state.
The uptick in officer fatalities took place amid calls for greater police accountability in response to lethal shootings of black men and women by police. Activism against police brutality has become a rallying cry of the Black Lives Matter civil-rights movement, which rose to prominence following the death of 18-year-old Michael Brown at the hands of a police officer in Ferguson, Missouri, in 2014. There were 955 individuals fatally shot by police officers this year, according to data compiled by The Washington Post.
Heightened police scrutiny has led some officers to suggest they feel more likely to face attack. "Blue Lives Matter" has emerged as a counter cry in defense of law enforcement agents. And during his campaign for president, Donald Trump took pains to cast himself as a champion of police officers. "An attack on law enforcement is an attack on all Americans," he declared in his acceptance of the Republican presidential nomination. Trump talked of "threats and violence against our law enforcement officials" and promised to "restore law and order to our country."
But although Trump has painted a vision of a chaotic and dangerous America, as my colleague Matt Ford has pointed out, the crime rate has decreased significantly in the United States over the past 25 years. At the same time, 135 reported officer deaths for 2016 remains below the average annual number of law enforcement fatalities during the past decade, which was 151 between 2006 to 2015, according to the National Law Enforcement Officers Memorial Fund. Data compiled by the memorial fund shows an overall decline in law enforcement fatalities since the 1970s. Total fatalities for this year are also less than in 1930, the deadliest year on record for officers, according to the memorial fund, when 307 on-duty officers were slain.