No Rest for the Federal Government
A dispute of health benefits for coal miners nearly caused Congress to miss a funding deadline that would have prompted a shutdown.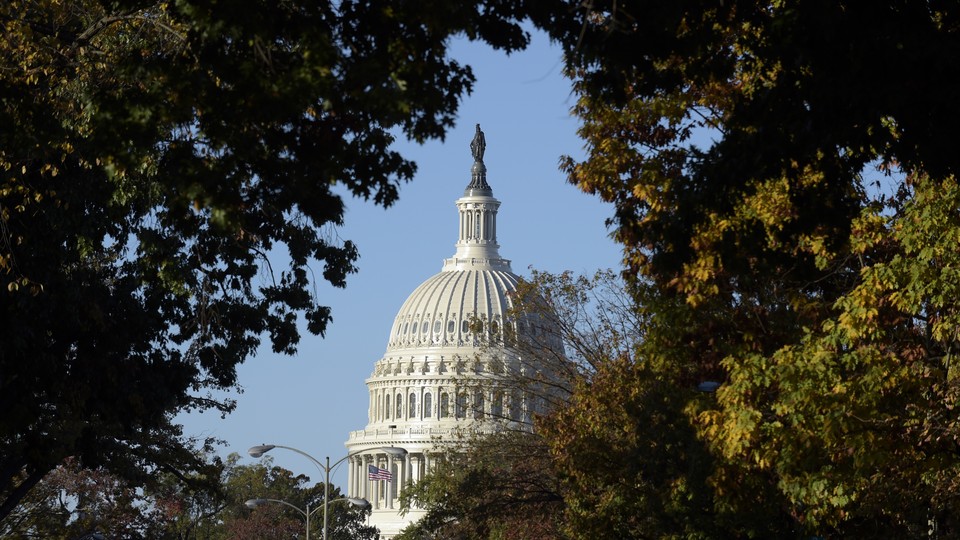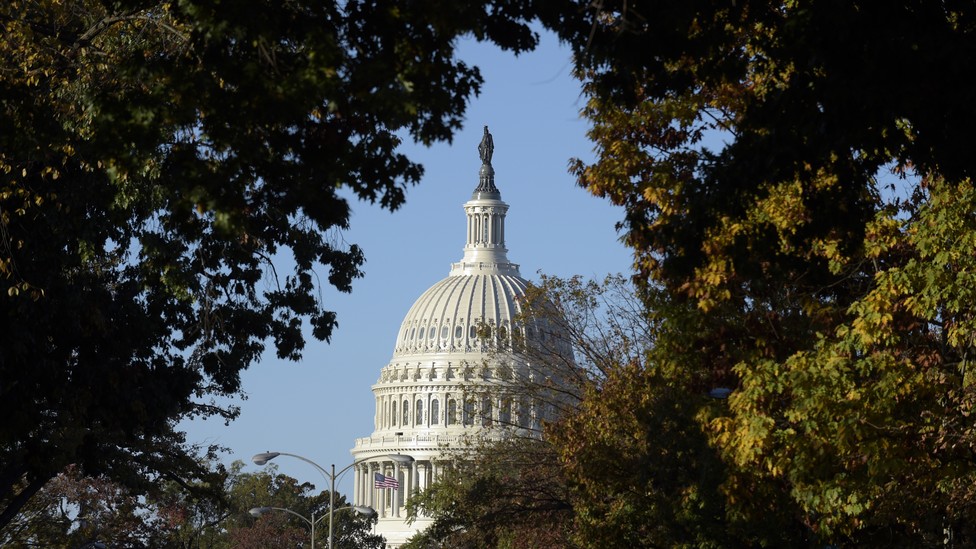 Updated on December 9 at 11:16 p.m.
Senate Democrats relented late Friday night in a dispute over extended miner benefits, allowing a vote to go forward to keep the government open past a midnight deadline. The final vote approving a continuation of federal funding through April 28 occurred shortly after 11 p.m. and passed the Senate, 63-36.
The health benefits for retired miners and their widows were also extended through April, despite the efforts of Democratic Senator Joe Manchin of West Virginia to force Republicans to agree to a longer extension. The funding bill averting a government shutdown had already passed the House and now goes to President Obama for his signature.
December 9, 2016, 2:26 p.m.
Democrats in the Senate might be about to give the federal government a day off.
Funding runs out at midnight on Friday, and a dispute over the continuation of health benefits for retired coal miners and their widows could lead to at least a brief government shutdown until Sunday. Senate Republicans are ready to vote on legislation to fund the government through April 28, but a group of Democrats led by Senator Joe Manchin of West Virginia is protesting the lack of a long-term extension of benefits for thousands of people in coal country.
Unlike previous shutdown showdowns, this late-developing lame-duck fight has not raised the alarm bells of official Washington. President Obama hasn't staged events to lambaste lawmakers for their intransigence and to warn of economic fallout. Federal employees aren't preparing for furloughs. The national parks aren't about to turn away winter vacationers. Heck, the cable networks aren't even bothering with countdown clocks.
Mostly, the widespread indifference is due to the assumption that any lapse will be brief, perhaps lasting no more than 32 hours. That's because according to Senate rules, Manchin and his allies can only hold up a vote on the funding legislation until Sunday morning. And if they relent before midnight, there would be no lapse in funding at all. "At most," tweeted Senator John Cornyn, "they can delay final passage of [the] continuing resolution until 8 a.m. Sunday." At that point, Democrats would need to band together to block the bill and extend the shutdown, but it's unlikely that will happen. "I don't believe there's an appetite for shutting down the government," said Senator Dick Durbin of Illinois, the second-ranking Democrat, according to The Hill.
There's also a practical hurdle: The House passed the stopgap funding measure on Thursday and then recessed for the year. Lawmakers have flown back to their districts and would need to return to Washington if the Senate could not pass their bill or made any changes to it. So if there's an agreement on the miners' benefits, it's likely to require passage of additional legislation when the new Congress convenes in January.
The health benefits for retired miners and their widows run out on December 31, but the funding bill as written extends them through April. "It's been my intention that the miner health benefits not expire at the end of April next year," Senate Majority Leader Mitch McConnell said Friday morning in a speech urging Democrats to drop their objection. "As I just said, I'm going to work with my colleagues to prevent that. But this is a good time to take 'yes' for an answer. We should pass the [continuing resolution] without delay. Because if we don't pass the [continuing resolution], the health benefits will go away at the end of this month."
In a Senate floor speech on Thursday, Manchin said 16,000 elderly beneficiaries had already received letters in October warning them they could lose their health insurance at the end of the year. Without a longer extension, they would get another letter issuing the same warning for April. That, he said, was "totally inhumane." "We're talking of 60-, 70-, 80-year old widows," Manchin said. "Most of their husbands have died. And they're still depending on this. This is the health care they have."
Manchin's protest also represents a test of the new political dynamic after the election of Donald Trump. Along with Senator Sherrod Brown of Ohio, Manchin is hoping that the incoming administration will lean on Republicans in support of a constituency that voted overwhelmingly for Trump in November. But so far, the Trump transition team has stayed out of the fight. (In another odd twist, Manchin had to postpone a job interview with the president-elect in New York to stay and fight the bill in the Senate.)
It has been a lonely battle for the coal-country coalition, in large part because both parties are looking for a holiday break in the partisan warfare after a nasty election and in advance of what could be a tumultuous start to the Trump administration. The Office of Management and Budget has not said what government functions, if any, would be impacted by a weekend lapse in funding. Republicans were already murmuring that the lack of a public outcry or TV countdown was the result of media bias, since Democrats were the ones holding up the funding.
White House spokesman Eric Schultz told reporters that the budget office had directed agencies to proceed with an orderly shutdown if the Senate missed the midnight deadline. He echoed Manchin's concerns about the miner pension issue, but he stopped short of threatening a presidential veto of the funding bill. Schultz said agencies might ignore a brief lapse if it was clear that Congress would pass a spending bill on Saturday after the deadline, but he did not say exactly how long that delay could last. National parks that are open in the winter, for example, are unlikely to shutter on Saturday because they need at least 24 hours notice to do so, and the budget office did not begin directing agencies to make preparations for a possible shutdown until Friday.
Hours before the deadline, it appeared that the decisive vote would occur on Sunday unless Manchin and his allies relented earlier. And the federal government, for the second time in Obama's presidency, was on the verge of closing its doors.