In the Battle Over Voting Rights, What Happens Next?
Court challenges to redistricting in North Carolina and Wisconsin could bring national changes in elections.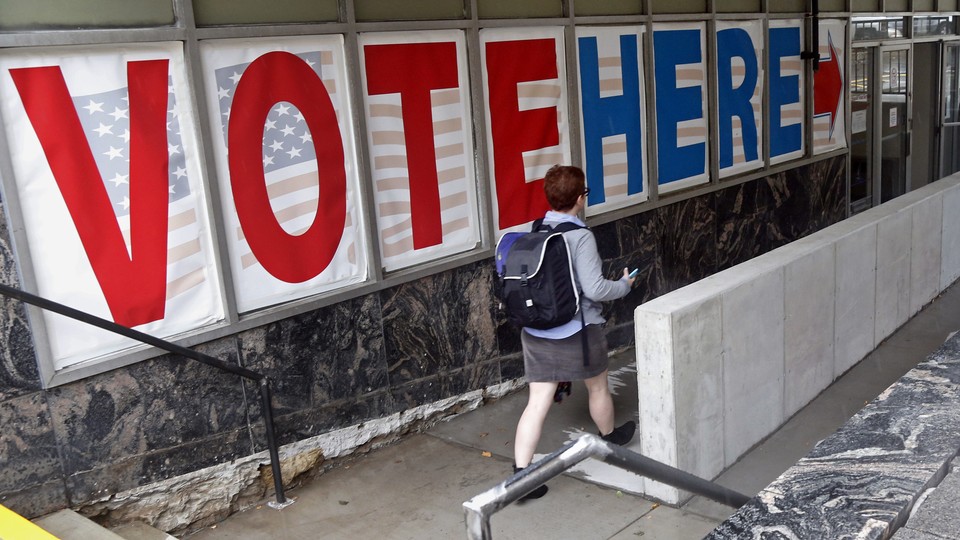 What happens when an election is declared unlawful?
That's exactly what voters in North Carolina and Wisconsin will soon find out, after courts found multiple congressional and state legislative districts in North Carolina to be racial gerrymanders, and several state legislative districts in Wisconsin to be political ones. The rulings in essence mean North Carolina's 2012 and 2014 congressional elections were conducted using unconstitutional districts; though its 2016 elections were conducted under redrawn districts, the lines will need rethinking for 2018. And in both states, the rulings mean that the past three state legislative elections were partly unconstitutional, including ones held last month.
But these court decisions hardly mean the voting issues in these two states are settled. The complex legal and political fights over voting there have been ongoing over the past six years, and will continue. And those battles have consequences outside the state borders, too. Both states' cases could soon be argued in front of the Supreme Court, and have the potential to set precedent ahead of a partisan redefinition of electoral laws that appears likely nationwide over the next few years. The Court will consider a number of cases in these states that might reinterpret the Voting Rights Act, redefine gerrymandering, and change the way voting works. So what's next?
According to Michael Li, senior counsel for the Brennan Center's Democracy Program, the court system essentially has all the authority to figure out what voting will look like in North Carolina and Wisconsin going forward. "The court has broad power to construct a remedy when a map gets struck down for racial gerrymandering or failure to comply with the Voting Rights Act," Li said. "One of those remedies, of course, is drawing a new map or supervising the drawing of a new map. The court can—although it doesn't have to—order new elections, but it has in the past. So for example, when a number of Texas districts were struck down in 2006, there were special elections in those districts for Congress."
In North Carolina at least, a special election is part of the district court's tentative solution to fix the racially gerrymandered districts for the state legislature. The same district-court panel that in August declared 28 General Assembly districts unconstitutional ordered the state to redraw those areas last week, and to hold a special election during 2017's municipal-election cycle for the redrawn districts. That means state legislators elected last month will only serve a one-year term. Though that's only if the order stands: The North Carolina state government has already filed an appeal to the original August ruling to the U.S. Supreme Court, and the justices' decision could reverse the lower court's order for a special election, and will have the last say on whether the original redistricting plan was in fact a racial gerrymander.
The situation in Wisconsin is a bit more straightforward, but perhaps has more consequence nationally. On November 21, a federal district court struck down Wisconsin's Republican-drawn state legislative map on the grounds of partisan, rather than racial, gerrymandering, meaning that officials manipulated districts in a way that "will consistently degrade a voter's or a group of voters' influence on the political process as a whole," according to previous Court opinions. (Congressional districts are unaffected.) The case will likely be reviewed by the Supreme Court. That's where its importance comes into play: So far in history, no district has ever been declared unconstitutional by the Supreme Court on the grounds of partisan gerrymandering, though the Court does recognize that it can be unconstitutional.
The Supreme Court docket over the next few years will probably be saturated with cases about state voting laws and districts, including those in North Carolina and Wisconsin, thanks to the Court's 2013 Shelby County v. Holder decision. That ruling weakened the federal government's administrative oversight of elections laws over jurisdictions with a history of discrimination, and essentially made lawsuits the primary vehicle for remedying discrimination claims.
The Supreme Court's decision on Wisconsin's partisan districts could further complicate matters in North Carolina, too—specifically, for its U.S. House districts. Those districts were redrawn by Republican lawmakers before the 2016 election after a district court declared the lines unconstitutional on the grounds of racial gerrymandering.
But the state Democratic Party is now suing to block the new maps as well: It alleges that the same officials who created the racially gerrymandered districts replaced them with unconstitutional partisan gerrymanders. If the Supreme Court says that partisan gerrymandering is unconstitutional in Wisconsin, that case will become powerful precedent in sorting out North Carolina's congressional districts.
If the Supreme Court finds Wisconsin's and North Carolina's state legislative districts unconstitutional, that would mean three consecutive state governments apiece enacted laws using unlawful districts. Perhaps most remarkably, those laws include voting measures recently passed by both states—ones that themselves seem to have partisan, if not racial, animus.
The North Carolina voting law was one of the most expansive in the country, and included strict voter ID measures and a rollback of early voting and same-day registration, provisions that were found by a state review to benefit minority voters the most. Those same provisions were found unconstitutional by the Fourth Circuit court this year—the 2016 election in the state was conducted under the previous voting laws—and the Supreme Court will likely see a challenge to the Fourth Circuit's decision in the next year as well. In Wisconsin, a less expansive voter ID law was declared constitutional this year but was in effect for the 2016 election. An appeal by the American Civil Liberties Union to block that law was denied before the election, but it will likely appear in courts again.
These legal circumstances create a unique quandary for residents of North Carolina and Wisconsin, who may change districts multiple times in a few years, face conflicting reports of special elections, and may have had their ability to vote threatened by unconstitutional governments. Wisconsin Republicans may have gained power through unlawful partisan advantage, and then passed on that advantage via voting laws. And according to Li, if the Supreme Court upholds North Carolina's state legislative districts as racial gerrymanders, that decision would mean that Republicans given an illegal edge based on racial discrimination passed laws to further that advantage.
"North Carolina is in a bit of an unprecedented situation," Li said. "After Republicans took control in 2010, they were very aggressive in maximizing their advantage, primarily by disadvantaging African Americans and other communities of color. The situation really is quite unprecedented because not only are the maps problematic, but you also have a number of restrictive voting laws in place. ... I can't think of another situation where you've had this exact dynamic."
Overall, what's next is a nightmare to predict. If either of the decisions on Wisconsin and North Carolina in this Court is deadlocked, the next Court with a Trump appointee as a ninth justice might side with the North Carolina and Wisconsin state legislatures on gerrymandering and on the states' voting laws. That would mean both the controversial maps and voting laws could continue to be used—and that the 2016 North Carolina congressional elections were conducted under a court decision on voting rules that was later invalidated. If there is some delay in a Supreme Court pick, the establishment of precedent for voting laws and gerrymandering will likely be determined by which cases are deadlocked or not. For voters in North Carolina, any hold-up could mean there won't even be time for a special election.
"It is really hard to figure out exactly how this will all play out," Li said. "There are any number of twists and turns that are still possible. It's possible the Supreme Court could put a hold on the special election in North Carolina until we decide whether these districts were actually racial gerrymanders or not. It's also possible that the timing just won't work out. It's possible that the legislature just might not draw maps that work." The only certain thing, it appears, is that uncertainty will dominate in both states.
---
Related Videos