Donald Trump's False Bragging About His Charitable Giving
Once again, the president-elect is trying to mislead the public about his philanthropy.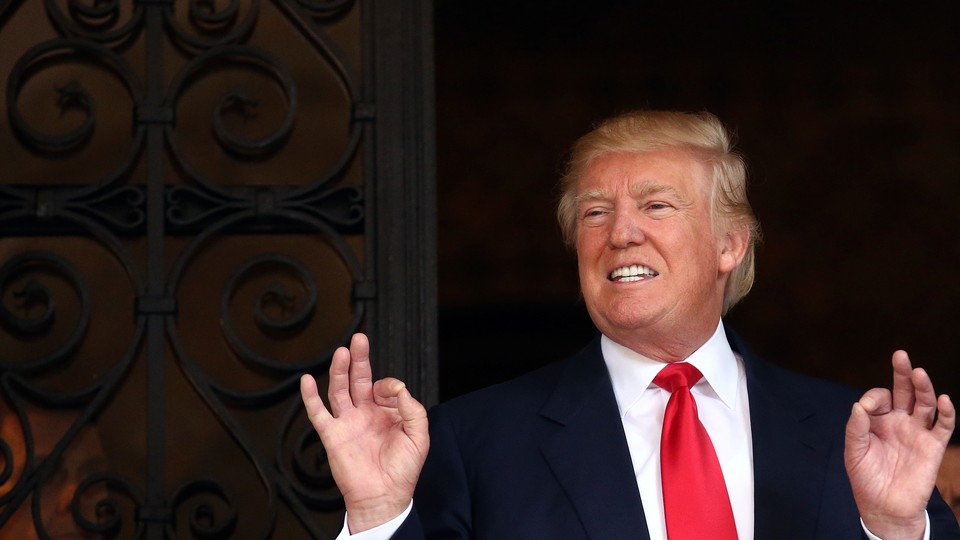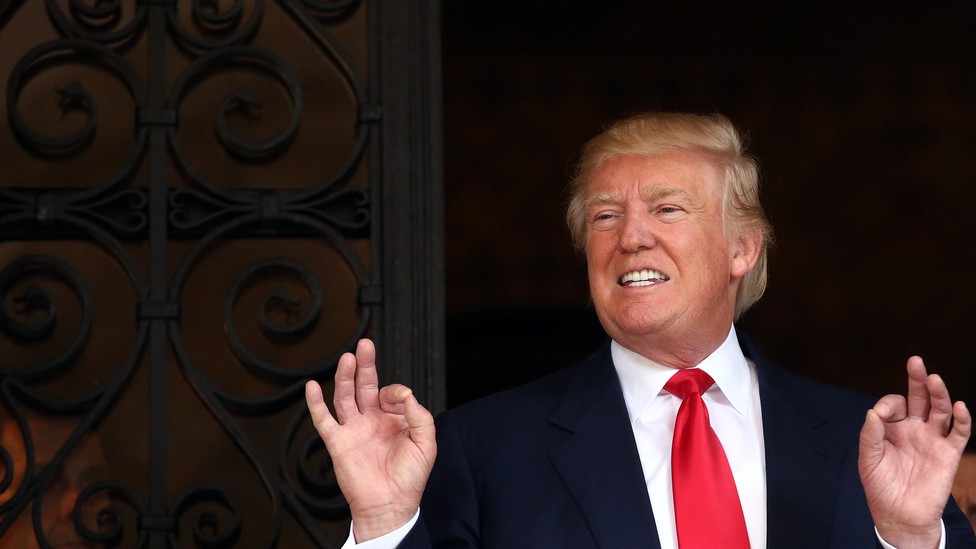 Even the most unsparing critic of the news media cannot deny the tremendous effort put forth by Washington Post reporter David A. Fahrenthold as he spent months doggedly trying to document all of Donald Trump's donations to charity. The task wasn't easy—the candidate refused to release his tax returns—so Fahrenthold probed records going back decades, repeatedly questioned the Trump campaign, and contacted more than 400 nonprofit organizations while showing his work.
His thoroughness was a sight to see. For example:
This transparently conducted reporting yielded much information. The public learned that the Donald J. Trump Foundation once spent $20,000 on a portrait of Donald Trump; that $258,000 from his charitable foundation was used to settle legal problems; that he misled the audience of The Celebrity Apprentice about his giving.
Fahrenthold noted in September that "Trump paid a penalty this year to the Internal Revenue Service for a 2013 donation in which the foundation gave $25,000 to a campaign group affiliated with Florida Attorney General Pamela Bondi (R)." In other words, his foundation illegally used money that was supposed to go to charity for politics. And last month, Fahrenthold reported on another instance of the Trump Foundation admitting its misbehavior with its own funds:
President-elect Donald Trump's charitable foundation has admitted to the Internal Revenue Service that it violated a legal prohibition against "self-dealing," which bars nonprofit leaders from using their charity's money to help themselves, their businesses or their families. The admission was contained in the Donald J. Trump Foundation's IRS tax filings for 2015, which were recently posted online at the nonprofit-tracking site GuideStar. A GuideStar spokesman said the forms were uploaded by the Trump Foundation's law firm, Morgan, Lewis & Bockius.

The Washington Post could not immediately confirm if the same forms had actually been sent to the IRS. In one section of the form, the IRS asked whether the Trump Foundation had transferred "income or assets to a disqualified person." A disqualified person, in this context, might be Trump — the foundation's president — or a member of his family or a Trump-owned business.

The foundation checked yes.

For 2015, the Trump Foundation checked "yes" when asked whether it had transferred "income or assets to a disqualified person" — which in this context might be Trump, a member of his family or a Trump-owned business — and checked "yes" again when asked if it had engaged in any acts of self-dealing in prior years. For 2014, The foundation answered "no" to these questions. Another line on the form asked whether the Trump Foundation had engaged in any acts of self-dealing in prior years.

The Trump Foundation checked yes again.
In articles offering an overall look at Trump's charitable giving, Fahrenthold has explained that the billionaire gave $1 million to a veteran's group this year after promising he would do so on the campaign trail (but failing to do so until pressed by the media).
And before that donation?
In the 15 years prior to the veterans donation, Trump promised to donate earnings from a wide variety of his moneymaking enterprises: "The Apprentice." Trump Vodka. Trump University. A book. Another book. If he had honored all those pledges, Trump's gifts to charity would have topped $8.5 million.

But in the 15 years prior to the veterans' gift, public records show that Trump donated about $2.8 million through a foundation set up to give his money away — less than a third of the pledged amount — and nothing since 2009.

Records show Trump has given nothing to his foundation since 2008. Trump and his staff are adamant that he has given away millions privately, off the foundation's books. Trump won't release his tax returns, which would confirm such gifts, and his staff won't supply details.

"There's no way for you to know or understand," Trump spokeswoman Hope Hicks told BuzzFeed recently.
In 2008, Trump retooled the charity that bears his name to give away other people's money.
This is just a fraction of Fahrenthold's reporting on Trump's checkered relationship with charity. Nearly every major news organization has covered the subject as well. You'd think that the president-elect would avoid calling attention to it, especially with his foundation's own lawyers having filed paperwork that casts it in a bad light. And yet, here is what Trump Tweeted the day after Christmas:
I gave millions of dollars to DJT Foundation, raised or recieved millions more, ALL of which is given to charity, and media won't report!

— Donald J. Trump (@realDonaldTrump) December 27, 2016
The DJT Foundation, unlike most foundations, never paid fees, rent, salaries or any expenses. 100% of money goes to wonderful charities!

— Donald J. Trump (@realDonaldTrump) December 27, 2016
This insults our intelligence.
It ranks alongside "I did not have sexual relations with that woman" as one of the most brazen attempts at obfuscation that a president has tried to pass off on the American people. Trump's record with regard to charity is not a credit to his character. It is not a model of propriety. It is a discrediting pattern of embarrassments. His statements to the contrary are brazen propaganda. Don't fall for them.