Dear Mr. Obama: You Are Still the President
Editor's Note:
This article previously appeared in a different format as part of The Atlantic's Notes section, retired in 2021.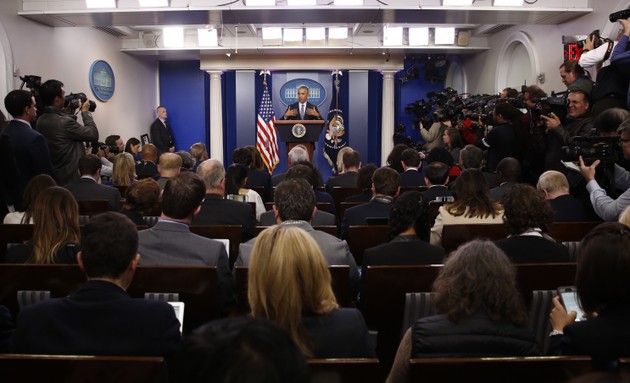 In the four weeks since the election, which seem like four centuries, Donald Trump has dominated the news and done real strategic and economic damage with his stream of intemperate tweets. For a reckoning of the chaos that his tweets about Taiwan and China have already induced, please see these Atlantic items: by Uri Friedman with Shen Dengli, by David Graham, by Chris Bodenner, and by Isaac Stone Fish, with links to many other analyses. The harm he petulantly inflicted today on Boeing, a company that is perennially the United States's leading exporter and one of its most important high-tech manufacturing employers and standard-setters, is only the latest and most flagrant illustration.
This is not responsible behavior. This is not normal. This is not something the United States, or for that matter the world, can really withstand from a commander in chief. But this ungoverned, thin-skinned impetuosity is something the "responsible" GOP has decided, to its enduring shame, that it dare not criticize.
One other thing is true of Trump's destructive outbursts. They come from a person who does not yet exercise any official power. The American-democratic principle of peaceful transfer of power includes the tenet that the United States has only one president at a time. And for the next 44-plus days, that president is Barack Obama.
As president, Obama has often been at his best in moments of national trauma, stress, or confidence-destroying emergency. I am thinking, for example, of one of  his very greatest speeches: his "Amazing Grace" eulogy and exhortation after the gun massacre last year in Charleston, South Carolina.
Our current exposure to Donald Trump is a moment that even experienced Republicans will say—carefully off the record—represents a confidence-destroying emergency. (How do I know this? Like most reporters, I have heard first-hand—but of course not from anyone willing to be quoted. This is the party of Lincoln.) A man whose temperament makes him manifestly unfit to command the vast military, surveillance, investigative, and enforcement powers of the U.S. government stands mere weeks away from assuming that command.
There is nothing Barack Obama can do about the transition scheduled for January 20. But in the meantime he is the president, and he needs to be present— and visible, and heard from. So far he has been deferential to a fault, letting the chaos emanating from Trump's Android phone disrupt markets and alliances. His latest major press conference was on November 14, more than three weeks ago. (Trump, of course, has not held a press conference since the election, and none at all since July.)
Obama's lowkey approach is no doubt an extension of his statesmanlike invitation to meet Trump just after the election, and their strained handshake at the White House. It's in keeping with "no drama Obama." He has never been known for seeking confrontations.
But if he thinks that America stands for values different from Trump's daily outbursts, if he thinks the institutions of the country can survive the tantrums of the man scheduled to control them, if he thinks democratic norms and limits deserve defense, if he thinks the United States can find a steady path in the world despite a most unsteady leader—and we assume that Obama believes all these things, and may even have thoughts about the path forward—then let's start hearing from him. Why not another press conference tomorrow? And then one a week after that. And then maybe we'll all take a week off for Christmas and Hanukkah—but other presidents have given post-holiday greetings, and he could too. And remember hearing about Dwight Eisenhower's greatest speech, his farewell address, three days before John Kennedy was sworn in? As his next rhetorical target, Obama could set for himself the goal of topping that to give the most-influential ever farewell address.
Everything Barack Obama has stood for, Donald Trump—not yet in office—is doing his best to discredit. For the next 44 days, Obama will still be the most powerful person on Earth, so he might as well sound that way. Remind us of what the country is, what it should stand for, how it can find a steady path ahead.
As the current saying goes: What the hell does he have to lose?