Trump's Pick for Israel Ambassador Is No Diplomat
David Friedman, a bankruptcy lawyer, believes Israel can annex and settle in the West Bank, wants to move the U.S. embassy to Jerusalem, and called a liberal American Jewish group "worse than kapos."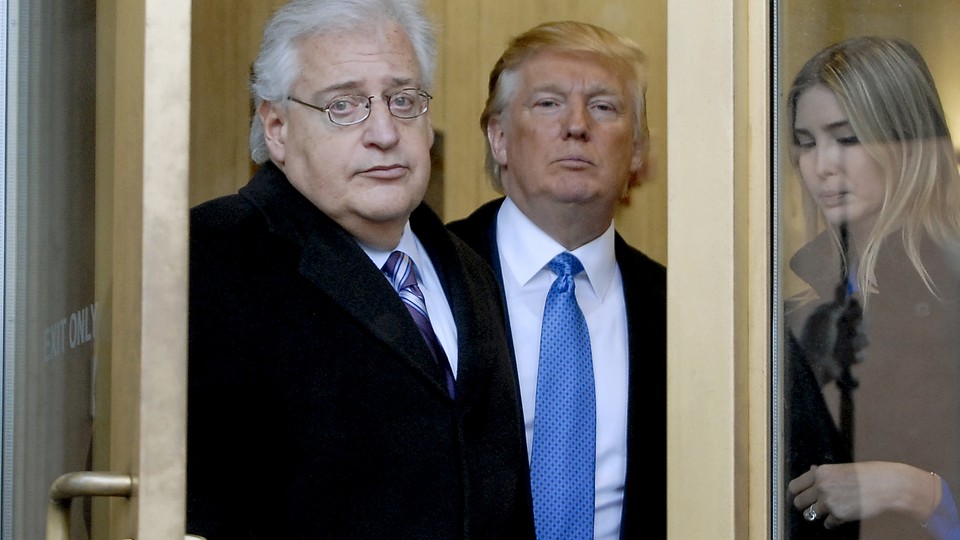 There was a time when Donald Trump's statements on Israel rattled hardliners who were concerned he would be too friendly to Palestinians. In February, when Joe Scarborough asked him who was to blame for the Israeli-Palestinian conflict, the Republican candidate replied, "I don't want to get into it for a different reason, Joe, because if I do win, there has to be a certain amount of surprise, unpredictability. Let me be sort of a neutral guy, let's see what—I'm going to give it a shot. It would be so great."
Those days are long gone, a fact made clear by President-elect Trump's decision to appoint David Friedman, an extreme hard-liner on the right, as his ambassador to Israel. Friedman, like many of Trump's picks for Cabinet jobs, does not have any directly relevant experience, and the two men previously worked together when Friedman, a bankruptcy attorney, represented him in past bankruptcy proceedings.
But Friedman advised Trump on Israel policy during the campaign and has left behind a long trail of statements indicating his views, including equating liberal Americans Jews to "kapos" who assisted Nazis in ghettos; labeling President Barack Obama an anti-Semite; and suggesting Israel should annex the West Bank.
Even Friedman's quote in the statement announcing his nomination has stirred up controversy.
"I am deeply honored and humbled by the confidence placed in me by President-elect Trump to represent the United States as its Ambassador to Israel," he said. "I intend to work tirelessly to strengthen the unbreakable bond between our two countries and advance the cause of peace within the region, and look forward to doing this from the U.S. embassy in Israel's eternal capital, Jerusalem."
It's that last bit that's notable, because the U.S. embassy is currently in Tel Aviv, as it has been since it was established. The embassy has not moved because the status of Jerusalem remains a disputed element in the Israeli-Palestinian conflict. Trump said during the campaign that he would move the embassy to Jerusalem, but as Peter Baker of The New York Times noted last month, promising to move the embassy and then going back on that promise is a time-honored tradition for U.S. presidents: Bill Clinton and George W. Bush both did so, only to change their minds later. A 1995 law even mandated it, but every president since it was passed has repeatedly waived that requirement.
Going through with such a move would likely further inflame an already touchy situation, with little prospect of serious peace negotiations, much less a resolution. Friedman's other statements suggest little inclination to change that. Longstanding U.S. policy has been to oppose Israeli settlements in the occupied territories of the West Bank, which the international community holds to be unlawful. But Friedman has repeatedly argued that the settlements are legal. Friedman has also said that despite longstanding U.S. policy that seeks a two-state solution, with a separate nation for the Palestinians, "a Trump administration will never pressure Israel into a two-state solution or any other solution that is against the will of the Israeli people." He says Trump would support annexation of chunks of the West Bank and thinks a single-state solution would be workable, because he believes there are fewer Palestinians than commonly estimated.
The liberal Israeli newspaper Haaretz concludes, "Based on statements he has issued and columns he has penned, Friedman is positioned on the far right of the Israeli political map—more hardline in his views than Prime Minister Benjamin Netanyahu."
But Friedman has reserved some of his harshest statements for liberal American Jews. He has tangled with my colleague Peter Beinart, saying that reading his work would drive one to vote for Trump. Friedman was reacting in part to Beinart's criticism that Friedman had compared J Street, a liberal, dovish American Jewish group, to kapos who collaborated with Nazis. That was wrong, Friedman wrote this summer:
They are far worse than kapos—Jews who turned in their fellow Jews in the Nazi death camps. The kapos faced extraordinary cruelty and who knows what any of us would have done under those circumstances to save a loved one? But J Street? They are just smug advocates of Israel's destruction delivered from the comfort of their secure American sofas—it's hard to imagine anyone worse.
The New York Times reports that at an off-the-record meeting earlier this month, Atlantic Editor in Chief Jeffrey Goldberg pressed Friedman on the statement, which he refused to withdraw. "They're not Jewish, and they're not pro-Israel," Friedman replied, according to the Times.
Unsurprisingly, J Street reacted negatively to Friedman's nomination, saying in a statement, "The nomination shows breathtaking disdain for the vast majority of American Jews who support the two-state solution, progress toward peace with the Palestinians and common decency in public discourse."
Also reacting negatively was a top Palestinian official, Saeb Erekat, who said that while he doubted the U.S. would really move the embassy or allow the annexation of the West Bank, doing so would "be the destruction of the peace process." Where Trump had once imagined that the negotiation skills he often boasts could help bridge one of the world's deepest divides, the Friedman nomination suggests that the president-elect may have decided brokering Israeli-Palestinian peace is one deal he's not interested in making.