A Wisconsin Legislator Models Political Correctness for Students
Instead of selectively attacking views they find objectionable, students, administrations, and elected officials could try defending the principle of free speech.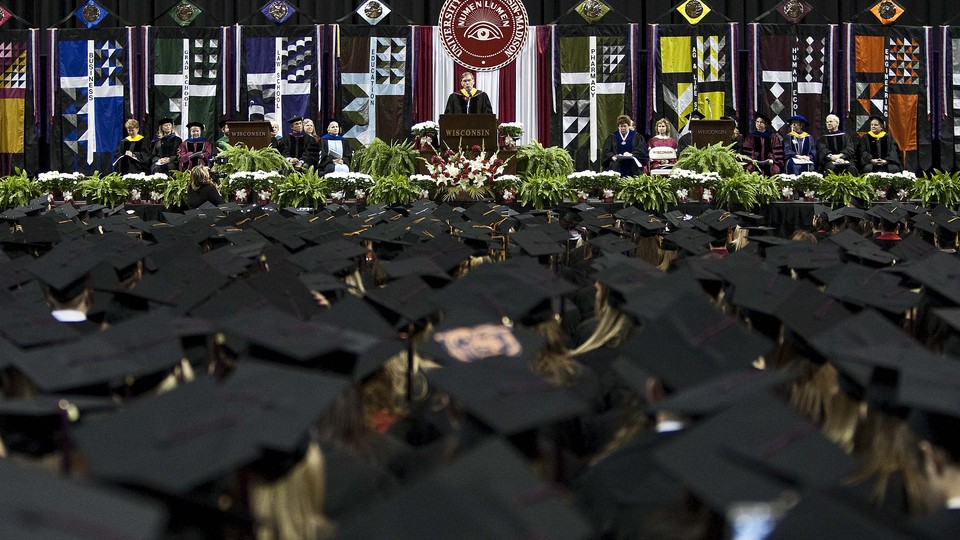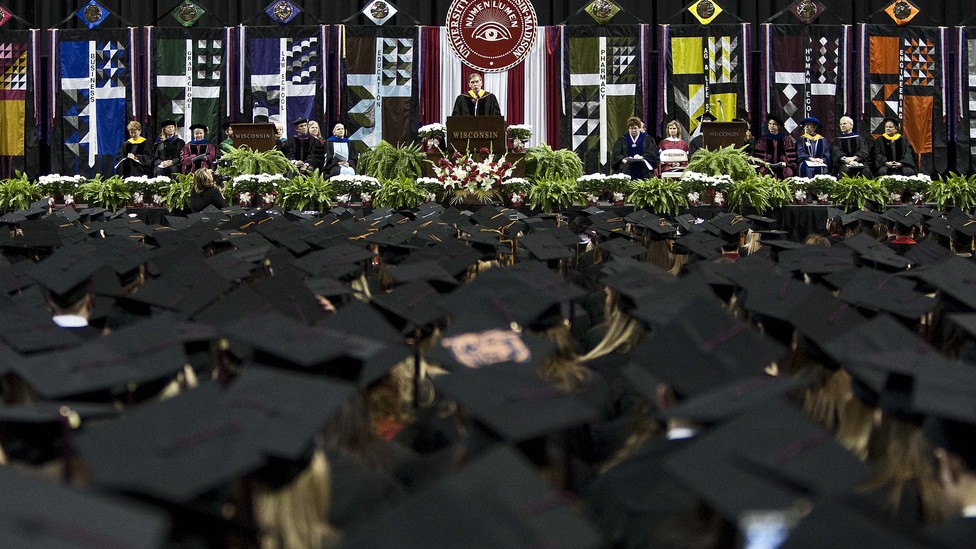 When Wisconsin lawmaker Steve Nass was an undergraduate in his state's public university system during the late 1970s, he reportedly got into a dispute with a liberal professor. In his telling, he got an F on an assignment for disagreeing with her belief that the world would run out of coal by the year 2000. For the rest of the semester, he grudgingly parroted her views in his papers even though he didn't believe them. "So much for free speech," he later said to Isthmus, a local publication.
Many years later, as a state lawmaker, he could have emerged as a champion for free speech on campus, perhaps urging the University of Wisconsin toward a "green light" rating from the Foundation for Individual Rights in Education, rather than its existing "yellow light" rating. Instead, he has spent decades identifying campus speech that offends his sensibilities and threatening to cut its funding unless administrators force closer adherence to his notion of what is politically correct. Would he take pleasure, one wonders, if liberal faculty members parroted beliefs that he finds sensible rather than what they really believe?
This week, Nass made headlines while joining a colleague in threatening the university's funding over a class it will offer next semester named "The Problem of Whiteness." Triggered by the course's title, the lawmakers launched a campaign to stigmatize it. As if following Saul Alinsky's advice to "pick the target, freeze it, personalize it, and polarize it," they went after the course's professor, too, calling out old tweets that seem to make light of violence against police officers and demanding that the professor's university superiors deny him a platform.
Nass has previously threatened the university system's funding and suggested penalties for faculty members over an essay on the sexual preferences of gay men that a lecturer assigned to a sociology class; an arts festival called "Art in Protest" that he caused to be cancelled; a "cultural fluency" education program; a fact-sheet on "right-to-work" laws produced by a UW-Madison economics professor; and an invitation to Ward Churchill to speak on a UW campus that Nass wanted rescinded.
"It is not free speech," Nass told the O'Reilly Factor back in the aughts while objecting to Churchill's scheduled event. "It's hate speech. And that's where the line has to be drawn. And the university needs to withdraw their invitation for him to speak." (In fact, as the ACLU points out, "The First Amendment to the United States Constitution protects speech no matter how offensive its content. Speech codes adopted by government-financed state colleges and universities amount to government censorship, in violation of the Constitution." There is no hate speech exception.)
The point isn't that every course, assigned reading, or invited speaker that Nass complains about is beyond criticism, or a prudent use of resources, but that no quality university can succeed if politicians insist on micromanaging campus life, especially if they focus on whatever grates most on their ideological sensibilities rather than matters of relatively greater consequence to tens of thousands of students. To insist that speaking invitations be rescinded is not the proper role of any overseer.
Alas, some current students possess a similar illiberal streak.
Earlier this year, student protesters at the University of Wisconsin at Madison tried to shut down a campus speech by the conservative pundit Ben Shapiro. "In a climate where hate speech is being condoned frankly at an institutional level," one protester argued, "at an institution that is not taking a firm stand, we are going to."
Also, an investigation was briefly launched into an April Fools' edition of the student newspaper after a censorious student filed an official complaint with the university.
Historical paintings portraying interactions between white traders and Native Americans were moved to storage after protests against them until a "controlled gallery space" was available due to "potentially 'harmful effect' on students."
And at a satellite UW campus, a "hate-bias reporting system" is being construed so broadly that it is being used to lodge complaints against speech that is obviously constitutionally protected.
One student reported feeling unsafe after encountering a Campus Crusade for Christ poster on campus, saying the cross represents "oppression and hate of the LGBT+ community." The student reported feeling unsafe on campus while homophobic groups are allowed. Two students reported one of their peers for an off-campus blog post that was shared on Facebook and Tumblr about life as a white student, with one of the reporters saying the blog was offensive to students of color and they they did not feel safe living on campus since the author lived close by.
Lest overzealous policing of speech lead anyone to conclude that there must be an absence of truly odious expression at UW, think again. Inside Higher Ed reports on several abhorrent examples of speech that suggest ongoing bigotry directed at historically marginalized groups.
In January, a student taped swastikas and photographs of Hitler on the door of a Jewish student's room. In March, three students interrupted an event about Native Americans who were victims of sexual assault by yelling "war cry" noises. Later that month, a student spat on a group of black students, calling them "poor and here on scholarship." In April, someone slipped a note under the door of a freshman who is biracial and identifies as African-American. "Fuck you nigger bitch," the note read.
This Halloween, an attendee at a UW football game upset many students and alumni by wearing prison garb, a noose, and alternating between Hillary Clinton and Barack Obama masks. The student athlete Nigel Hayes responded to the incident with a powerful letter about prejudice that he has faced at the university and beyond.
Administrators criticized the noose costume, even as they defended the right of the spectator to wear it. "Some have asked why the individual was not ejected," Chancellor Rebecca Blank later noted. "As offensive as this costume was, I believe our university must resist the desire to outlaw forms of speech and political dissent with which we disagree. We strive to build a campus community in which ideas and expression are exchanged freely, but also constructively, respectfully and in a manner that advances educational opportunities for our students."
If the university and its students consistently adhered to those values, they would meet a clear constitutional obligation: that public universities abide by the First Amendment's speech protections.
As it happens, Nass, a man so willing to part ways with free speech norms back when he asserted that Ward Churchill was engaged in hate speech, issued a press release on neither the man with the noose nor the chancellor's defense of the right to wear offensive costumes––nor can I find any occasion on which he has criticized campus hate speech that he would see as originating on the right and aimed at the left, though he did recently take time to object to what he called a "racial overreaction."
Its almost as if he doesn't actually subscribe to the beliefs about hate speech that he cited to justify his past censoriousness. He appears to excel at representing voters who are both censorious and unprincipled. Wisconsin voters, whether they want a legislator who is a champion of free speech, one who is a critic of hate speech, or one who demands that university overseers to focus on matters other than speech controversies, should at least agree that Nass is failing them all.
And conservatives, liberals, and libertarians should all be able to agree that consistent, principled defenses of free speech norms are indispensable at institutions of higher education, and that their absence is most damaging to marginalized students. Uniting against illiberalism on the right and left is the best course. Otherwise, political groups will waste their efforts on an interminable fight to censor one another, instead of defending the values that serve them all.
By definition, marginalized groups will never win.