The Year in Race, Identity, and Criminal Justice
Selections from The Atlantic's coverage of 2016, when longstanding tensions over race and identity erupted into conflict.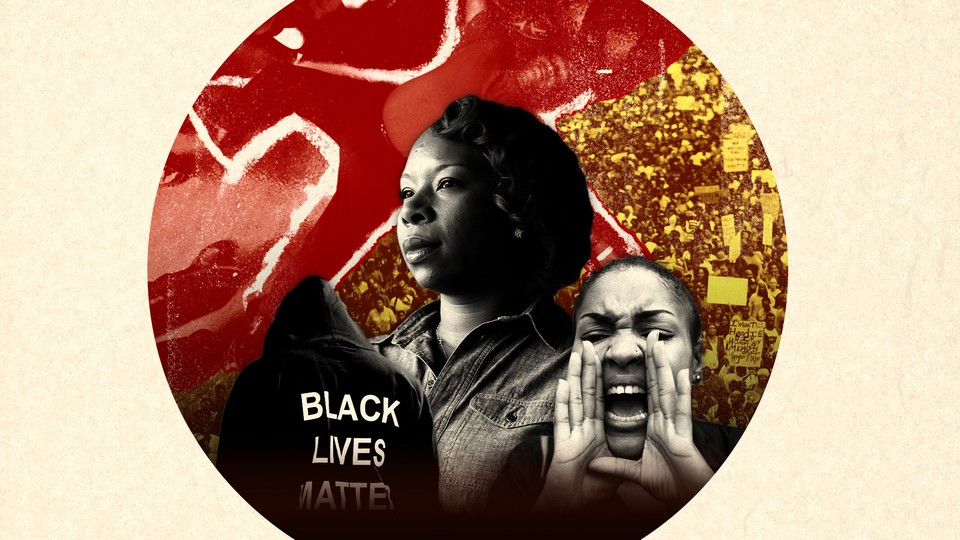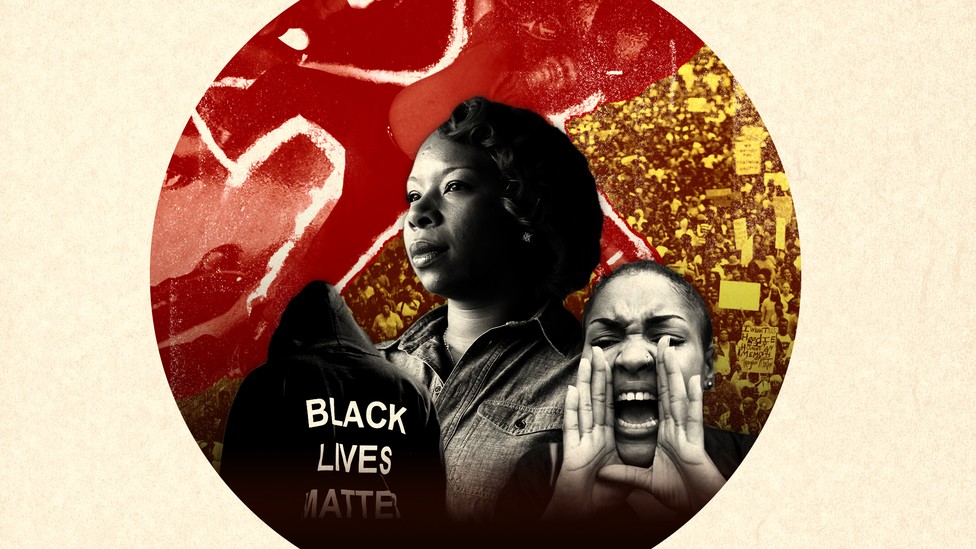 Every December, The Atlantic looks back on the previous year—to highlight not just the "big moments" but also the progression of "big ideas." Below, the second of three installments looks at the year in race, identity, and criminal-justice coverage.
---
In 2016, long simmering tensions over race and identity in America boiled over. Years of conflict between police and minority communities, clashing views concerning abortion and gender identity, and fear of immigrants and Muslims in a diversifying country all played prominent roles in a contentious presidential election. More than three-fourths of Americans feel the country is "greatly divided" on crucial issues, according to a recent Gallup poll. The United States has a long road ahead to address these issues, but The Atlantic's coverage from the past year offers some clues about what may lie ahead.
The Year's Coverage
A Bloody American Summer: In five particularly high-profile cases, black men were shot and killed by police; a single shooter also killed five officers during an ambush in Dallas. David A. Graham analyzed the freedoms enshrined in the Second Amendment, and the limits of their exercise by black Americans. And the Princeton University historian Julian E. Zelizer looked to 1968 as a lens to examine the wave of racial tension.
Reforming Policing: In the wake of these shootings, Juleyka Lantigua-Williams asked two former police chiefs and a leading police training researcher whether training and preparation could avert such tragedies. After the deadly Dallas shooting, Ta-Nehisi Coates discussed the inevitability of anti-police violence during a time of "illegitimate policing": "If the law is nothing but a gang, then it is certain that someone will resort to the kind of justice typically meted out to all other powers in the street."
Upholding Free Speech: Debates over campus activism, political correctness, and safe spaces continued throughout the year. Many students from marginalized groups advocate for defined places on their predominantly white campuses where they can express themselves openly. But Oliver Bateman argued that this atmosphere of political correctness can pose a threat to adjunct professors, who may censor the content in their classes for fear of retaliation from students. Conor Friedersdorf expressed similar concerns, citing the case of a filmmaker who was disinvited from hosting a screening at Syracuse University.
Sitting Down to Take a Stand: The San Francisco 49ers quarterback, Colin Kaepernick, became a subject of national praise and criticism after he refused to stand for the national anthem during an August game in protest of the country's racism and discrimination. Adam Serwer argued that Kaepernick's detractors, "when they are not insisting his protest is unpatriotic, or disrespectful to the military, mock his background, upbringing, and success." Peter Beinart, for his part, expressed sympathy with Kaepernick's concerns, but argued that his protests were counterproductive.
The Nativist Resurgence: Donald Trump's campaign-trail rhetoric emboldened white nationalists, who proved a vocal presence on the public stage. The historian Kelly J. Baker compared Trump's "hypernationalistic" rhetoric to the language of the Ku Klux Klan in the 1920s, a movement Joshua Rothman later explored in greater depth. White nationalists, Emma Green wrote, had soured the fine art of trolling into simple, hateful nastiness.
Criminal-Justice Reform: The year opened with tremendous hope for bipartisan criminal-justice reform. But, as Steve Teles explained to David Frum, Republican support for the initiative was more fragile that it seemed. Democrats like Cory Booker continued to press for action, but momentum stalled. Matt Ford reviewed the debate over the historic drop in crime in recent years, Barry Latzer argued for a cultural explanation, and Juleyka Lantigua-Williams looked at San Antonio, one city where reports of serious crimes are rising.
The Supreme Court: After the death of U.S. Supreme Court Justice Antonin Scalia in February, Trump pledged to appoint a similar successor, while Jeffrey Rosen praised President Obama's nomination of Merrick Garland as a victory for judicial restraint. As Republicans refused to act on the nomination, Epps condemned their intransigence, but Michael D. Ramsey defended the move as the Senate's right. Barry Friedman, a professor at New York University, examined Scalia's opinions on law enforcement to highlight the important role to be played by his successor.
Identity Crisis: In the aftermath of the presidential election, some pundits and academics attributed Hillary Clinton's defeat to the Democratic Party's focus on identity and social issues. But Vann R. Newkirk II wrote that this same focus allowed Roy Cooper to defeat Republican incumbent Governor Pat McCrory in North Carolina. Despite that small victory, Democrats face the question of how to approach identity politics in the future as they scramble to find a way to move forward without control of Congress or the White House. David A. Graham discusses how these challenges may affect Representative Keith Ellison, a black Muslim running to be chair of the Democratic National Committee.
---
Related Videos