Women May Decide the Election
Cultural and demographic changes throughout the country are making female voters a more powerful force than ever.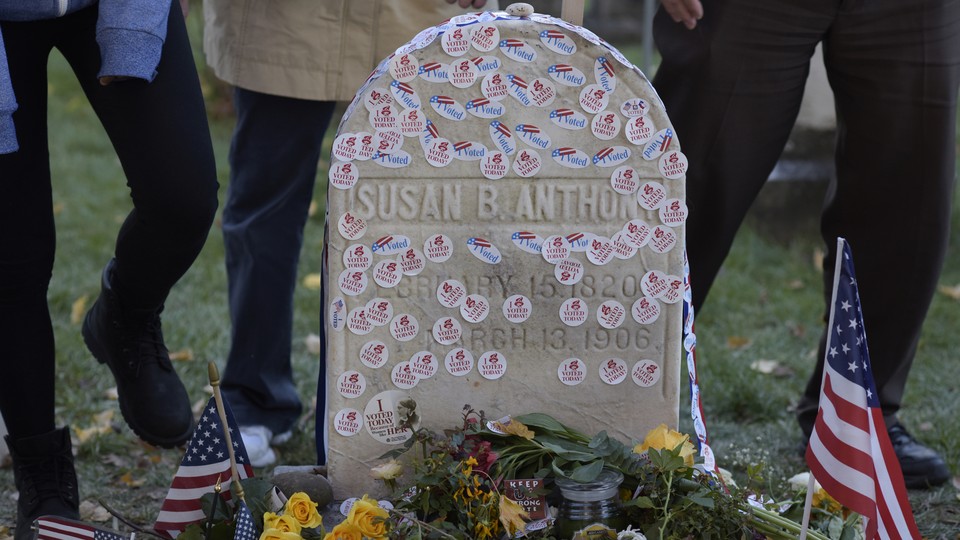 Donald Trump dragged already-prominent public debates over gender equality and consent into the presidential race, due to prominent reports about his mistreatment of women and allegations of sexual assault. At the same time, Hillary Clinton became the first truly viable woman presidential nominee the nation had ever seen—and used Trump's alleged behavior toward women as a weapon against him.
So perhaps it's no surprise that between Trump's candidacy and Clinton's potential to make history, women are taking gender issues into account when they decide which candidate to vote for. But thanks to a collision of cultural and demographic change that's occurred this election cycle, this voting bloc, representing half the country, could be more influential over an election's outcome than ever before.
For the most part, women are supporting Clinton, which is consistent with women's tendency to favor Democrats in elections held since 1980. According to the electoral map produced by SurveyMonkey, a nonpartisan online pollster, the Democratic ticket is leading among women in 37 states—as of Monday morning—and leading by a margin of at least 20 points in 19 states. Clinton could also have an edge based on which voter groups are most prominent. The groups of women already most likely to support Democrats—minorities and college-educated whites—are expected to represent their largest share of the vote ever. The demographic that includes the women least likely to support the Democratic candidate—white voters without a college education—is likely to be the smallest ever.
And shifts in the cultural conversation about women could affect how female voters perceive the candidates. Celinda Lake, a Democratic pollster and strategist, called this change in public discussion about women "the Bill Cosby effect" and the "Roger Ailes and Fox [News] effect," pointing to "things that would not have been talked about, things that would not have been covered" had they happened in previous years. She referenced the recently released Access Hollywood tape of Trump, wherein the Republican nominee bragged about grabbing women by their genitalia. "I think it was a bigger cultural phenomenon," Lake said, referring to increased attention to issues like sexual harassment. But "Trump has been more catalytic to the conversation" than Clinton's potential presidency.
Trump has consistently found himself defending his own behavior toward women. And according to recent polling, his actions—alleged or otherwise—have affected voters' perceptions of him. In a Pew Research Center report released late last week, 43 percent of women said that he had "no respect at all" for women, compared with 29 percent of men. Of women who are supporting Clinton, more than 90 percent say Trump has little or no respect for women.
Ahead of the election, women on the whole seemed to be pro-Clinton. But it's not quite so simple as that. For one, the numbers look different once women are divided by race and education level. According to SurveyMonkey polling from late October, white women without a college degree support Trump by a margin of 16 percent—38 percent for Clinton vs. 54 percent for Trump. The final NBC News/Wall Street Journal survey released Sunday gave Trump an even larger 24-percentage-point lead among those blue-collar, white women.
Among white women with college degrees, on the other hand, the SurveyMonkey data found support for Clinton by a margin of 28 percent—61 percent Clinton to 33 percent Trump—while the NBC News/WSJ poll put her lead at 21 percentage points. No matter which poll is most accurate, she seems guaranteed to top the largest Democratic advantage ever with these white-collar white women: Al Gore's eight-point lead in 2000.
Her support among women of color was even more pronounced. In the SurveyMonkey polling, non-white women with college degrees support Clinton by a margin of 58 percent—76 percent vs. 18 percent—and non-white women without a college education support Clinton over Trump at a margin of 68 percent—81 percent vs. 13 percent.
The share of the white population without four-year degrees has been steadily dropping since 1980, when white voters without a college degree made up 65 percent of the electorate. In 2012, according to exit polls, they made up just 36 percent. (Census data puts the non-college-educated white share higher, but also shows it steadily declining, at a rate of about three percentage points every four years.) This bloc, including women, tends to support Trump. But the share of white, college-educated, and minority voters has grown in that same time span. The share of white voters with college degrees increased from 26 percent to 36 percent of the electorate, and the minority share of the electorate has increased from 9 percent to over a quarter of the electorate. Those shares of the population—the growing ones—support Clinton.
Still, undecided women may lean in Trump's favor, because so many of those voters are independent, blue-collar white women. And in addition to Trump's support from working-class white women, he can also target groups of women whose support for Clinton has softened—including suburban women, independent women, and married women—especially since the most recent FBI controversy, when Director James Comey announced the bureau had more Clinton-related emails to examine (and then announced they found nothing significant). "Obviously her campaign is geared toward restrengthening that support," Lake said. "His campaign is geared toward accentuating those news doubts."
Trump's campaign has deployed his wife, daughter, and daughter-in-law to help win over women who aren't firmly in Clinton's camp. As James Hohmann from The Washington Post points out: "These might not be the best surrogates to woo the kinds of college-educated women Trump needs, but they will probably still be more effective than Jeff Sessions, the Alabama senator who was recently deployed to Iowa to headline a 'Women for Trump' event." Plus, they may be effective with married and suburban women.
But it's going to be hard for them to chip away at Clinton's hold on minority and white-collar white women, which isn't solely based on opposition to Trump. Clinton overwhelmingly won the female vote in the primary against Bernie Sanders. In 23 of the 27 states with primary exit-poll voting, Clinton won a majority of women—and by significant margins. On average, she won female voters in each of those 23 states by 26 percent over Sanders, a margin Lake attributed to women's preference for Clinton's agenda focused on children and families, for a female candidate, or for a unifying tone.
All that is to say that Clinton has a base of female support that's been there since before she or Trump had won their respective primaries—and before the Access Hollywood tape and sexual assault allegations against Trump surfaced. And while Trump may seek to capitalize on Clinton's low favorability ratings to convince women to vote GOP, Clinton's favorability has been significantly higher among women than among men in polls. A Fox News poll in October found that while Clinton's overall favorability rating was just 44 percent, among women it was 51 percent. Trump's overall favorability was 41 percent, and just 38 percent among women.
Trump is going to have to fight against a decades-old tendency for women to tilt more toward Democratic presidential candidates than men do, along with a cultural sea change that's put a magnifying glass on his own posture toward women. As Lake points out, women—who turn out in higher numbers than men—will decide this election either way.