Will Government Officials Still Trust the FBI With Their Darkest Secrets?
Background checks require appointees to divulge intimate details to gain security clearances—but the Bureau's politicized leaks could undermine that important process.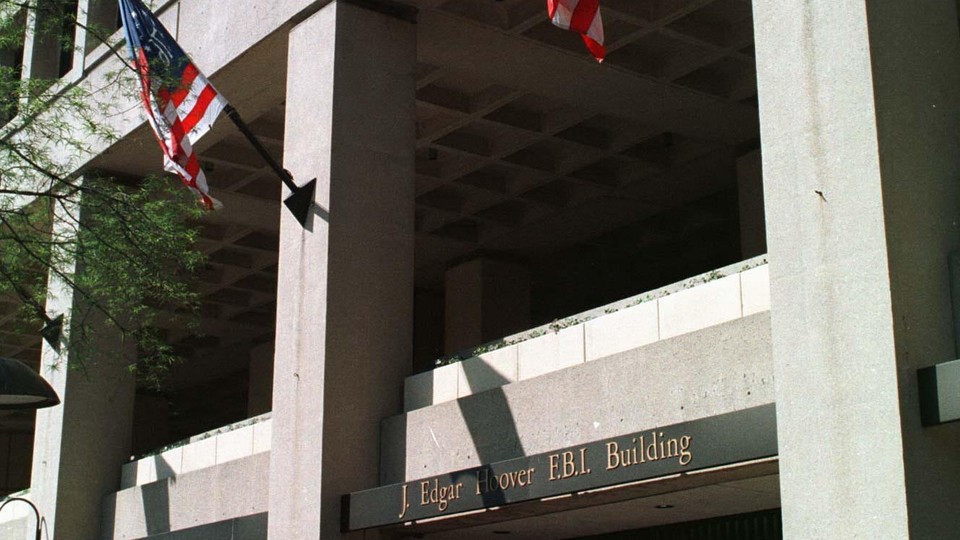 Once all the votes are counted, and the Make America Great Again signs are tucked neatly into the dumpsters where they belong, this fever dream of an election will be over. Hillary Clinton or, God forbid, Donald Trump will become the president-elect, and will immediately begin staffing up the next administration. Her aides will be entrusted with the awesome responsibility of governing, but there's a catch—the government has to trust them first.
That catch is called the Standard Form (SF) 86. The SF-86 is what some government employees must fill out to apply for a security clearance. For a president's closest aides—cabinet secretaries, agency heads, White House staff—the background check is administered by the FBI. And it's intense.
First, you're required to list everywhere you've lived and worked for the past 10 years, as well as details about your relatives and your spouse. Then you're required to list seven years of foreign contacts, business dealings, and travel. Then it takes a spin through your finances—have you declared bankruptcy in the last seven years? (Flagging this one for you, Donald.) It requires you to disclose gambling debt, credit-card delinquency, and failure to pay alimony.
Then it gets personal. "In the last seven years, have you consulted with a health care professional regarding an emotional or mental condition or were you hospitalized for such a condition?" "Has your use of alcohol had a negative impact on your work performance, your professional or personal relationships, your finances, or resulted in intervention by law enforcement/public safety personnel? " "In the last seven (7) years, have you illegally used any drugs or controlled substances? " (The form helpful provides a full seven (7) pages for your response.) And it concludes with the ultimate gotcha' question – "Have you EVER knowingly engaged in any acts of terrorism?" (I have not.)
Detailing every misstep of your adult life in a 127-page form and then handing it to the government feels, well, crazy, but that's just the beginning. Next up is the in-person interview where you're joined by FBI agents to review and augment those answers. I don't care if you're Mother Teresa or Jason Bourne—you leave that room rattled. After that, the agents spend the next several months calling and personally visiting your friends and family. Being interviewed by an agent is terrifying, and their goal is to find out if you lied.
The process is onerous and scary, but important. The government is trusting you to protect national-security secrets, and it deserves to know if you've been in contact with foreign intelligence agents, or if you have crushing debt that could make you more likely to sell information to an adversary. But that's a hell of a lot of personal information to just hand over to a stranger, let alone to the government, and it's just as important that it handles it appropriately.
When I started working in the White House, I gladly subjected myself to this process. I was excited to work in government, and I had faith that the FBI would keep my answers secret and confidential. But if I were working on Hillary Clinton's campaign today, I wouldn't trust the FBI with my information. And how could you blame me?
FBI Director James Comey has already broken DOJ rules by offering his personal opinion that Clinton and her aides' handling of classified information was "extremely careless." In recent days, reporters have quoted countless anonymous FBI sources speculating about Clinton and her team's guilt. Brett Baier said that he and his team at Fox were able to talk with six sources to confirm that there's an investigation into the Clinton Foundation. One current FBI agent told The Guardian that "the FBI is Trumpland" and that Clinton is "the antichrist personified to a large swatch of FBI personnel" who are leaking because they're pro-Trump. America's angriest mayor, Rudy Giuliani, has bragged that he's been receiving investigative information from the FBI since August—a clear violation of FBI policy, and a claim from which Giuliani later backed away. Why shouldn't Clinton's aides fear that these same individuals might tell a reporter about their medical records? Or tip off an unfriendly member of Congress about their college drug use before a hearing?
This is unprecedented, destructive, and untenable. I believe that Hillary Clinton will win this election, which means that the members of her team will have to share their deepest secrets with many people who haven't demonstrated an interest in keeping theirs. Far more importantly, they'll have to rebuild that broken trust to effectively manage national security challenges like terrorism. The solution must start at the top. Comey has repeatedly broken long-established rules designed to protect those who are subject to FBI investigations, and lost the trust of the American people. It's on him to fix it.