It's Still the Same United States
What did Americans really learn about their country on Tuesday night?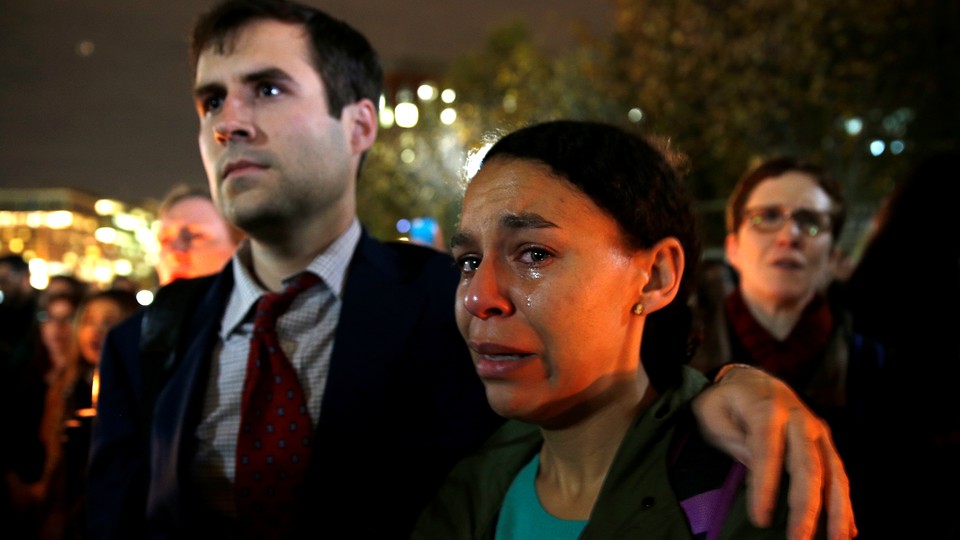 In the aftermath of Donald Trump's shocking victory, many liberals woke up Wednesday morning feeling like strangers in their own country, or perhaps, as if they were the familiar ones and it was the country itself that had become the stranger. I heard it in the voices of friends. I read it in texts from family. I found it in newspaper headlines from some of my favorite writers and in tweets and Facebook messages. What kind of a country do I live in? they asked. Something important has changed. This is not the nation I thought I knew.
But America is what we thought it was. It is still a 50-50 nation, dominated by negative partisanship, in which about half of the country will reliably vote to defeat the other half for the foreseeable future. It is still a nation of propositional pluralism—"send these, the homeless, tempest-tost to me"—crossed with ineradicable xenophobia—"go back to where you came from." It is still a country teetering on the razor's edge of both a social-democratic revolution and 1950s-era conservatism. That's the country Americans knew we had at midnight Tuesday morning. And it's the nation reflected in the votes tallied on Tuesday night.
Here is what happened 36 hours ago. Hillary Clinton seems to have narrowly won the popular vote, yet narrowly lost the election, because of the geographical distribution of her support. Donald Trump won the electoral vote due to a margin of about 100,000 votes spread across Wisconsin, Michigan, and Pennsylvania. This critical difference represents about 0.04 percent of registered voters, a statistical speck. One vote in 2,500 was the difference between electing a liberal Democrat and rewarding a candidate for the most openly racist campaign in generations.
On its own, this dramatic precarity is not an inspirational thing. But it is so much more inspiring than the prevailing idea that Trump's victory is statistical evidence that the country Clinton-voters thought they lived in has disappeared, or utterly abandoned them, or never existed in the first place.
In some ways, the current liberal mood is the mirror image of how many conservatives felt after Obama's win in 2008. While Democrats were triumphant, convinced that the cause of modern liberalism had finally achieved escape velocity, many conservatives were despondent, convinced that the country they thought they knew had left them behind. But the future was not an extrapolation of these hopes and fears, but rather a reversion to 50-50 divisions. Eight years later, the nation is as divided as it had been eight years before in 2000, when, after another popular two-term Democratic president left office during an economic expansion, the electorate delivered a statistical tie that surprisingly handed the White House to a Republican.
It is not self-indulgent for liberals to despair about Tuesday night's outcome. They have many reasons to fear the near future of public policy. But it's too early for them to despair about America. In a two-party system, the binary outcome of a vote will always be a simplified expression of the complex characteristics of the electorate. The arc of history is long, with many wobbles, and nothing about Tuesday's vote suggests that the arrow will point in any one direction for very long.