Will Jeff Sessions Roll Back Civil-Rights Protections?
Donald Trump's pick for attorney general has a record of hostility toward the federal government's role in curtailing discrimination on the basis of race, sexuality, and immigration status.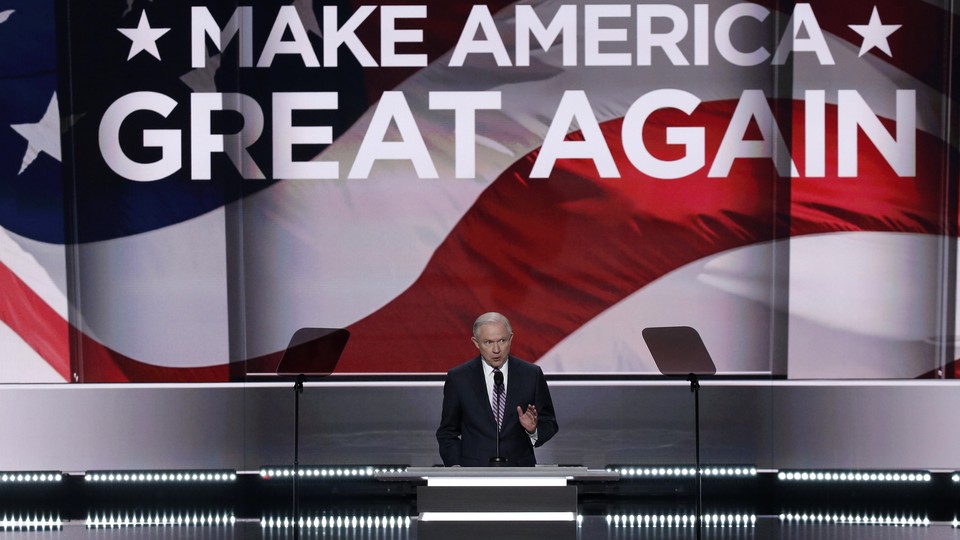 Updated on November 18 at 1:40 p.m. ET
Senator Jefferson Beauregard Sessions III, a man whose views on race once led a Senate committee to deem him unfit for a federal judgeship, is Donald Trump's choice to head the federal agency that enforces the nation's civil-rights laws.
In his 1986 confirmation hearing, witnesses testified that Sessions referred to a black attorney as "boy," described the Voting Rights Act as "intrusive," attacked the NAACP and ACLU as "un-American" for "forcing civil rights down the throats of people," joked that he thought the Ku Klux Klan was ok until he found out they smoked marijuana, and referred to a white attorney who took on voting-rights cases as a  "traitor to his race." As Ryan J. Reilly reported, Sessions also faced allegations that he referred to a Democratic official in Alabama as a nigger.
"It's unimaginable that Senator Sessions would be the chief law enforcement officer for the nation's civil rights laws," said Sherrilyn Ifill, director of the NAACP Legal Defense Fund. "This demonstrates that the president-elect is continuing to select individuals for his team that have a demonstrated record of hostility to equal rights and justice, and to civil rights."
The Justice Department does far more than prosecute federal crimes. It is the primary federal agency responsible for ensuring that Americans' rights are protected regardless of race, religion, disability, or gender. It ensures that Americans have the right to vote; that they can find a place to live, work, or get an education without discrimination; that local law enforcement agencies do not violate the constitutional rights of the communities they police; and that the nation's civil-rights laws are defended and preserved in court.
Defenders of Sessions might argue that his racist views may have changed, that he has reformed, that the sins of Sessions's past should not bear on his future. After all, Sessions has made many statements since in favor of racial egalitarianism, and even said in 2010 that the work of the civil-rights division "provides tremendous benefit to American citizens."
Yet the evidence that Sessions's views on law and policy have changed is thin. Since becoming a senator, Sessions has denounced federal efforts to protect the rights of marginalized Americans as intrusive, decried the extension of equal rights to gays and lesbians as a threat to Western civilization, and fought to preserve punitive laws in the face of a bipartisan trend toward criminal-justice reform. Sessions's selection as attorney general augurs an era in which the federal agency charged with protecting the rights of women, ethnic and religious minorities, and LGBT Americans will be led by a man who has been openly skeptical of, if not opposed, to  its past efforts to do so. Which means that Sessions's tenure as attorney general could leave some of the most vulnerable Americans defenseless, should he conclude that the civil-rights laws that protect them are not worth enforcing.
The choice of Sessions, a hardliner who has long criticized the Obama administration's immigration policy as too lenient and opposed the bipartisan Senate immigration reform bill, also suggests that Trump has every intention of engaging in the massive crackdown on immigration he advertised during his campaign.
"The attorney general occupies the most important law-enforcement role in the nation and, as such, must be someone committed to equal justice under law for all," said Kristen Clarke, president of the Lawyer's Committee for Civil Rights. "There were questions about [Sessions] ability to be fair and impartial on the bench back then and those questions remain today."
Under President George W. Bush, the political appointees to the Justice Department's civil-rights division were found in an internal investigation to have violated civil-service laws by considering partisan affiliation in hiring. The head of the division, Bradley Schlozman, declared his intent in an email to "gerrymander those crazy libs out of the section," referring to the part of the division that enforces voting rights. He wanted to replace them with "real Americans" and "right-thinking Americans." A 2009 report from the Government Accountability Office found a "significant drop in the enforcement of several major antidiscrimination and voting rights laws." While civil-rights enforcement lagged, many of the division's lawyers were instead compelled by the Bush leadership to work deportation cases.
Under the Obama administration, enforcement of the nation's civil-rights laws again became a top priority, with the division taking on the racially discriminatory financial practices that lead to the 2008 financial crisis, more forcefully enforcing and defending votingrights laws, and moving against anti-LGBT discrimination, particularly in schools.
Under Sessions, all of those efforts would likely be curtailed. In 2015, Sessions complained that "there is a perception, not altogether unjustified, that this department's civil-rights division goes beyond fair and balanced treatment, but has an agenda."
Sessions was one of the first backers of Trump's proposed ban on Muslims entering the country. He was opposed to the Supreme Court's decisions striking down laws banning homosexual sex, saying the ruling "divorced morality from law." Sessions referred to the Obama administration's decision to stop defending the law banning the federal government from recognizing same-sex marriages, a law ultimately struck down by the Supreme Court, as a "shameful and disgraceful and an abandonment of the rule of law." When the Supreme Court decided that same-sex partners had a right to marry, Sessions said that the Court had "disregarded the men and women whose convictions have defined the course of western civilization."
Confronted with Trump's remarks about grabbing women by their genitals, Sessions said it would be a "stretch" to "characterize that as sexual assault." Sessions voted against the 2013 reauthorization of the Violence Against Women Act. The law  had become controversial because Republicans opposed provisions offering federal grants only to domestic violence organizations that don't discriminate against LGBT Americans, strengthening domestic violence protections for Indian women on reservations, and adding more visas for undocumented women who are survivors of abuse.
Long before the Supreme Court struck down Section 4 of the Voting Rights Act, ending the requirement that jurisdictions with a history of discrimination submit their election-law changes to the Justice Department in advance, Sessions foreshadowed that ruling in a 2005 speech on the reauthorization of the Voting Rights Act. Though he ultimately voted for the Act, Sessions argued, like Chief Justice John Roberts ultimately did, that re-authorizing preclearance did "little to acknowledge the tremendous progress made over the past 40 years in Alabama and other covered jurisdictions." In 1986 Sessions acknowledged that he believed the law that made it possible for black Americans to vote in the South was "intrusive"; two decades later he was saying the same thing.
When the Supreme Court ruling finally came down, Sessions proudly declared, "now if you go to Alabama, Georgia, North Carolina, people aren't being denied the vote because of the color of their skin." In the wake of that ruling, every single one of the states Sessions mentioned passed voting restrictions that disproportionately affected racial minorities. Collectively, they may have helped tip the outcome of the 2016 election towards the candidate who chose Sessions to run the Justice Department.
Where some conservatives have sought to reduce the American prison population by reducing mandatory minimum sentences, Sessions has opposed those efforts. He opposes marijuana legalization, once citing Lady Gaga to warn of the perils of pot use. "Lady Gaga said she's addicted to it, and it is not harmless," Sessions told then-Attorney General Eric Holder in a 2014 hearing. "She's been addicted to it."
As attorney general, Sessions could rescind the current Justice Department policy of allowing states to pursue marijuana legalization. Sessions argued that a 1989 Trump ad implying the Central Park Five should be put to death, showed Trump's commitment to "law and order." The Five, a group of black and Latino men accused of rape, were later exonerated.
Sessions could also shift the resources of the Justice Department towards a crackdown on immigration. As attorney general, Sessions could choose to prosecute undocumented immigrants who return to the United States after being removed, putting them in federal prison instead of deporting them.
"Instead of re-deporting them, if instead the choice is made to prosecute them, you could have thousands and thousands and thousands of immigration crimes being prosecuted criminally, and they could fill up the federal prisons," said Margo Schlanger, a professor of law at the University of Michigan and former head of civil rights at the Department of Homeland Security under Obama.
As a senator, Sessions was one of several Republican Senators who attempted to block the Justice Department from suing states over their harsh immigration laws.*
Many political analysts have argued that Trump's victory was the result of his economic appeals, and not because of his derogatory statements about women, immigrants, people of color, or Muslims. Others have questioned the sincerity of those statements. But in selecting Sessions as attorney general, Trump reinforces the fear that his campaign-trail statements will now be translated into policy.
Samuel Bagenstos, a law professor at the University of Michigan and a former high-ranking official in the civil-rights division under Obama, said simply, "I don't think Americans can have confidence that civil rights will be safe in the hands of a Sessions Department of Justice."
---
* This article originally stated that Sessions said the civil rights division does not protect the rights of non-citizens; he said the opposite. We regret the error.