Will Trump Be Ready to Govern?
The early days of his transition have looked like chaos, but veterans of the process say the president-elect has time to catch up.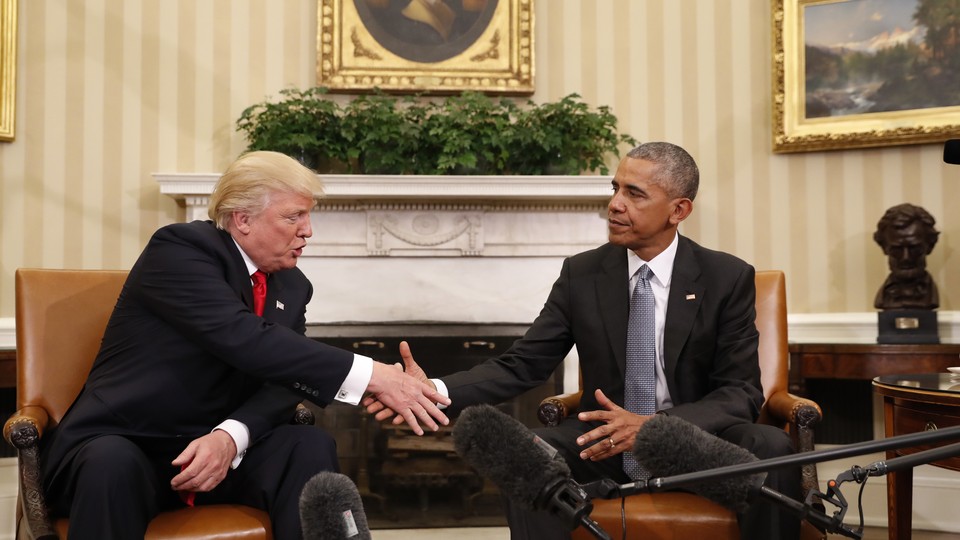 This was not exactly how the 2016 presidential transition was supposed to go.
For years, legislators, civil servants, good-government advocates, and veterans of the last several administrations had been preparing for this very moment. Congress had passed two new laws allowing the two major-party nominees to begin planning earlier than ever, and the Obama administration was committed to handing off the baton of government in full stride. The singular goal was to make this transfer of presidential power the smoothest, most effective transition in U.S. history.
Then came the unexpected victory of Donald Trump to blow it all to bits.
The Trump transition has looked, from the outside, like a mess. Days after winning the presidency, the new president-elect abruptly replaced the man who for months had been running his transition efforts, New Jersey Governor Chris Christie, with the soon-to-be vice president, Mike Pence. Other departures quickly followed in what was described as "a purge" of people close to Christie. The leadership swap caused an important paperwork snafu, delaying by several days the point when Trump's "landing teams" of potential appointees could begin on-the-job training at federal departments and agencies. A former national-security official in Republican administrations, Eliot Cohen, emerged from a single conversation with the transition team only to warn others to stay away. One of Trump's first appointments, chief strategist Steve Bannon, prompted a firestorm of criticism over his website's links to white nationalism. Leaks flowed out of Trump Tower faster than transition staff could plug them, while the president-elect himself sneaked away from his press corps for an evening out at the 21 Club in Manhattan.
Yet for all the drama and handwringing of the last nine days, close observers of the presidential transition process are less worried about the Trump operation than are his toughest critics. It may not set the records for seamlessness that advocates had hoped for, but nor is it that far off the pace of recent transition efforts. "When you go from politics to governing, there's always some gear-grinding," said Mike Leavitt, the former Utah governor and George W. Bush Cabinet secretary who oversaw Mitt Romney's pre-election transition committee in 2012.
Leavitt assembled a team of hundreds that were ready to take the reins of government had Romney won four years ago. The sheer scale of that effort dwarfed previous transition projects, and officials at the nonprofit Center for Presidential Transition hoped it would serve as a model for future nominees. Aided by a new law allowing major-party campaigns to occupy federal office space for transition preparations, the Trump team did substantial work before the election under the leadership of Rich Bagger, a Christie aide, to prepare policy papers and lists of potential appointees for the more than 4,000 jobs a new administration has to fill.
That committee operated mostly independently of the Trump campaign, and perhaps too much so. Trump was said to be so superstitious about the election that he did not want to discuss the transition before November 8. Idaho Representative Raúl Labrador recalled to reporters on Wednesday that when he was campaigning with Trump before the election, one of his staffers asked the nominee to discuss an issue related to the transition. Trump waved him off. "I don't want to talk about that right now. I don't want to jinx it," he said, according to Labrador.
From a management perspective, the most concerning hiccup for Trump so far has been the disruption caused by his decision to replace Christie with Pence. Because the vice president-elect had not signed a memorandum of understanding required by law, none of the transition committee's members could receive briefings or training from the Obama administration. Christie had signed the document, but the transition was essentially put on hold until Pence signed it and other paperwork was completed. Although Pence signed the memorandum on Tuesday, the final steps weren't finished until Thursday, White House spokeswoman Brandi Hoffine said. The first landing teams were set to begin briefings at departments related to national security on Thursday, Trump officials said, with a broader set of meetings scheduled for next week.
The delay cost the transition several crucial days, but they have time to catch up. As Leavitt recalled, the Romney landing teams were not scheduled to arrive at federal departments until midway through the second week after the 2012 election. "I don't think they are that far off," he said.
Max Stier, president of the Partnership for Public Service, said that while Trump's decision to replace Christie was undoubtedly "disruptive," Pence was a logical choice to lead the transition given his many years in government and his close ties to Republican leaders in Congress—attributes that are especially valuable given Trump's lack of governing experience. "These Trump teams really did do some good pre-election work," said Stier, whose organization has led efforts to improve the transition process in recent years. "They've made the choice to swap out the leadership, but they're not kicking aside the work that was done."
Despite reports that just about every elected Republican in the country is up for a Cabinet post, Trump has not made a single appointment other than Bannon and his chief of staff, current Republican National Committee Chairman Reince Priebus. Yet his deliberate pace received support from an unlikely source, former top Obama adviser David Axelrod. "Lots of reasons to be concerned about @realDonaldTrump transition, but pace of announcements isn't one of them. Not a fair shot," Axelrod tweeted.
The transition process is important for countless reasons, perhaps none more so than the national-security implications of having a president and his senior advisers unprepared to lead the nation on January 20. Bumpy transitions, however, have been the norm rather than the exception, and in that sense, Trump's is not as unconventional as it may seem. But for a man who has never before taken the oath of any public office, the 62 remaining days until he becomes president are that much more critical. "Fundamentally," Stier said, "this is too early to tell."