Trump Time Capsule #152: The End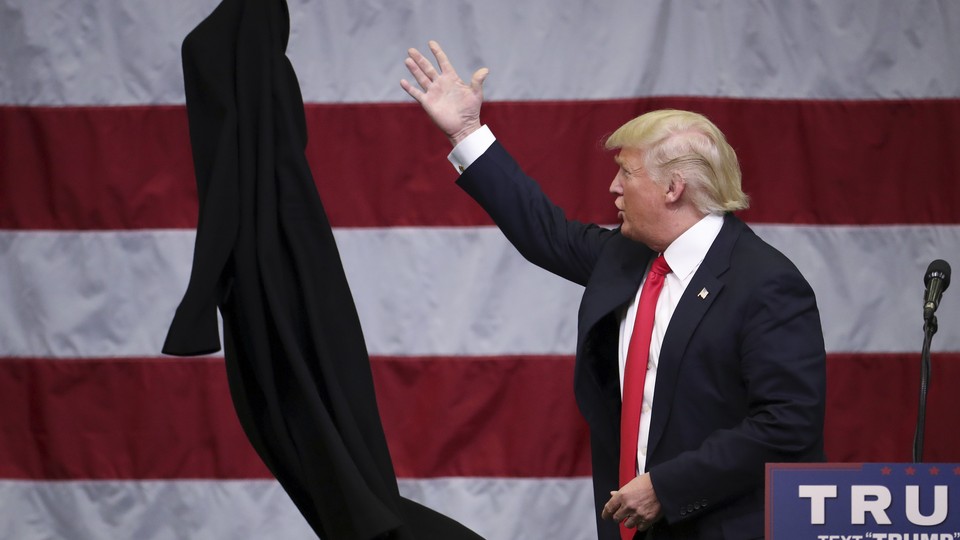 Editor's Note:
This article previously appeared in a different format as part of The Atlantic's Notes section, retired in 2021.
Five and a half months ago, as Donald Trump effectively clinched the Republican nomination, I thought it would be worth keeping track day-by-day of what the American public knew about Trump while it was deciding whether he would become its next president. Thus the Trump Time Capsule series, which began with installments #1 through #3 on May 23, and comes to an end with #152 today.
The main idea was to chronicle what was different about Trump: Norm-changing, unprecedented statements or positions or revelations that would have stopped any previous candidate but that did not impede him.
As I look back over these unfolding stories, I see at least 40 or 50 that would have had that campaign-ending potential in any previous year. The mocking of first John McCain and then the Captain Khan family? The "Mexican judge"? The "grab 'em by the pussy" Access Hollywood tape and subsequent complaints? The de-facto admission that he's paid no taxes, and the trail of fraud and buncombe left by his businesses and "charities"? The refusal to provide tax information at all? The disprovable-even-as-he-said-them series of lies? The ever-more evident intrusions on his behalf by a foreign government? "She should be in jail"? "It's all rigged folks, I tell you"? I alone?
To put these into perspective, just think back to the comparatively pipsqueak "scandals" of a more innocent time: Whether Sarah Palin really read newspapers. Whether Barack Obama called some people "bitter." Whether Mitt Romney thought 47 percent of the public might be freeloading. Whether Rick Perry had to leave the race because he forgot one of his talking points in a brain-freeze on stage. Whether Dan Quayle could spell "potatoe." Whether Al Gore exaggerated his role as a founder of the internet. Whether the young George Bush had had a DUI. The chagrin these episodes caused to their victims is almost touching. The candidates' embarrassment indicated that they believed there was a standard in public life they needed to live up to.
***
This cycle's only "scandal" that fits the pre-existing scale is the Hillary Clinton email saga, which has been ludicrously exaggerated by adversary outlets (Breitbart / Fox) and by "mainstream" media (most cable TV, too often the NYT) to the point where many voters assume that it's on a par with, say, Donald Trump's reckless comments about nuclear weapons or treaties or rule-of-law, his deceptions about his finances, his long record with women, his numberless provable lies.
Hillary Clinton's management of her email server was a mistake, which probably reflects something more general about her—just as other similar-scaled mistakes by other candidates in the past reflected more generally on them. But there is no sane argument that it has deserved even one tenth the press attention it has received this year. As Matt Yglesias points out in a new Vox item, TV coverage this cycle, in aggregate, spent more airtime on the email "scandal" than on all policy matters combined.
No one looking back on the America of 2016 will think that the real question its voters should have been grappling with was how Hillary Clinton handled her email. But TV has told us more about this issue than about racial tensions and racial justice, economic opportunity and economic stagnation, immigration, education, military spending and military commitments, relations with China or India or Russia or Mexico, or [name your six other top real-world concerns]. And oh, yes, the prospects of coping with the threat to civic and economic order posed by climate change.
As Bernie Sanders said a year ago, the "American people are sick and tired of hearing about your damn emails." But hear about them, nonstop, is what the American people have done.
(There's a parallel to press coverage in the 2000 campaign that I won't take the time to spell out right now. Essentially, the minor annoyances of Al Gore's persona were presented as equally important as the policy views the Bush-Cheney team would bring into office.)
***
So this chronicle ends as tens of millions of early votes have already been cast; with just one weekend separating us from official election day; and with all the information anyone could want already on record about these two candidates.
We know the choice we are making. People who are standing with Trump are doing so with eyes wide open. (Of course so are people who are standing with Hillary Clinton. But as The Atlantic argued in its editorial endorsing her, her strengths and weaknesses are within the range we have seen from most past presidents. Trump's are outside the known range.)
As an envoi, for election-weekend reading with implications that touch the Clinton-Trump choice but go far beyond, I leave you with:
***
Let's hope that starting on November 9 we can look back on this saga with chastened wonder about how close Trump came, and with cautionary guidance about the next steps toward self-governing reform.
Meanwhile read; think; vote.
Thanks for your attention in this space over the months.