The Trump Administration Starts to Take Shape
To the dismay of some Republicans and Democrats alike, Steve Bannon has earned a top spot in the White House's inner circle.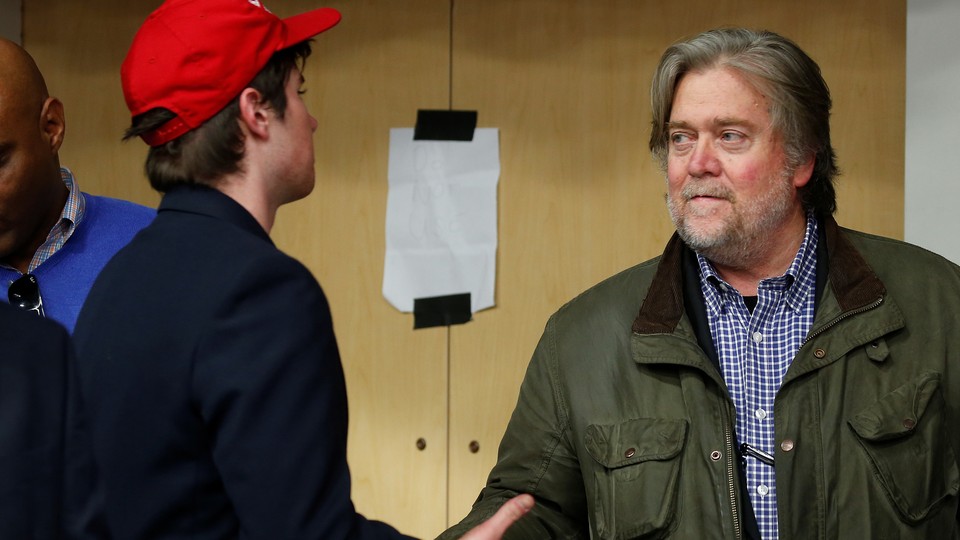 President-elect Donald Trump's administration is starting to take shape. In a statement on Sunday, Trump announced that Reince Priebus, the chair of the Republican National Committee, will serve as White House chief of staff. Steve Bannon, the former executive chairman of Breitbart News, a conservative website that has promoted white ethno-nationalism, will serve as chief strategist and senior counselor to the president.
Priebus literally presides over the GOP establishment; Bannon has numbered among its fiercest critics. But although in most administrations, the chief of staff runs the White House, the announcement went to some pains to present them as peers:
Bannon and Priebus will continue the effective leadership team they formed during the campaign, working as equal partners to transform the federal government.
Bannon has been a lightning-rod for criticism on both the right and the left. Ben Shapiro, who resigned from Breitbart in protest in March, wrote that he has "no evidence that Bannon's a racist or that he's an anti-Semite," but charged that Bannon has, perhaps opportunistically, "openly embraced the racist and anti-Semitic alt-right." "The racist, fascist extreme right is represented footsteps from the Oval Office. Be very vigilant America," John Weaver, a strategist to former GOP presidential candidate John Kasich, tweeted on Sunday. "President-elect Trump's choice of Steve Bannon as his top aide signals that White Supremacists will be represented at the highest levels in Trump's White House," a spokesman for Senate Minority Leader Harry Reid said. The Anti-Defamation League responded by saying: "It is a sad day when when a man who presided over the premier website of the 'alt-right'—a loose-knit group of white nationalists and unabashed anti-Semites and racists—is slated to be a senior member in the 'people's house.'"
Priebus, for his part, praised his new colleague as "very, very smart, very temperate." He told Fox & Friends that Bannon "was a force for good on the campaign," adding that he hadn't "seen any of these things that people are crying out about."
Meanwhile, Trump's transition team is filling up both with the staff and advisers who powered his insurgent campaign built around anti-Washington populism, and party loyalists, political insiders, and monied elites.
On Friday, Trump announced that Vice President-elect Mike Pence would serve as the chairman of the transition team, a role formerly held by New Jersey Governor Chris Christie, who will now serve as a vice chairman. Pence's close ties to conservatives on Capitol Hill may be one reason he was tapped for the role. The re-organization may also reflect the fact that Christie's political star is in rapid decline amid continuing fallout from the Bridgegate scandal.
Former GOP presidential candidate Ben Carson, former House Republican Speaker Newt Gingrich, former New York City Mayor Rudy Giuliani, retired U.S. Army lieutenant general Michael Flynn, and Senator Jeff Sessions will also serve as vice chairs on the team's executive committee.
The Republican mega-donor Rebekah Mercer and the Silicon Valley billionaire Peter Thiel, both key supporters of Trump's campaign, have also been named to the transition team, along with Republican members of Congress Lou Barletta of Pennsylvania, Marsha Blackburn of Tennessee, Chris Collins of New York, Tom Marino of Pennsylvania, and Devin Nunes of California. Steve Mnuchin has also been named as a member of the Trump transition team's executive committee. Mnuchin, an alum of Goldman Sachs, is reportedly under consideration to serve as treasury secretary.
Some names in circulation are less conventional. The Hill reported on Saturday that conservative radio talk-show host Laura Ingraham is under consideration to serve as press secretary.
The makeup of the transition team has also raised questions over potential conflicts of interest. Donald Trump Jr., Eric, and Ivanka Trump have been appointed to the transition team, despite the fact that Trump's children are reportedly set to take over management of the Trump Organization. Citing government ethics experts, Reuters reported on Friday that "giving over control to Trump's children would do virtually nothing to prevent potential conflicts of interest, since there's usually no daylight between one's personal interest and the interest of one's immediate family members."
Florida Attorney General Pam Bondi has also been named to the transition team's executive committee, despite controversy surrounding her political ties to Trump. In September, The Washington Post reported:
Donald Trump paid the IRS a $2,500 penalty … after it was revealed that Trump's charitable foundation had violated tax laws by giving a political contribution to a campaign group connected to Florida's attorney general. The improper donation, a $25,000 gift from the Donald J. Trump Foundation, was made in 2013. At the time, Attorney General Pam Bondi was considering whether to investigate fraud allegations against Trump University. She decided not to pursue the case.
Trump's reliance on political insiders and elites to run his transition team might look as though Trump is reversing his campaign-trail promises to "drain the swamp" in Washington D.C. But at the same time, it might also be consistent with Trump's longstanding claim that people like himself who know the system intimately from the inside are in the best position to fix it.
There is no question, though, that Trump will be shaking up Washington. The Trump transition team already signals a dramatic break with President Obama's administration. That's true whether you look to climate-change skeptic Myron Ebell, who is reportedly leading the transition plans for the Environmental Protection Agency, or to Bannon, whose appointment signals that the alt-right will now have a foothold inside the White House.