How Will the Press Respond to Trump's Secrecy?
Clashes between the media and presidents over access aren't new—but that doesn't make them any less important.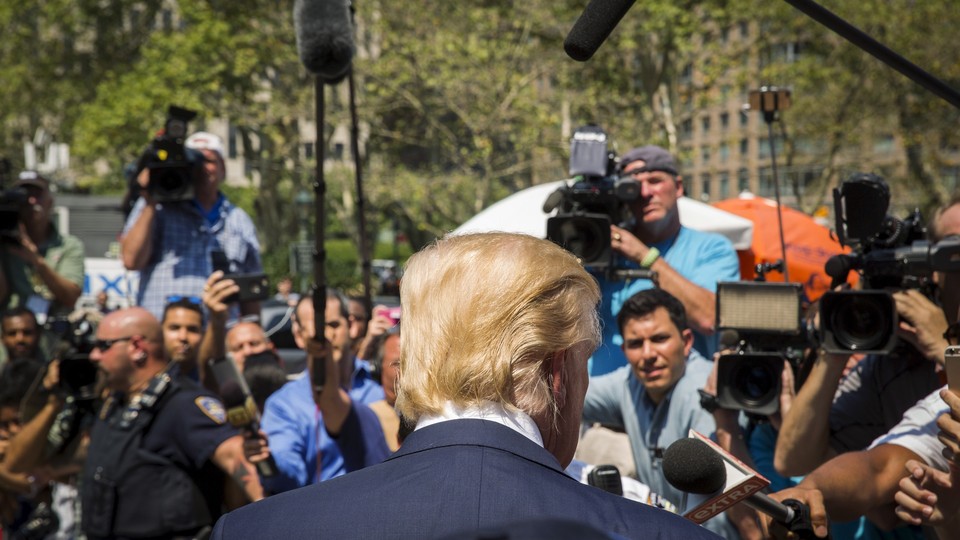 During my time as a spokesman for President Obama, I spent all day, every day, talking with reporters. It shaved years off my life. I took their calls before 5 a.m. and answered their emails late at night. I screamed at them and pleaded with them. I complained about stories to their faces and behind their backs. I bitched and moaned about coverage that I felt was unfair or frivolous or just plain stupid. (Remember Obama's tan suit?) Despite all of it, when I departed the White House in March of 2013, I left more convinced than ever that a tough, vibrant, well-funded press corps is a foundational piece of our democracy.
I'm aware that a former political flak may be an imperfect messenger to push for increased media access, but I'm speaking out because I know firsthand how important that access is. Like many in the media, I've been troubled by President-elect Donald Trump's ever-more contemptuous approach to the press—and even more concerned about the inability of the press corps to respond in a united, meaningful way.
Trump's hostility to the press isn't new. During the campaign, he promised to change libel laws to make it easier to sue news outlets. At different times during the campaign, his campaign refused to credential reporters from Univision, BuzzFeed, Politico, The Daily Beast, The Washington Post, The Huffington Post, and the Des Moines Register. At his rallies, he has called reporters "disgusting," "dishonest," "slime," "scum," and "sleaze." His crowds, taking their cue from Trump, reveled in chants of "CNN sucks!" and worse in the race's final weeks.
The situation hasn't improved since his election. Trump hasn't yet held a press conference. His staff refuses to provide a daily schedule of his activities. Reporters are forced to learn about his calls with foreign leaders through readouts from foreign capitals. And most importantly, he refuses to follow the accepted tradition of allowing a small "pool" of journalists to follow his movements and his motorcade when he travels. This longstanding practice, adhered to by every recent Democratic and Republican administration, aims to keep the public informed of the president's whereabouts, and God forbid, any emergencies that should befall the president. On 9/11, for example, it was vital that Americans knew what the commander-in-chief was doing.
These troubling examples might sound small in isolation, but they add up to a major decrease in press access and information for the American people. Reporters have good reason to be concerned about Trump and his secrecy-obsessed clutch of advisers. This lack of transparency could very quickly go from unprecedented to standard operating procedure in a matter of weeks. Yes, having reporters tail you all the time is a pain in the ass. They shout pesky questions. They figure out what you're working on before you're ready to announce it. But the president works for the people, and the press is how we get the information necessary to hold him accountable.
More disconcerting still: Arguably the most powerful staffer in his White House will be Stephen Bannon, the former editor of Breitbart News. Bannon's hire raises the possibility that Breitbart, a website that has long resembled an arm of Trump's campaign, will become his in-house Pravda at the expense of real media outlets.
It's time for the press corps to draw a line in the sand. The White House Correspondents' Association (WHCA) released a letter calling Trump's refusal to allow a press pool to travel with him "unacceptable." That's not going to cut it. News organizations must detail in clear terms—not just for others in the media and politics, but for the public at large—the stakes of Trump's penchant for secrecy. They must outline clearly their expectations for access during a Trump administration, and the consequences if he refuses to comply.
That latter is easier said than done. The WHCA represents hundreds of journalists who cover the White House with vastly different needs and priorities. Ultimately it is the television networks, led by their Washington bureau chiefs, who wield most of the power. Unfortunately, the television networks made their priorities clear during the campaign, opting to cover Trump slavishly even when he threatened them or demanded absurd concessions, like forbidding camera shots of his crowds at campaign events. This bad behavior was most famously channeled by CBS Chairman Les Moonves, who in February said that Trump's candidacy "may not be good for America, but it's damn good for CBS."
The television networks must be willing to consider boycotting press coverage of Trump's events to send a message about access, knowing full well that doing so could hurt their financial bottom line. Print and digital news organizations trafficked in their fair share of clickbait during the campaign, but they produced the hardest-hitting journalism throughout the cycle. The TV executives must demonstrate that they too care about journalism—informing the public—above all else.
Of course, Trump hasn't been inaugurated yet. He could still turn it around and demonstrate his commitment to transparency. One important signal would be naming a press secretary who is willing to stand up for the press corps and push the White House to give them the access they deserve. Many reporters clashed with Obama's first press secretary, Robert Gibbs, but they also watched him nearly come to blows with an Indian security official who tried to keep U.S. reporters out of a meeting between Obama and Indian Prime Minister Manmohan Singh. After almost breaking Gibbs's foot, the official finally relented when Gibbs threatened to pull Obama out of the meeting.
No reporter would say they were fully satisfied with the amount of access provided by the Obama White House. We were criticized for releasing White House-produced photos on Flickr. We were criticized for doing interviews with non-traditional news sources. We were asked to hold longer press conferences more frequently.
We also made mistakes when it came to our traveling press. I was on then-candidate Obama's press plane in June of 2008 when it took off from Washington to Chicago without him. Senator Obama had stayed behind for a secret meeting with Hillary Clinton. The press corps was rightly furious, and conversations about establishing a protective pool started that day. There were times during transition and at the White House when the motorcade left too quickly, and the pool was left behind. But the difference is that those were mistakes; they were corrected. Obama hadn't spent his campaign showing contempt for the press the way Trump did. He hadn't ignored threats to their safety at events, or flirted with establishing his own TV network. And so we were able to negotiate in good faith with the WHCA about their concerns.
Two-hundred-and-thirty years ago, Thomas Jefferson wrote that "Our liberty cannot be guarded but by the freedom of the press, nor that be limited without danger of losing it." Donald Trump needs to prove that he's not planning to test that proposition.