Trump's Latest Gambit: Early-Voting 'Buyer's Remorse'
Yes, some states allow people to re-do their ballots ahead of Election Day. But hardly anyone does.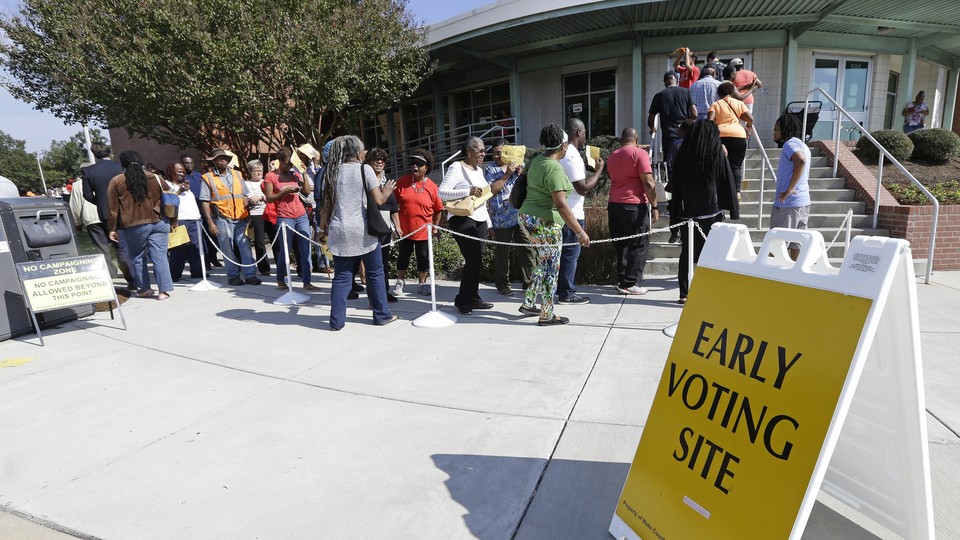 Donald Trump wants Hillary Clinton voters in Wisconsin and several other states who have "buyer's remorse" to take a do-over and change the early ballots they cast for the Democratic nominee.
"A lot of stuff has come out since your vote," he told a rally Tuesday night in Eau Claire. "If you live here, or Michigan, Pennsylvania, or Minnesota, you change your vote to Donald Trump."
It may seem like just another of Trump's whoppers, like his claim about the vote being "rigged"—to name just one of his many examples. But in this case, the Republican nominee is at least partially correct, said Paul Gronke, director of the Early Voting Information Center in California.
Wisconsin and Michigan are two states with significant early or absentee voting that allow people to rescind their ballots up until a few days before Election Day. In Wisconsin, for example, voters can ask their county clerk to "spoil" their ballot up to two times if they make a mistake or change their minds. The deadline for doing so is this Thursday, however, and voters cannot go to their polling place on Election Day and change a vote that they cast by in-person early voting or mail-in absentee. Yet even in a state that has among the most liberal "buyer's remorse" laws, it is almost unheard of for voters to change their ballots. "It is something that has always been an option in Wisconsin, but very few people ever do it," said Reid Magney, a spokesman for the Wisconsin Elections Commission.
Magney told me that while county clerks have been calling to ask for clarification on the rules, he was told by an official in Milwaukee on Monday that "just a handful of people have done it" in the state's largest city this year. Whether Trump's exhortation at Tuesday's rally—or a similar call he made via Twitter early that morning—will have an impact is unclear. He is banking on voters being so shocked and outraged by FBI Director James Comey's revelation that investigators had found more emails potentially linked to Hillary Clinton's private server that they yank their votes from the Democrat. But Gronke is doubtful.
"The overwhelming evidence is that people who vote early have made their minds up," he told me. A poll of likely voters in Wisconsin released Wednesday by Marquette University Law School found only a modest shift in support before and after the release of Comey's letter, and overall Clinton's six-point lead is similar to the advantage she held in the state a month ago.
Several states besides Wisconsin and Michigan allow voters to rescind their absentee ballots as long as elections officials have not begun the process of sorting them. But those states, which include Minnesota, Pennsylvania, and New York, do not have early voting, so the number of ballots that are changed would be tiny, Gronke said.
The bigger question that this roller coaster of an election, with its many "October surprises," may raise—and which came up during the crowded Republican primary—is whether the weeks-long period of early voting in many states is too long. In states like Oregon and Washington where early and vote-by-mail balloting have been in place for decades, only about one-quarter to one-third of the votes have come in, as people gradually make their decisions leading up to Election Day. But in major battlegrounds like Nevada, North Carolina, and Florida, campaigns intensely organize the early vote weeks in advance, targeting not just their most committed supporters, but also those "low propensity" voters that might not have cast ballots at all in previous elections. The result is that the elections in those states will be more than half over by the time November 8 rolls around.
That debate over early voting might rev up after the election. But for now, Trump is understandably trying to dredge up votes wherever he can find them, and even if he's stumbled on a gambit that is technically possible in a couple of key states, it is one that's highly unlikely to work.