All the President-Elect's Conflicts of Interest
Donald Trump continues to maintain close ties to his businesses, prompting questions over how he'll keep those interests separate from the White House.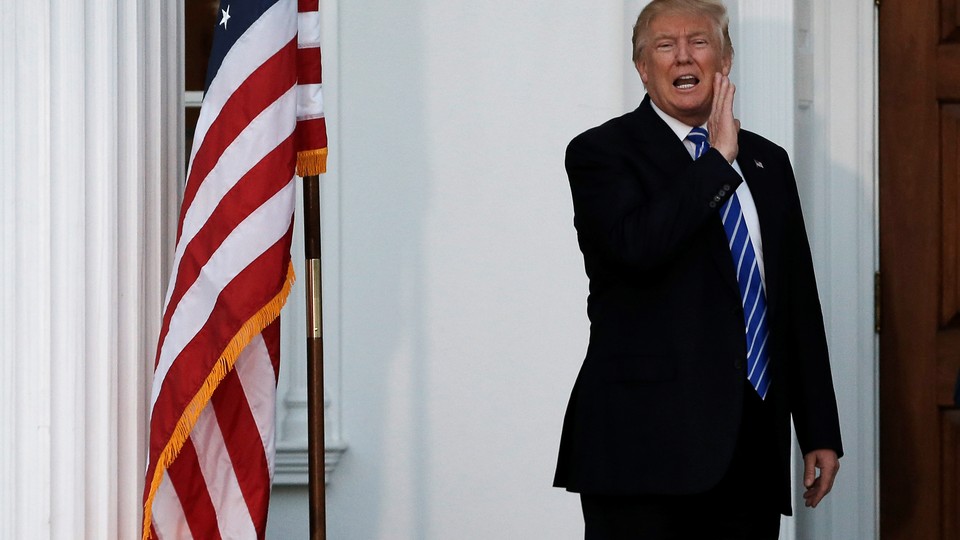 Several days ago, C-SPAN, the network most known for broadcasting floor speeches from Congress, started streaming from an unusual location: The lobby of Trump Tower in New York.
The building's elevator bank, all marble and gold-accented, had suddenly become the place to be to glean some information about President-elect Donald Trump's transition plans, to catch a glimpse of who Trump's meeting. Jeff Sessions, the Alabama senator Trump has picked to be the next U.S. attorney general, was spotted there. So was Leslie Rutledge, the Arkansas attorney general who says she's open to a job in the new administration. Even the city's Naked Cowboy came through, wearing white underwear bearing the president-elect's last name.
The Trump team has been vague in its public descriptions of the meetings inside the tower. That includes a meeting that occurred Tuesday, one week after Trump won the presidential election in a surprise upset, and was first reported by Thursday by The Economic Times in India. Trump met with three Indian businessmen who are building a luxury apartment complex under the Trump brand near Mumbai. A picture posted on Twitter shows the group smiling with their fists in a thumbs-up. A spokeswoman for Trump told The New York Times on Saturday it "was not a formal meeting of any kind," but the gathering renews concern about the potential conflicts of interests Trump will bring into the White House. Kalpesh Mehta, one of the businessmen, has been quoted in Indian media discussing projects with Trump that are underway.
The meeting was the latest news since the election to prompt questions over how Trump will keep his business interests separate from his work as president. With Trump continuing to maintain close ties to his businesses, there is no way to know whether as president, he'll act in the country's interest, or his own. Thus far, the president-elect's surrogates have dismissed any suggestion of potential impropriety or conflict of interest.
On the same day of Trump's meeting with the businessmen, the Trump International Hotel, which opened last month in Washington, D.C., hosted about 100 foreign diplomats for a tour intended to encourage future bookings for leaders from their countries. Some guests won raffle prizes, like overnight stays at Trump properties around the world, The Washington Post reported. Some diplomats told the Post that spending money at the hotel is "an easy, friendly gesture" to Trump, but others worried that doing so could give diplomats the appearance of trying to win favor with the president-elect.
Two days later, Trump's daughter Ivanka, who will take over running the family's business in January, joined her father at his meeting with Shinzo Abe, the prime minister of Japan. Reporters weren't allowed to attend, and no summary of the meeting—Trump's first with a foreign head of state—was provided. Top Trump adviser Kellyanne Conway described it as a "much more informal meeting," with matters of policy left for after the inauguration.
Reince Priebus, the chairman of the Republican National Committee and Trump's newly appointed chief of staff, attempted to assuage concerns' over the ethical implications of these interactions Sunday on CNN's "State of the Union." "As White House chief of staff, you're supposed to look out for any political or ethical minefields," host Jake Tapper said. "Is it seriously the position of the Trump transition team that this is not a huge cauldron of potential conflicts of interest?"
Priebus replied: "Obviously we will comply with all of those laws and we will have our White House counsel review all of these things. We will have every 'i' dotted and every 't' crossed, and I can assure the American people that there wouldn't be any wrongdoing or any sort of undue influence over any decision-making."
For now, the Trump transition team will likely continue to dismiss meetings between Trump and foreign individuals as "informal," a tactic that will expire in 60 days.
---
Related Videos