How Trump Pushed Millennials Out of the Republican Party
The GOP's relationship with young voters was lukewarm before the candidate's nomination—and it has only deteriorated since.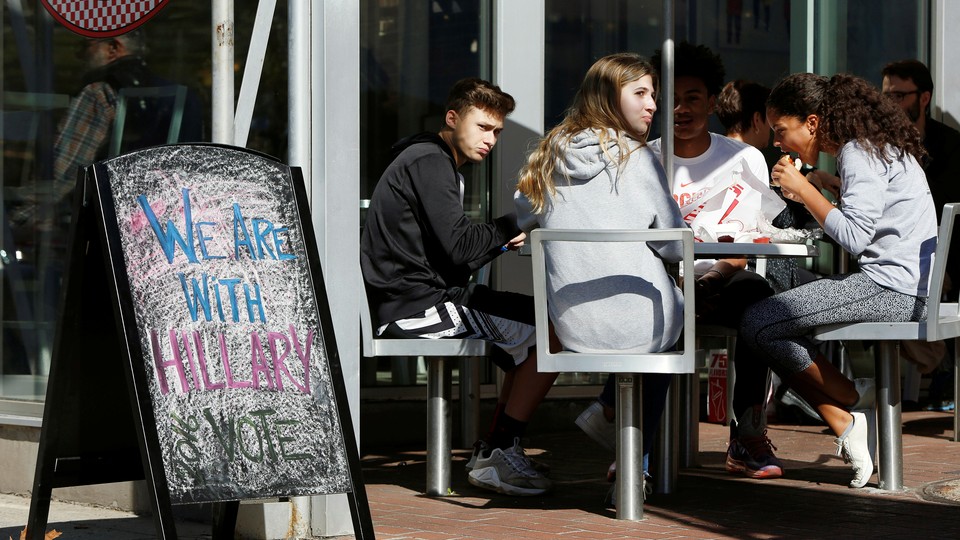 MIAMI—Enrique Sepulveda, an ebullient second-year student at the kaleidoscopically diverse Miami Dade College here, usually thinks of himself as a Republican. But whenever Donald Trump says he plans to "make America great again," what Sepulveda hears is that Trump intends to restore an America that had little place for people who look like him. "The GOP conversation shouldn't be about building walls," says Sepulveda, who combines Cuban and Puerto Rican heritage. "It should be about building bridges. We don't want to go back."
Somewhat to his own surprise, Sepulveda plans on voting for Hillary Clinton next week. So did virtually all of the other students I spoke with during a recent visit to the campus. Almost everyone I met started the year supporting Bernie Sanders, and only a few felt a strong connection to Clinton. But almost universally they believed Trump should not be president. And despite little personal enthusiasm for Clinton, several said that as the election approached they were more excited than they anticipated about the opportunity for the first woman president to follow the first African American president. "That's the first thing that came to my head," said Timothy Mitchell, an African American sophomore, when I asked what he thought about the election. "Whoa: history back to back."
Even with the race's late turmoil, Trump still faces long odds against overcoming Clinton's lead in enough states to win. But Democrats can't be entirely certain that Trump's visceral connection with blue-collar, older, and non-urban whites won't allow him to squeeze out a narrow victory.
The problem for Republicans is that even if Trump succeeds in the near-term, his insular appeal to his preponderantly white coalition has exposed the party to a clear long-term risk. Win or lose, all evidence suggests Trump is further alienating a Millennial generation that is already cool to the GOP—and is poised to become the electorate's largest cohort in 2020. "It's not like they came into 2016 with a great brand, and with Trump it's just gotten exponentially worse," says Andrew Baumann, a Democratic pollster who has extensively studied Millennials this year. Sepulveda agrees. After Trump, he said, for Republicans "there will definitely be a hole to dig out of with young people."
Miami Dade College is an ideal place to measure that deficit. The Millennial generation is defined by its diversity; over two-fifths of Millennials are young people of color. This campus in downtown Miami embodies that diversity in its nearly 90,000 credit-taking students, most of them in two-year programs. Eduardo Padron, its dynamic president, says it awards more two-year degrees to Hispanics than any other college in America and more to African Americans than all but two.
Even before Trump, as Baumann notes, Republicans faced a mounting challenge with Millennials. When the very oldest members of the generation (generally defined as those born between 1981 and around 2000) cast their first presidential ballots in 2000, voters under 30 split about evenly between Al Gore and George W. Bush. But as more Millennials entered the electorate, Democrats established a wide advantage. President Obama held his Republican opponents to just 32 percent with voters under 30 in 2008 and 37 percent in 2012. Polls suggest Trump will struggle to reach 30 percent with them—even as nearly 30 million more Millennials are registered to vote this year than in 2012.
For most of the campaign, the depth of the Millennial distaste for Trump has been obscured by their coolness to Clinton. Late polls show her making progress after earlier struggles, limiting defections to Gary Johnson and Jill Stein. But however Clinton performs with Millennials, the real issue for Republicans is the generation's antagonism toward Trump's vision for America. In polling, as many as three-fourths of Millennials have described Trump as racist and biased against women—a sentiment often passionately shared on this campus. "For me this election has become so personal because of the things he's said about Mexicans, about women, about immigrants," said Nicole Zambrano, a sophomore student whose mother is Mexican. "It hit me to the core."
Trump had occasional supporters at Miami Dade. Like his older backers, they liked his potential, as an outsider, to disrupt a political system they believe is failing. ("Trump may be very vulgar, but that shows he's 100 percent himself and not a puppet for anybody," said one young man who asked to remain anonymous.) But by far the dominant view was that he's trying to restore a time that suppressed minorities and women and preserved all meaningful power for white men. "He's trying to go back to the past," said Mia Marotta, a sophomore.
Many also viewed Clinton as an artifact of an earlier political era who tries, but doesn't quite manage, to understand their generation. "She's like that parent who comes to a hip-hop party," said sophomore Aurora Colange. But Colange and several others gave her credit for evolving on issues like gay rights and criminal justice on which she earlier took more conservative positions.  ("She is actually stepping out of her comfort zone," Colange said admiringly.) And while they view Trump as trying to reverse social change, many believe Clinton will inexorably accelerate it by shattering the ultimate glass ceiling for women.
That contrast crystallizes the risk Trump presents for the GOP with the Millennial generation—and the even more diverse younger teens who will start filing into the voting booths behind them in 2020. The young people I met were very conscious of representing America's future—keenly aware that their values of inclusion and welcoming diversity are becoming the nation's values. Many of them believe Trump is running precisely to suppress those values, and that Clinton, whatever her personal limitations, will advance them. In other words, they view Trump as championing the past against the future—and in that contest, they believe time is only on their side.