Tom Price's Healthcare Agenda
How the new secretary of Health and Human Services might help dismantle Obamacare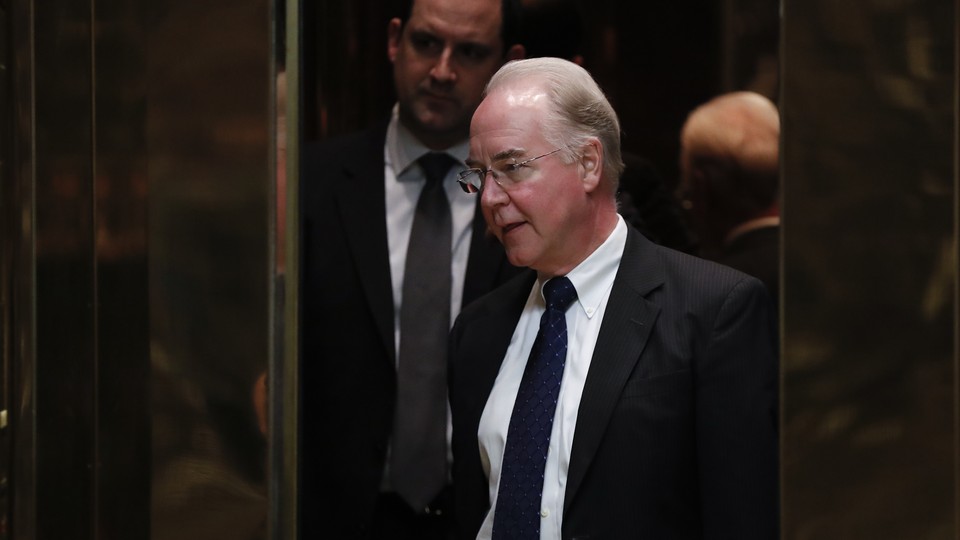 Donald Trump's plan to repeal and replace Obamacare began in earnest on Tuesday with the selection of House Budget Committee Chairman and six-term Georgia Representative Tom Price as the next secretary of Health and Human Services. Price has been one of the most consistent opponents of the Affordable Care Act in Congress, and has written perhaps the most comprehensive Republican alternative to the bill. That pick, along with the selection of the Indiana health-policy consultant Seema Verma to run the Centers for Medicare and Medicaid Services, appears to signal that Trump is making his vision of healthcare reform a top priority. But what will Price actually be able to do at his new position?
Both Price and Verma know healthcare well. Price, a physician, is not a neophyte in the vein of Ben Carson at Housing and Urban Development, but a seasoned health-policy thinker who knows the minutiae of the major public-insurance programs and reforms. Verma, whose CMS will administer those programs, has previously worked closely with the agency as one of the architects of Mike Pence's market-based Medicaid expansion in Indiana and of much of Indiana's state health policy.
Although Price's selection is the clearest signal yet of the direction Trump intends for his replacement of Obamacare—defunding Obamacare subsidies, cuts to Medicaid, expanded high-risk pools, health savings accounts tax breaks, and continuous coverage requirements for pre-existing conditions waivers—now that he'll be outside of Congress, Price won't have the authority to simply end Obamacare on his own. Enacting his apparent preferences for diminishing public insurance for children and denying care for elderly people who can't afford co-pays requires legislative authority. Until a bill comes along that changes the structure of the Affordable Care Act or dismantles it, Price cannot act unilaterally on his stated desires to end it.
But Price can exercise some of the broad powers of the secretary's office right away to make the ongoing effort to implement Obamacare more difficult, even if some of those provisions survive what is expected to be a rapid move in Congress to repeal it. For one, the text of the ACA was noted—and derided—for its thousands of references to the secretary of HHS in sections known as the "secretary shall" clauses, which placed quite a bit of the burden on the department itself to determine the final shape of several reforms.
Among the reforms left in the purview of the department are the actual creation and maintenance of the HealthCare.Gov website, the establishment of federally run exchanges in recalitrant or struggling states, and the administration of the Center for Consumer Information & Insurance Oversight, which is designed to implement the private-insurance reforms of the ACA. After a year that has seen large increases in premiums, the exit of major insurers from the exchanges, and a reluctance among young people to sign up for insurance, the Obama administration has leaned on this statutory authority to make fixes, including plans to recruit additional insurers and bolster outreach to young people. With exchanges in such a precarious position, Price's department could choose not to pursue these additional reforms or simply cease improving and effectively administering exchange functions.
One part of Obamacare that Price and Verma would have authority over on day one is the added branch of CMS designed to test and implement changes in the actual delivery of and payment for healthcare in the country. The Center for Medicare and Medicaid Innovation was established in the Affordable Care Act, and has been authorized to act as a grantor and innovation lab for different state plans to address some of the largest cost drivers in health.
Price has been an outspoken critic of the innovation center, especially as it has experimented with shifting Medicare payments from fee-for-service to a value-based model that would not pay physicians on traditional volume metrics, but on a set of metrics emphasizing quality and efficiency. Price has expressed concern that these changes limit the discretion of physicians, and intrude into the doctor-patient relationship. One of the main populations of patients affected by these CMMI demonstration grants are "dual-eligibles," or patients eligible for both Medicaid and Medicare—generally those at the intersection of old age, low-incomes, and often disabilities. The new HHS and CMS could roll back any potential patient gains or data gleaned from these projects.
A lesser-known provision of the Affordable Care Act is its Section 1557, the nondiscrimination portion required by the Civil Rights Act, which applies to HHS's authority even beyond the individual reforms of Obamacare. Price's department has the authority to interpret that provision in its regulations. This year, under Secretary Sylvia Burwell, HHS used that rule to grant protections to transgender individuals and ensure that they could not be denied coverage or treatment on the basis of gender identity. Given Price's objection to the Obama administration's recent guidelines on bathrooms for transgender people, it seems likely his HHS might renege on the promise to transgender people.
The Department of Health and Human Services also provides a significant portion of the funding that Planned Parenthood receives, and Price has been in favor of defunding the organization and making abortion illegal. As my colleague Olga Khazan notes, Price has been generally in favor of forcing women to pay copays for contraceptives as well. While Republicans in Congress seem likely to move the law in Price's favor on both fronts anyways, it's worth noting that in a few months, he will possess the main statutory authority to make independent decisions on both questions.
It's impossible to fully predict Price's agenda in the department now because so much depends on Congress's moves to enable that agenda. But only part of that agenda will revolve around the leviathan of Obamacare and its successor, and even beyond the public insurance programs that make up the bulk of its spending. HHS also administers the largest health-research centers in the world, most of the country's public-health apparatus, the Indian Health Service, the Food and Drug Administration, and a collection of welfare and child-care services. While Price has a less-established policy record on many of these issues, his general philosophy of rolling back government spending and intervention suggests he may scale back HHS's current efforts.
What does seem clear, though, is that the department in charge of public insurance, insurance for children, delivery-system innovation, protecting transgender healthcare rights, and providing women's health services will now be led by a man who wants to contract public insurance, voted against expanding children's insurance, is against delivery-system reforms, and wants to remove the government from the business of providing protections and services for transgender people and women.