The Trump Transition Begins
President Obama pledges a smooth transfer of power to a man he tried so desperately to defeat.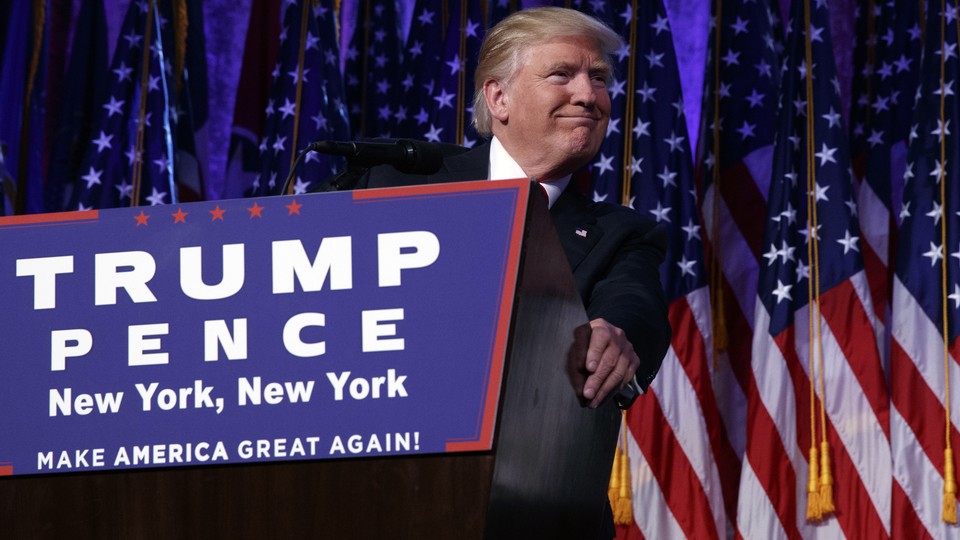 And now, a transition unlike any other.
President Obama on Wednesday pledged that his administration would provide a "successful" transfer of power to a man who tormented his presidency for years, Donald Trump. "The peaceful transition of power is one of the hallmarks of our democracy. And over the next few months, we are going to show that to the world," Obama said in remarks in the Rose Garden in which he tried as best he could to find glimmers of optimism on an electoral result he clearly feared.
Trump and Obama will meet at the White House on Thursday, and Trump's transition committee is expected to parachute teams of potential appointees into federal agencies as soon as next week to begin receiving briefings. Trump's top advisers reportedly met both in New York and Washington on Wednesday to begin making plans. The Trump campaign also set up a transition website, greatagain.gov, that includes links for applying to serve in the new administration.
By most accounts, Trump's transition team has been a smoother and more professional operation than his official campaign apparatus. Modeled to a certain extent on the shadow government that Mitt Romney's transition team built—to no ultimate avail—in 2012, the Trump team has had dozens of staffers working in government-provided space since August developing policy papers, personnel lists, and other plans. Embattled New Jersey Governor Chris Christie is the titular head of the effort, but his former chief of staff, Rich Bagger, has been running the day-to-day operation as executive director.
Within hours of Trump's surprising victory, rumors began circulating about who might form his Cabinet. Attorney General Rudy Giuliani? Secretary of State Newt Gingrich? Might Sarah Palin finally move to Washington to lead the Interior Department?
Beyond the bold-faced names in top positions, however, preparing to take over the federal government is a Herculean task comprising some 4,000 political appointments and countless other decisions about legislative priorities, regulatory changes, and executive actions. And that's before the inevitable hiccups—Cabinet nominations that go south, intervening world events, political controversies that materialize out of nowhere. "You think you're prepared, but you're never really quite sure," said Chris Lu, the executive director of Barack Obama's transition team in 2008 who is now deputy secretary of labor. "It's like you're planning a massive military operation and you never quite know until you start the thing whether it works or not."
Or, to borrow a quote from Mike Tyson: "Everyone has a plan until they get punched in the mouth."
The sheer shock of transitioning from an Obama administration to a Trump administration will undoubtedly complicate the effort. Trump has vowed to undo much of Obama's domestic legacy, beginning with his signature legislative achievement, the Affordable Care Act. On Wednesday, both House Speaker Paul Ryan and Senate Majority Leader Mitch McConnell confirmed they would move swiftly to try and scrap the law next year.
In his remarks at the White House, Obama reminded reporters that he faced a similar dynamic in taking over for President George W. Bush eight years ago, and he said he aimed to replicate the effort Bush's team made to provide what outside management experts consider the most effective presidential transition in history. Yet the level of personal animosity between Trump and Obama far exceeds the political differences that Obama had with Bush. Trump cast doubt on Obama's religion, patriotism, and his very eligibility for office, while Obama in turn declared that Trump was "unfit for the presidency" and a danger to the republic.
While the president spoke in high-minded terms, the awkwardness of the looming transfer was apparent when Obama spokesman Josh Earnest briefed reporters later on Wednesday. Earnest said Obama would continue pursuing and reinforcing policy priorities until he left office, even those that could be reversed by the newly-elected Trump.
"President Obama will remain in office and will be the president until January 20, and we will pursue policies accordingly," Earnest said. "What's also true is that the president-elect, in the context of a smooth and effective transition, will have an opportunity to get briefed by members of President Obama's team and actually have a conversation with President Obama himself about some of these priorities."