The Atlantic Politics & Policy Daily: Pelosi Victory Saves Nation From Ryan Mix-Up
Nancy Pelosi won another term as House minority leader.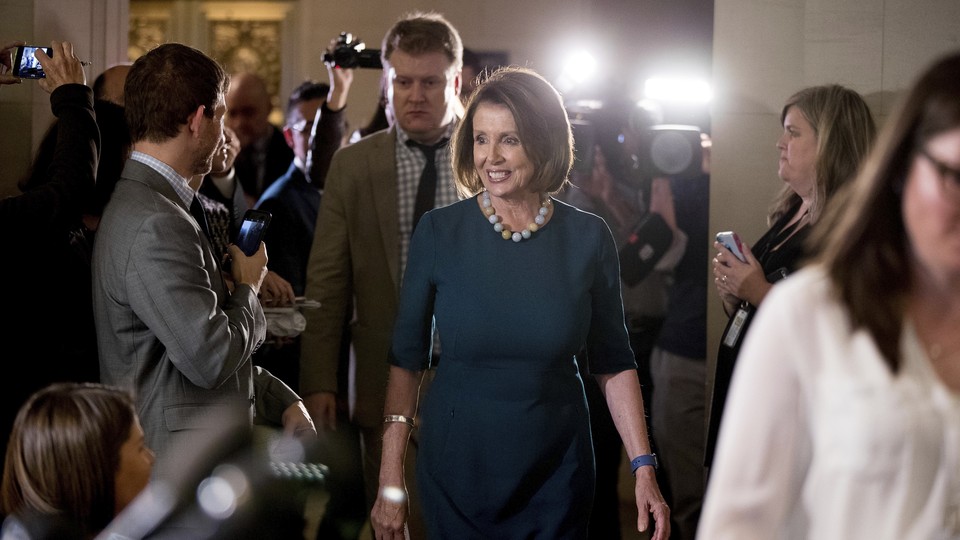 Today in 5 Lines
In a series of early-morning tweets, President-elect Donald Trump said he would remove himself from his "business operations" in order to focus on the presidency, but he did not provide additional details on how the plan would be carried out. Trump also announced his plans to nominate Steven Mnuchin, a former Goldman Sachs executive, to serve as secretary of the treasury and investor Wilbur Ross to serve as secretary of commerce. Democrats reelected Representative Nancy Pelosi as House minority leader over Ohio Representative Tim Ryan in a 134 to 63 vote. District Attorney Andrew Murray announced that Charlotte-Mecklenburg police Officer Brentley Vinson will not face charges in the shooting death of Keith Lamont Scott in September. Officials said seven people have been reported dead in the Tennessee wildfires.
---
Today on The Atlantic
Change of Heart: Donald Trump ran as the anti-establishment candidate, but three of his early Cabinet picks are sitting members of the House or Senate. Despite a turbulent campaign, congressional Republicans and the president-elect appear to be clearing the air. (Russell Berman)

The 'Rainbow Coalition': Some pundits and academics attribute Hillary Clinton's defeat to the Democratic Party's focus on identity and social issues. But in North Carolina, that same focus allowed Roy Cooper to defeat Republican incumbent Governor Pat McCrory. (Vann R. Newkirk II)

Deja Vu?: A number of Trump supporters have compared his victory to President Andrew Jackson's landslide win in 1828. While the two men have their similarities, "a deeper look at Jackson's victory complicates the comparison." (Steve Inskeep)
Follow stories throughout the day with our Politics & Policy portal.
---
Snapshot
---
What We're Reading
Who is Steven Mnuchin?: President-elect Donald Trump's pick for Treasury secretary was a partner at Goldman Sachs and invested in several Hollywood hits. Here's how he ended up in Trump's inner circle. (Max Abelson and Zachary Mider, Bloomberg)
Waiting for Answers: Saira Khan is the sister of Syed Rizwan Farook, who—along with his wife, Tashfeen Malik—killed 14 people in San Bernardino, California, in 2015. Khan has been fighting for custody of their orphaned baby girl over the last year, "but so far the county would only agree to grant her regular, six-hour visits." (Eli Saslow, The Washington Post)
On the Wrong Track: In a post-Obama political climate, Democrats must find a new identity, argues Lisa Boothe, but it looks like the party is set to repeat some of the same mistakes of the past eight years. (Washington Examiner)
The Future of Activism: In an interview with The Verge, Black Lives Matter organizer DeRay Mckesson discusses what he expects the movement will look like in five years—and explains how technology makes people "woke." (Kwame Opam)
No Easy Fixes: Congress is poised to pass the 21st Century Cures Act, which would help fight the heroin and painkiller epidemic. There's one problem: "Instead of cracking down on the pharmaceutical companies that fueled the boom in opioid abuse, lawmakers are rewarding the industry." (Sam Stein, Matt Fuller, Ryan Grim, The Huffington Post)
---
Visualized
'Inside Jobs': The Atlantic interviewed 100 American workers from various demographic and educational backgrounds on the meaning of their work. Read their stories here.
---
Question of the Week
Vice President-elect Mike Pence has officially moved to Washington, D.C., and President-elect Donald Trump is expected to follow suit in the coming weeks. President Obama and Michelle Obama's go-to restaurants in the District have long been documented. Which restaurants do you expect Pence and Trump to frequent?
Send your answers to hello@theatlantic.com, and our favorites will be featured in Friday's Politics & Policy Daily.
-Written by Elaine Godfrey (@elainejgodfrey) and Candice Norwood (@cjnorwoodwrites)