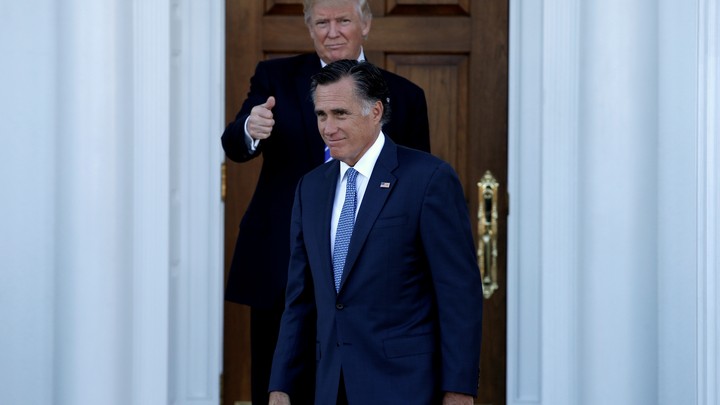 Today in 5 Lines
President-elect Donald Trump chose Representative Tom Price to serve as the secretary of Health and Human Services, and selected Seema Verma to serve as administrator of the Centers for Medicare and Medicaid Services. Trump is expected to have dinner with Mitt Romney tonight in their second meeting since the election—and amid speculation the former Republican nominee is being considered for secretary of state. The president-elect suggested on Twitter that there should be "consequences" for Americans who burn the flag, such as jail or loss of citizenship. Senate Judiciary Committee Chairman Chuck Grassley said he plans to hold confirmation hearings for Senator Jeff Sessions for the position of attorney general before Trump's inauguration on January 20. And White House Press Secretary Josh Earnest said the student who attacked several people at Ohio State University on Monday "may have been motivated by a desire to carry out an act of terrorism."
---
Today on The Atlantic
The Military Under Trump: The Trump administration will determine the future of the Third Offset, a strategy intended to maintain the competitive edge of the U.S. military. To succeed, writes Theodore R. Johnson, "it will need to be paired with qualitative organizational and personnel improvements that make full use of technological advances."

Sounds Familiar: Donald Trump suggested in a tweet Tuesday that people who burn the U.S. flag should be stripped of their citizenship. The comment follows a trend among Republicans, who have called for similar punishment for various crimes. (David A. Graham)

Blast From the Past: Donald Trump's controversial policy proposals related to Muslims have led some Americans to draw comparisons between his rhetoric and World War II, when the country incarcerated Japanese Americans out of fear for national security. (Emma Green)
Follow stories throughout the day with our Politics & Policy portal.
---
Snapshot
---
What We're Reading
A Maverick in the DOJ?: Jeff Sessions, a man who's spent years as an "outlier in GOP politics," is set to lead the Department of Justice next year if confirmed as Trump's attorney general. How might his hardline views influence future immigration policies? (Seung Min Kim, Politico)
'Fairfax County, USA': The main takeaway from the 2016 presidential election shouldn't be that Democrats need to appeal to white working-class America. Instead, they need to build a coalition of support based on common goals. (Matt Karp, Jacobin Magazine)
All Bark and No Bite: Identity politics have consumed the left, writes Victor Davis Hanson, and turned it into a "loud racist/sexist/homophobe broken record" incapable of offering practical solutions. (National Review)
A Way Forward: As Democrats continue to grapple with how to move ahead in the wake of Donald Trump's victory, they should look to Jesse Jackson's approach to activism—one that considered both rural and urban voters—as a road map for success. (Jamelle Bouie, Slate)
In Trump's Good Graces: The Kurds, a predominantly Muslim group, hope Donald Trump will consider their efforts to protect Christian minorities in northern Iraq when determining the fate of their alliance with the United States to fight ISIS. (Ash Gallagher, Yahoo)
---
Visualized
Could Trump Deport Millions?: Since his election, Donald Trump has pledged to deport undocumented immigrants with criminal records. Check out this interactive graphic for a breakdown of the plan and whom it includes. (Haeyoun Park and Troy Griggs, The New York Times)
---
Question of the Week
Vice President-elect Mike Pence has officially moved to Washington, D.C., and President-elect Donald Trump is expected to follow suit in the coming weeks. President Obama and Michelle Obama's go-to restaurants in the District have long been documented. Which restaurants do you expect Pence and Trump to frequent?
Send your answers to hello@theatlantic.com, and our favorites will be featured in Friday's Politics & Policy Daily.
-Written by Elaine Godfrey (@elainejgodfrey) and Candice Norwood (@cjnorwoodwrites)
We want to hear what you think about this article. Submit a letter to the editor or write to letters@theatlantic.com.
Elaine Godfrey
is a staff writer at
The Atlantic
, where she covers politics.