The Atlantic Politics & Policy Daily: Obama Grants Clemency to Iowa Turkey
The president pardoned his final Thanksgiving turkey at a ceremony in the Rose Garden.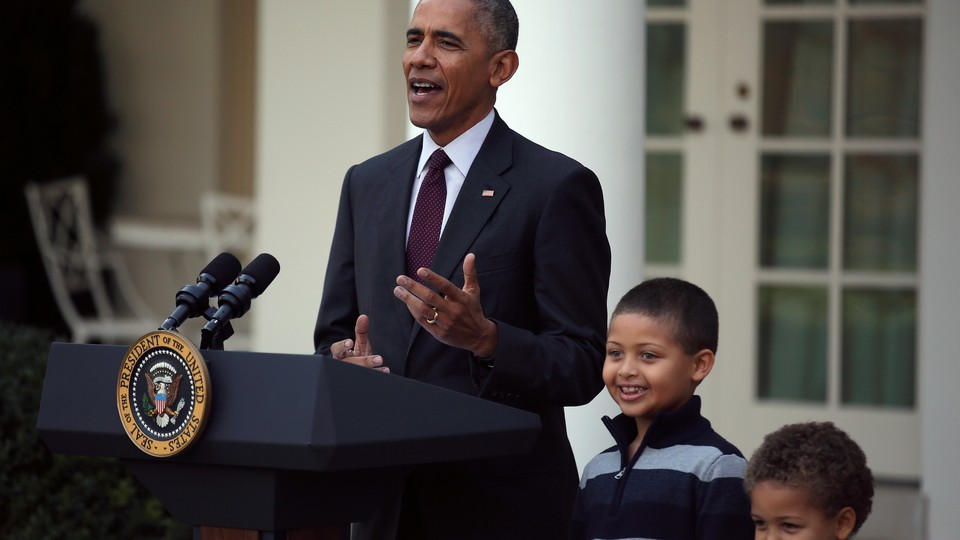 Today in 5 Lines
Donald Trump selected South Carolina Governor Nikki Haley to serve as the U.S. ambassador to the United Nations and Betsy DeVos, a major GOP donor, to run the Department of Education. Bob Walker, a senior Trump campaign adviser, said the president-elect will strip funding for NASA's Earth science division and focus instead on deep space exploration. Homeland Security Secretary Jeh Johnson said there has been an increase in the number of individuals apprehended on the U.S.-Mexico border. And President Obama pardoned his last Thanksgiving turkey in the Rose Garden at the White House.
---
Today on The Atlantic
Not Over Yet: North Carolina Governor Pat McCrory has yet to concede the election to Roy Cooper, instead accusing the Democrat of "circumventing the electoral process." The dispute is unlikely to end anytime soon. (David A. Graham)

Uncharted Waters: Donald Trump may enter office with a number of conflicts of interest. Former White House ethics czar Norman Eisen weighed in on the legal challenges the president-elect faces. (Matt Ford)

Top Five: On Wednesday, Donald Trump named Betsy DeVos, the Michigan philanthropist and prominent Republican donor, as his nominee for education secretary. Here are five things to know about DeVos and how she could shape the education system. (Emily DeRuy)
Follow stories throughout the day with our Politics & Policy portal.
---
Snapshot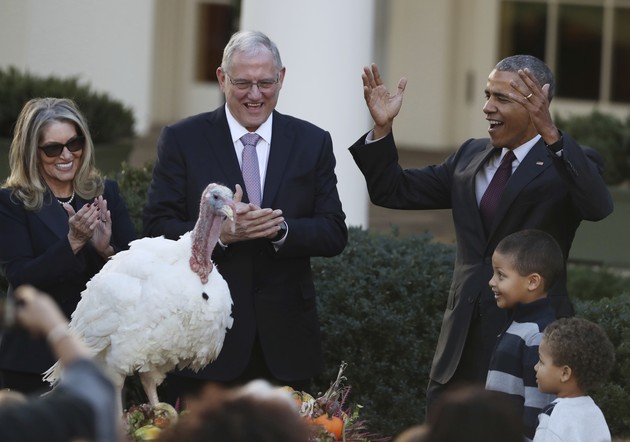 ---
What We're Reading
Fast and Loose: The president-elect typically spends weeks interviewing and investigating potential Cabinet nominees, but Donald Trump's "freewheeling" vetting process is markedly different. (Nancy Cook and Andrew Restuccia, Politico)
Legacy Kids: Jared Kushner's admission into Harvard has been questioned, as a result of his father's hefty donation to the university prior to his attending. But legacy preference is not uncommon, as "most top universities still make room for as many alumni children as they did a decade ago." (Daniel Golden, ProPublica and Town & Country)
Will Clinton Cry Foul?: Several computer scientists and election lawyers are calling for Hillary Clinton to demand a recount, claiming that results in Wisconsin, Michigan, and Pennsylvania "may have been manipulated or hacked." (Gabriel Sherman, New York Magazine)
A Woman at the Table: If South Carolina Governor Nikki Haley is confirmed as UN ambassador, she'll be the fifth woman to represent the U.S. in the role—and the only female member of the UN Security Council. (Hayes Brown, BuzzFeed)
On the Defense: Women and gynecologists are on high alert as they wait to learn the fate of birth control under a Trump administration. The questions at hand: How will Trump's proposed changes to Obamacare alter birth control access? And how fast will they take effect if implemented? (Jia Tolentino, The New Yorker)
---
Visualized
Thanksgivings Past and Present: From parades to turkey pardons, here's a gallery of the 37 best pictures chronicling Thanksgiving traditions from the past century. (Alan Taylor, The Atlantic)
---
Question of the Week
We can all agree that 2016 has been a long year, but this week, we asked you to explain what you're most thankful for in the world of politics. Here were some of our favorite responses:
Miriam Helbok said she's grateful for Bernie Sanders's campaign because it "energized and perhaps even awakened thousands of young people to the importance of taking an active part in maintaining our democracy."
For several readers, including David Lippman, Sheriff Joe Arpaio's loss in Arizona was "the only piece of positive news in a horrifying political year."
Grace Lutfy said she's grateful for Alec Baldwin and Larry David's performances on Saturday Night Live.
And Barry Tarshis wrote in to say that he's "thankful to be a Canadian." Thanks for that, Barry.
Read this week's Note for more great responses, and keep an eye out for Monday's Politics & Policy Daily to enter our Question of the Week contest.
-Written by Elaine Godfrey (@elainejgodfrey) and Candice Norwood (@cjnorwoodwrites)