The Atlantic Politics & Policy Daily: Trump's Date With the Grey Lady
The president-elect met with reporters and editors at The New York Times.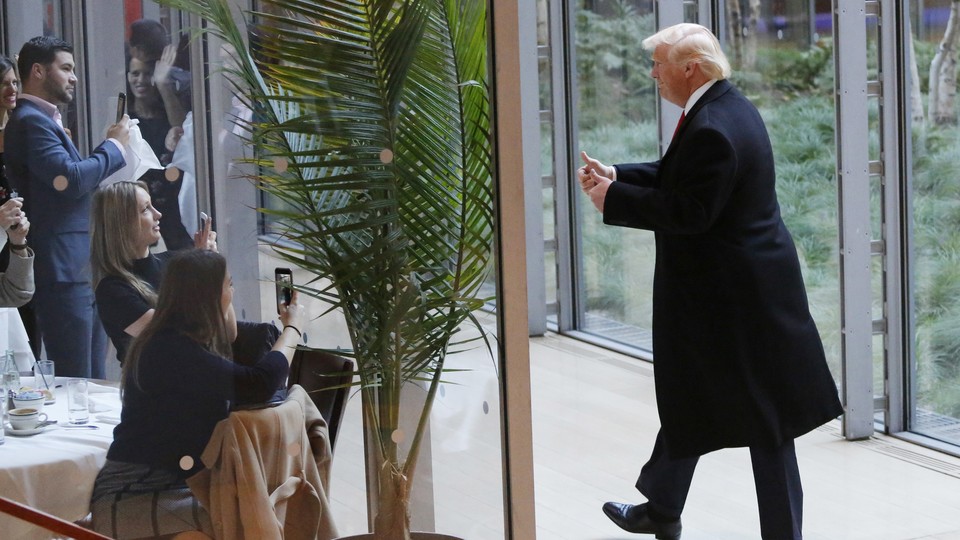 Today in 5 Lines
In an interview with The New York Times, President-elect Donald Trump disavowed the "alt-right" movement and said, in regard to his business pursuits, that "the president can't have a conflict of interest." Trump's former campaign manager Kellyanne Conway said he has no plans to investigate either Hillary Clinton's use of a private email server while serving as secretary of state, or the Clinton Foundation. North Carolina Governor Pat McCrory requested a recount of votes in his race against Democrat Roy Cooper for the governorship, citing "serious concerns about potential voter fraud." President Obama commuted the sentences of 79 federal inmates, bringing the total number of clemencies granted during his presidency to 1,023. And Obama awarded the Presidential Medal of Freedom to 21 American icons, including Kareem Abdul-Jabbar, Ellen DeGeneres, Tom Hanks, and Robert Redford.
---
Today on The Atlantic
Fair and Square: Democracy can yield unpredictable results, and "while fixating on the process is all well and good, there will inevitably be occasions when the outcome fills you with shock and awe." (Michelle Cottle)

Pick Your Poison: Republicans who defend Donald Trump's attorney general nominee, Senator Jeff Sessions, frequently cite his 1966 campaign against segregationist Democrat Lurleen Wallace. But, writes Adam Serwer, "the truth is more complicated."

Getting What You Vote For: The president-elect has threatened to repeal or roll back most of the Affordable Care Act. But in doing so, he'll likely harm the white working-class voters who backed him. (Vann R. Newkirk II)
Follow stories throughout the day with our Politics & Policy portal.
---
Snapshot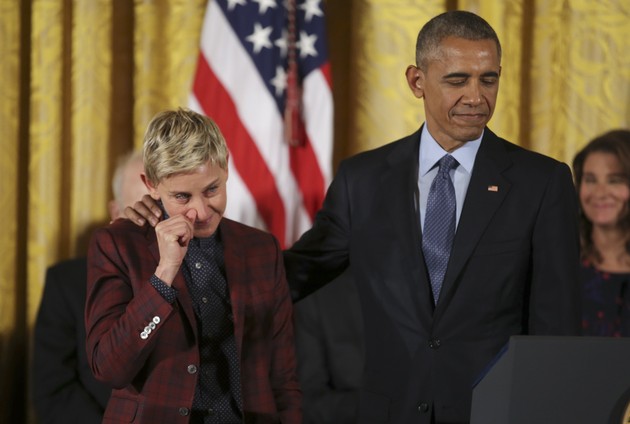 ---
What We're Reading
'Orlando: The Day After': The shooting at a nightclub in Orlando on June 12 left 49 people dead and 53 wounded. Beyond the tragedy of that night is the story of the men and women who survived, and who find the strength to move forward with their lives. (Sean Flynn, GQ)
Wheeling and Self-Dealing: A report from The Washington Post reveals that the Donald J. Trump Foundation admitted to the IRS that it violated a rule barring nonprofit leaders from benefitting from charitable funds. (David A. Fahrenthold)
'Is He With Them?': White nationalists have come out in full support of Donald Trump, someone they believe will bring their cause back into the mainstream. The question now is: How will the president-elect respond to them? (Josh Harkinson, Mother Jones)
Stand by Your Man: In an interview with Forbes, Jared Kushner explains how he went from being Ivanka Trump's "little-known husband" to filling a "power vacuum" in his father-in-law's presidential campaign. (Steven Bertoni)
Taking Up Arms: The AR-15 assault rifle has been described as the "perfect killing machine" with its high-velocity rounds and easy-to-use features. It was originally engineered for military use, but has since become mass shooters' weapon of choice. (Tim Dickinson, Rolling Stone)
---
Visualized
How Hard Could It Be?: President-elect Donald Trump has several goals for his first 100 days in office. This list highlights the agenda items he can accomplish on his own—and which ones will require assistance from Congress. (Larry Buchanan, Alicia Parlapiano, and Karen Yourish, The New York Times)
---
Question of the Week
2016 was a long year, no matter what end of the political spectrum you're on. But what's one thing that happened in the world of politics you're thankful for this year?
Send your answers to hello@theatlantic.com, and our favorites will be featured in Wednesday's Politics & Policy Daily.
-Written by Elaine Godfrey (@elainejgodfrey) and Candice Norwood (@cjnorwoodwrites)