The Atlantic Politics & Policy Daily: Pompeo and Sessions and Flynn, Oh My!
President-elect Donald Trump made three new Cabinet picks.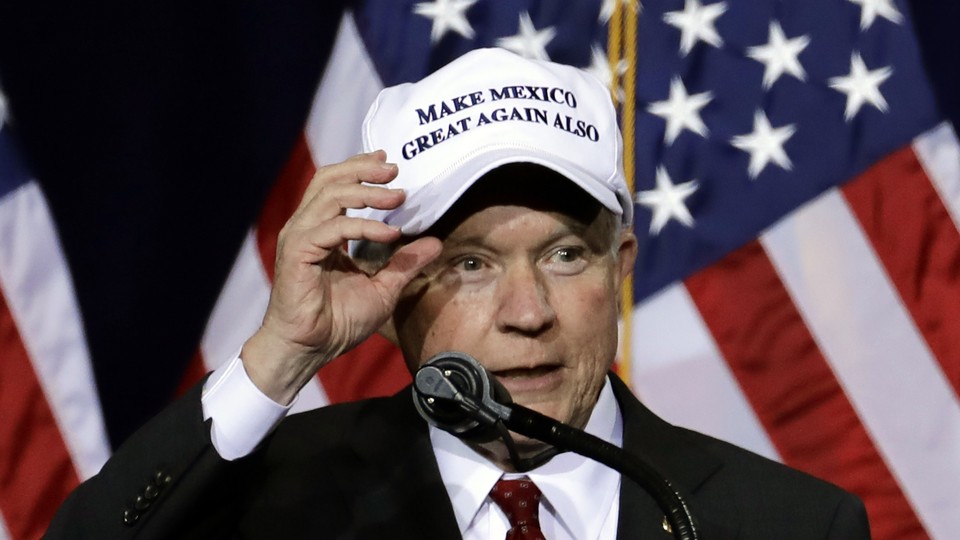 Today in 5 Lines
President-elect Donald Trump tapped Alabama Senator Jeff Sessions for the position of attorney general, Kansas Representative Mike Pompeo for CIA director, and retired Lieutenant General Michael Flynn for national security adviser. Trump reached a $25 million settlement with New York Attorney General Eric Schneiderman involving fraud allegations related to the now-defunct Trump University. The World Health Organization said the Zika virus will no longer be considered a global health emergency, but noted that the virus is "here to stay." Maryland Senator-elect Chris Van Hollen will serve as the chair of the Democratic Senatorial Campaign Committee. The Obama administration declared parts of the Arctic off-limits to oil and gas drilling as part of a five-year plan.
---
Today on The Atlantic
Countdown to Inauguration Day: President-elect Donald Trump's transition appears, from the outside, to be "a mess," in light of sudden leadership changes and disagreements among Republicans. Despite the drama, several veterans of the process say Trump's team can still pull it together. (Russell Berman)

Let's Talk About Race: On Friday, Trump selected Senator Jefferson Beauregard Sessions III—"a man whose views on race once led a Senate committee to deem him unfit for a federal judgeship"—to be attorney general. What does this mean for the fate of civil-rights protections? (Adam Serwer)

The Freshmen Class: A crop of freshly elected members of Congress gathered in Washington, D.C. this week for orientation, where they can speak with senior lawmakers and learn about their new positions before they "get swept up in the ugly blood-sport" of their first legislative session. (Michelle Cottle)
Follow stories throughout the day with our Politics & Policy portal.
---
Snapshot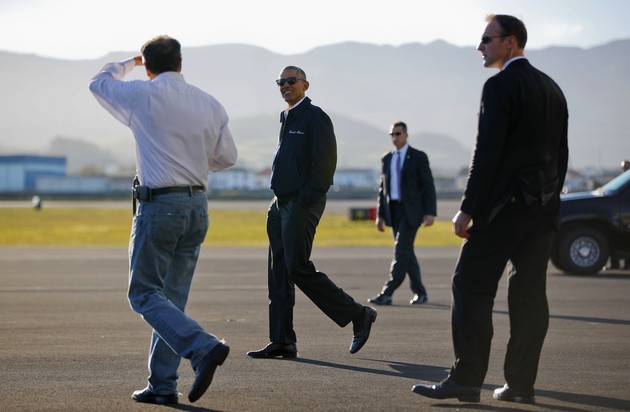 ---
What We're Reading
A To-Do List for President Trump: What do the white, working-class voters who supported the president-elect want from him? Michael Kruse traveled to Cambria County in Pennsylvania to find out. (Politico)
Obama Keeps His Cool: After Donald Trump's victory this month, The New Yorker's David Remnick checked in with one of the businessman's biggest critics: President Obama, who insists that "this is not the apocalypse."
A Political Makeover: The Democratic Party currently faces an uncertain future. Rather than continue to be aligned with the neo-liberal agenda, "which itself was too aligned with the bankers and the comfortable elites," here's how Democrats can succeed going forward. (Joseph E. Stiglitz, Vanity Fair)
The End of an Era?: Fifty-one years ago, President Lyndon Johnson signed Medicare into law in an effort to make health care more affordable. But today, the program could be nearing an end as conservative lawmakers enact policies that favor private insurers. (Trudy Lieberman, Harper's Magazine)
'The Man With the Idea': Steve Bannon, the former executive chairman of Breitbart News, was recently tapped to serve as chief strategist and senior counselor to President-elect Donald Trump. In an interview with Michael Wolff, Bannon said, "we're going to build an entirely new political movement." (Hollywood Reporter)
---
Visualized
Postcards From Trumpland: Who does America belong to? A collection of stories from across the country address the questions many Americans woke up with on November 9. (The New York Times Magazine)
---
Question of the Week
This week, we asked you what book President-elect Donald Trump should read before he takes office on January 20. Here are some of our favorites:
Thanks to Bob Holtkamp, who suggested Stranger in a Strange Land by Robert A. Heinlein, which is about a human raised on Mars—a story that political-newbie Donald Trump just might relate with.
From Christina Kopp: Thinking, Fast and Slow by Daniel Kahneman—not as "a knock on Trump's intelligence," but as "a reminder that we humans have to struggle mightily against all the mental shortcuts and heuristics we often rely on in an information-dense world."
John Ayer, along with several others, suggested Goodnight Moon, a children's book by Margaret Wise Brown, as a way for Trump to relax.
And Daniel Stublen suggested Hard Choices by Hillary Rodham Clinton.
Keep an eye out for next week's Politics & Policy Daily to enter our Question of the Week contest.
-Written by Elaine Godfrey (@elainejgodfrey) and Candice Norwood (@cjnorwoodwrites)