The Atlantic Politics & Policy Daily: Mr. Trump Will See You Now
The president-elect is expected to meet with Japanese Prime Minister Shinzo Abe tonight.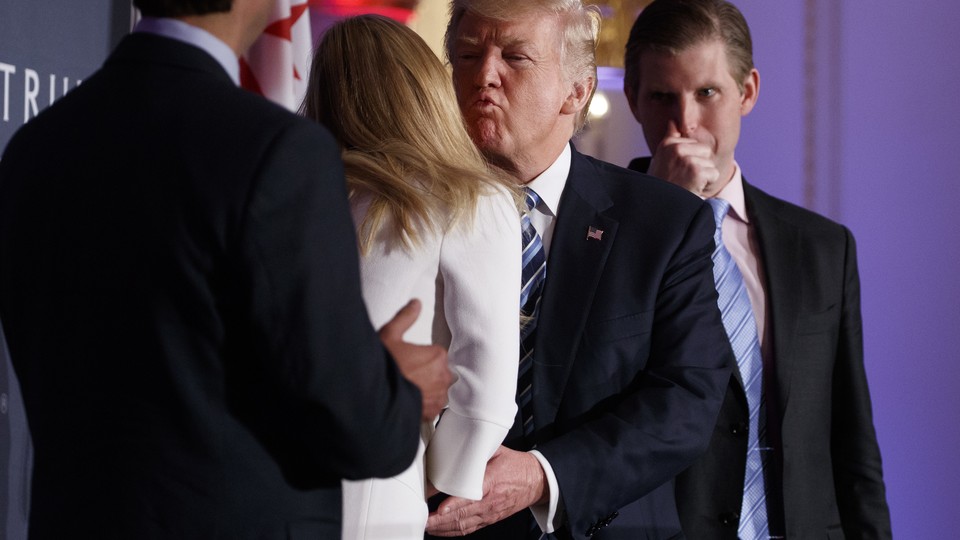 Today in 5 Lines
President-elect Donald Trump had a series of meetings in New York, including talks with former Secretary of State Henry Kissinger and South Carolina Governor Nikki Haley. He's expected to have his first face-to-face meeting with a foreign leader, Japanese Prime Minister Shinzo Abe, since he won the election tonight. Meanwhile, Vice President-elect Mike Pence met with Democratic and Republican lawmakers on Capitol Hill for the first time since the election. U.S. Director of National Intelligence James Clapper told the House Select Committee on Intelligence that he had submitted his letter of resignation. President Obama encouraged the president-elect "to stand up to Russia where they are deviating from our values" in a joint news conference with German Chancellor Angela Merkel. And Ohio Representative Tim Ryan announced he will challenge House Minority Leader Nancy Pelosi for her position.
---
Today on The Atlantic
The Chasm Between Town and Country: The 2016 election revealed a divide between urban and non-urban America that the country has not witnessed since 1920. And that gap will likely widen under a Trump administration. (Ronald Brownstein)   

Honoring Press Freedom: Donald Trump's hostility toward journalists threatens the important American values of government transparency and press access. Will news organizations take a stand against "Trump's penchant for secrecy," and hold him accountable to these principles? (Tommy Vietor)

A Republican Mandate?: Congressional Republicans returned to Washington, D.C., this week eager to get to work on a long list of items, such as repealing and replacing Obamacare and cutting taxes. But some lawmakers are concerned about "misreading the message of the electorate." (Russell Berman)
Follow stories throughout the day with our Politics & Policy portal.
---
Snapshot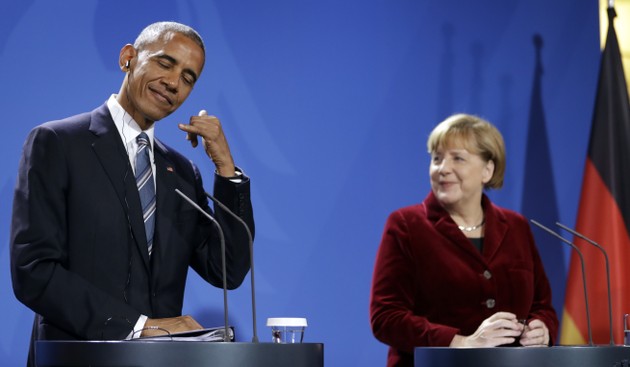 ---
What We're Reading
How Do You Solve a Problem Like Trump?: Democrats in Congress have a strategy: to align with the president-elect on issues like paid maternity leave and infrastructure spending, which Republicans have long resisted, in an attempt to pass them. (Jennifer Steinhauer, The New York Times)
Pipe Dreams: Critics of the Electoral College argue that using the popular vote is the best way to elect a president. But this is an unrealistic desire that would require an amendment to the U.S. Constitution, a two-thirds majority vote in both the House and the Senate, and ratification by 38 states. (Meg Anderson, NPR)
Intertwined: By now, most Americans recognize Jared Kushner—Donald Trump's son-in-law and the de-facto manager of his presidential campaign. But few know Kushner's brother, Joshua, a Democrat whose start-up business is built around the Affordable Care Act. (Rebecca Robbins, STAT)
Nice Guys Finish Last: A BuzzFeed report reveals that the 20 top-performing fake election news stories in the past three months generated 8.7 million reactions, shares, and comments on Facebook—outperforming the 20 best-performing stories from mainstream news outlets. (Craig Silverman)
Popular Demand: President Vladimir Putin is widely viewed in Russia "as the man who tamed a tumultuous post-Soviet Russia and the first leader in decades willing to stand up to the West." Here's why young people, in particular, feel he can bring stability to the country. (Julia Ioffe, National Geographic)
'America's Angriest General': As the former director of the Defense Intelligence Agency, Michael T. Flynn was one of the most respected intelligence officers. Now, he accompanies Donald Trump to security briefings and publicly calls for Hillary Clinton's imprisonment. (James Kitfield, Politico)
---
Visualized
44 of the 44th: White House photographer Pete Souza spent the past eight years capturing more than 2 million photos of President Obama. Here are 44 of the most memorable images. (Alan Taylor, The Atlantic)
---
Question of the Week
In the coming weeks, President-elect Donald Trump will hire a White House staff, select the members of his cabinet, and make thousands of political appointments, among a number of other things.
What one book should Trump read to prepare him for the task ahead?
Send your answers to hello@theatlantic.com, and our favorites will be featured in Friday's Politics & Policy Daily.
-Written by Elaine Godfrey (@elainejgodfrey) and Candice Norwood (@cjnorwoodwrites)