The Atlantic Politics & Policy Daily: The Apprentice: Cabinet Edition
President-elect Donald Trump says his transition process "is going so smoothly."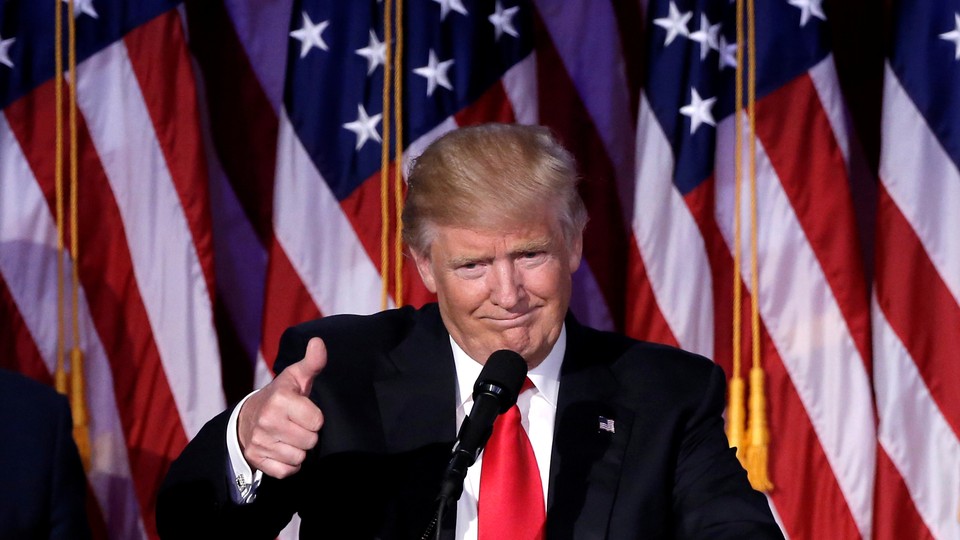 Today in 5 Lines
President-elect Donald Trump blasted The New York Times on Twitter for reporting critically on his transition, insisting that the process "is going so smoothly." St. Anthony Police officer Jeronimo Yanez, who fatally shot Philando Castile during a traffic stop in July, was charged with second-degree manslaughter. Democrats elected New York Senator Chuck Schumer to be the new Senate minority leader, and Senators Bernie Sanders and Elizabeth Warren were given roles on the leadership team. Vice President Joe Biden and Vice President-elect Mike Pence met for lunch at the Naval Observatory, marking their second meeting since the presidential election. Twitter suspended several accounts associated with the alt-right.
---
Today on The Atlantic
Finishing Strong: One important indicator of a good president is the ability to "clean up" after his predecessors. On this particular feat, President Obama ranks "impressively high." (Jonathan Rauch)

Reforming the System: The Youth First Initiative, a justice-advocacy group, wants to help end youth imprisonment in the United States. Juleyka Lantigua-Williams spoke with the organization's president and CEO about how the juvenile-justice system shapes society.

'Stay Away': In the aftermath of Donald Trump's victory, anti-Trump Republicans must decide whether to lend their expertise to the president-elect, or to defend the conservative principles they believe he violates. (Uri Friedman)
Follow stories throughout the day with our Politics & Policy portal.
---
Snapshot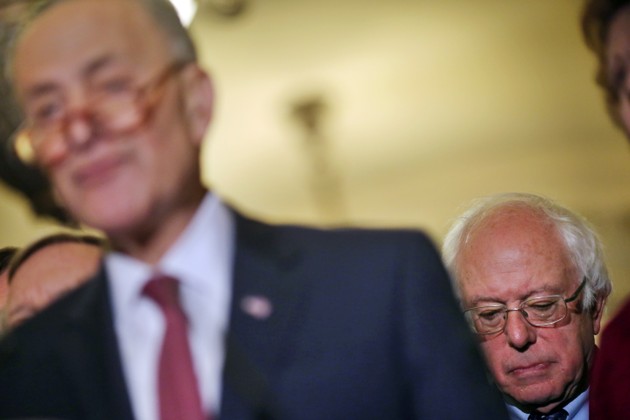 ---
What We're Reading
A Fight for Jeff Sessions?: The Alabama senator is reportedly being considered for Defense secretary or attorney general in a Trump Cabinet, but his hardline stance on immigration and reputation for racial insensitivity might make his confirmation a hard sell. (Jeremy Herb and Connor O'Brien, Politico)
Everything Isn't About Race: Liberals continue to try to silence their critics by calling them—and voters who backed Donald Trump—racist. But, Jonah Goldberg argues, that kind of behavior "begs for a backlash." (National Review)
No Good Trump Voter: People who voted for Donald Trump, regardless of their reasons, backed "racist demagoguery," writes Jamelle Bouie, and "to insist Trump's backers are good people is to treat their inner lives with more weight than the actual lives on the line under a Trump administration." (Slate)
Shaping Immigration: In an interview with Reuters, Kansas Secretary of State Kris Kobach, who says he is advising the president-elect, reveals the Trump team is planning on erecting a wall on the U.S.-Mexico border and considering a "registry for immigrants from Muslim countries." (Mica Rosenberg and Julia Edwards Ainsley)
Dash and Dine: The protective pool, which consists of reporters from select news organizations, is meant to keep watch over presidential proceedings and to inform the public during times of crisis. In ditching his press pool Tuesday night, President-elect Donald Trump threatened an important tradition unique to American media. (Olivier Knox, Yahoo)
---
Visualized
From Blue to Red: Check out these three charts to see which counties voted for Donald Trump in the 2016 presidential election that had previously voted for President Obama in 2012. (Jessica Taylor, NPR)
---
Question of the Week
In the coming weeks, President-elect Donald Trump will hire a White House staff, select the members of his cabinet, and make thousands of political appointments, among a number of other things.
What one book should Trump read to prepare him for the task ahead?
Send your answers to hello@theatlantic.com, and our favorites will be featured in Friday's Politics & Policy Daily.
-Written by Elaine Godfrey (@elainejgodfrey) and Candice Norwood (@cjnorwoodwrites)