The Atlantic Politics & Policy Daily: Saving Speaker Ryan
House Republicans unanimously re-elected Paul Ryan for a second term as House speaker.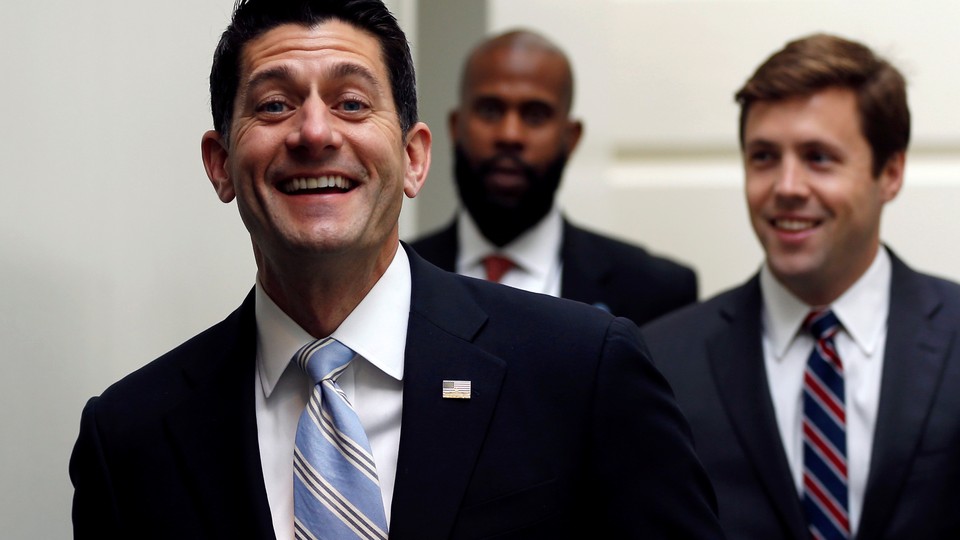 Today in 5 Lines
President-elect Donald Trump's transition team is in disarray after former House Intelligence Committee Chairman Mike Rogers announced he's leaving, and Matthew Freedman, a defense and foreign policy official, was reportedly removed. Mike Pence, who recently took the helm, has not yet signed paperwork to begin the transition process with the Obama administration. Paul Ryan heralded "the dawn of a new unified Republican government" during a news conference, just a few hours before House Republicans unanimously re-elected him for a second term as House speaker. President Obama recognized anxieties among the American people in a joint press conference with Greek Prime Minister Alexis Tsipras. Senator John McCain warned the president-elect against cozying up to Russian President Vladimir Putin in a statement. And House Democrats decided to push back their leadership elections until November 30.
---
Today on The Atlantic
Post-Election Dilemma: As many liberals cope with the election results, they are faced with the choice to accept or condemn Donald Trump's victory. The problem: "They see Trump—and by extension, his supporters—as violating basic principles of decency and morality." (Emma Green)

Hillary Clinton's Defeat: The Clinton campaign has cited a "host of uncontrollable headwinds" to explain her unexpected loss, while critics say her own team's decisions led to the outcome. Here are four explanations for her defeat. (Molly Ball)

Building Bridges: President-elect Donald Trump expanded on his plans to invest heavily in infrastructure during his victory speech. But can he persuade congressional Republicans to accept an idea "they belittled as pork-barrel spending" when President Obama proposed it eight years ago? (Russell Berman)
Follow stories throughout the day with our Politics & Policy portal.
---
Snapshot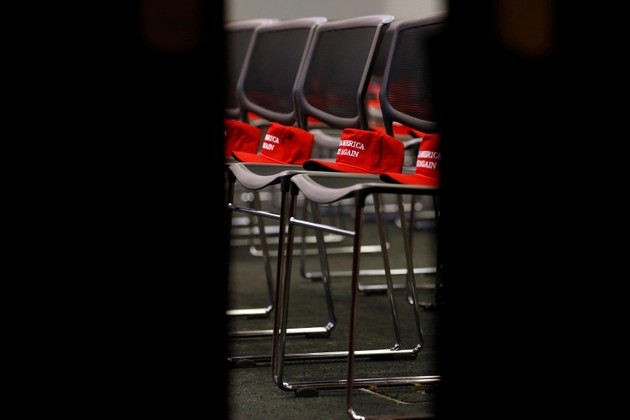 ---
What We're Reading
Who's Steve Bannon?: Republican lawmakers on Capitol Hill don't know much about Donald Trump's controversial pick for chief strategist and senior counselor, but they're defending the president-elect's choice all the same. (Tarini Parti, BuzzFeed)
In His Own Words: Former New York City Mayor Rudy Giuliani is the rumored frontrunner for the role of secretary of state. Fortune compiled a list of past statements by Giuliani to give an idea of how he perceives the state of foreign affairs. (Katie Reilly)
Making Sense of Trump's Immigration Plan: During an interview on CBS's 60 Minutes, Donald Trump vowed to deport up to 3 million undocumented immigrants, which critics say is unjust. But President Obama deported roughly that many undocumented immigrants in his first seven years in office. (Barney Jopson, Financial Times)
Gray Area: President-elect Donald Trump's new hotel operates out of a government-owned building, adding yet another layer to the numerous potential conflicts of interest between Trump's private businesses and presidential duties. (Eric Lipton and Susanne Craig, The New York Times)
What Went Wrong?: Donald Trump claimed throughout the election that a "silent majority" of voters backed him. As it turns out, many of his supporters were completely overlooked "either because pollsters never found them or they chose not to respond to the polls." (Garrett M. Graff, Wired)
---
Visualized
The Past Seven Days: One week ago, Donald Trump won the presidential election. Check out these images to see what's happened in America every day since. (Catherine E. Shoichet, CNN)
---
Question of the Week
In the coming weeks, President-elect Donald Trump will hire a White House staff, select the members of his cabinet, and make thousands of political appointments, among a number of other things.
What one book should Trump read to prepare him for the task ahead?
Send your answers to hello@theatlantic.com, and our favorites will be featured in Friday's Politics & Policy Daily.
-Written by Elaine Godfrey (@elainejgodfrey) and Candice Norwood (@cjnorwoodwrites)