The Atlantic Politics & Policy Daily: From Russia With Love
Russian President Vladimir Putin called President-elect Donald Trump to congratulate him on his win and discuss the U.S.-Russia relationship.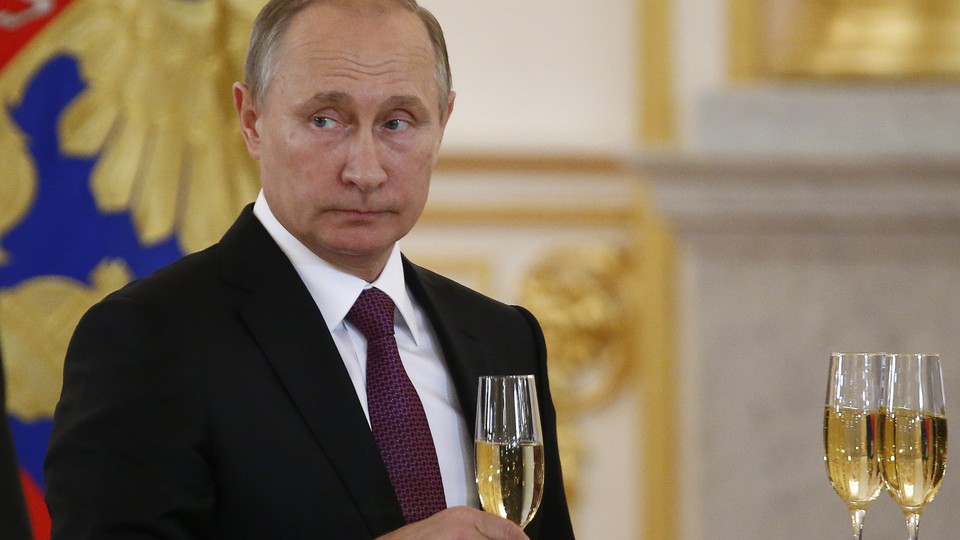 Today in 5 Lines
President-elect Donald Trump said "he is very much looking forward to having a strong and enduring relationship with Russia and the people of Russia" in a call with Russian President Vladimir Putin, according to his transition team. President Obama said Democrats should not "waver on their core beliefs and principles" in his first news conference since the presidential election. Obama added that he plans to reassure European leaders "there is no weakening" in the U.S. commitment to the NATO alliance, as he heads on his final foreign trip as commander in chief to Greece, Germany, and Peru. Vice President-elect Mike Pence is going to court to keep private the contents of an email sent to him from a political ally, a decision legal experts fear could set a "dangerous legal precedent." Representative Keith Ellison said he is officially running to be chairman of the Democratic National Committee. Prominent PBS journalist Gwen Ifill died at 61 after a battle with cancer.
---
Today on The Atlantic
Started From the Bottom: Democrats were devastated after a stunning defeat at the top of the ticket, but Republican control over state legislatures will likely have longer lasting implications for the party. (Alex Wagner)

Just in Time: House Speaker Paul Ryan distanced himself from Donald Trump throughout his presidential campaign. But Ryan's decision to support the president-elect in the final weeks of the election may be enough to save his job. (Russell Berman)

Nothing New: Many people have openly wondered why Hillary Clinton failed to win the support of white women. But these voters have supported the GOP for years, which "underscores the complicated nature of their political interests." (Michelle Cottle)
Follow stories throughout the day with our Politics & Policy portal.
---
Snapshot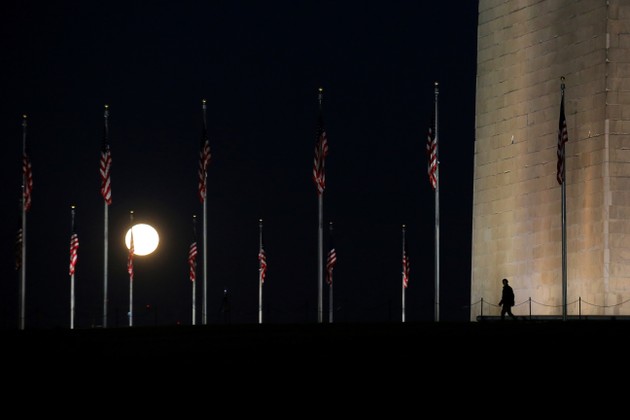 ---
What We're Reading
Advisor-in-Chief: After a meeting with President Obama, President-elect Donald Trump reportedly "seemed surprised by the scope of the job." As a result, Obama is expected to spend more time advising him than usual. (Michael C. Bender and Carol E. Lee)
A Meaningless Victory: Hillary Clinton may have won the popular vote in the presidential election, but that isn't enough to secure the White House. And, David French writes, it doesn't make her "more legitimate." (National Review)
'On the Road to Mosul': James Verini got an inside look at the fight to take back the ISIS-controlled city of Mosul in northern Iraq. Here's a sneak peek: "In a village square, a group of boys tore down an ISIS billboard. Soldiers shot off celebratory rounds." (The New York Times Magazine)
Coming Together: As many in the United States continue to grapple with the unexpected outcome of the presidential election, leaders of both liberal and conservative churches work to make their services a time for "healing and reconciliation." (Harry Bruinius, The Christian Science Monitor)
Liberals Are People, Too: The common narrative surrounding the election of Donald Trump is that people in "flyover country" are finally being heard. But what about the voices of Democrats who have won the popular vote in six of the past seven elections but only won two presidencies? (Jill Lawrence, USA Today)
---
Visualized
The Art of the Transition: Nearly 4,000 members of President Obama's administration will leave their jobs when President-elect Donald Trump takes over. Check out these graphics for a breakdown of presidential appointments. (Bonnie Berkowitz and Kevin Uhrmacher, The Washington Post)
---
Question of the Week
In the coming weeks, President-elect Donald Trump will hire a White House staff, select the members of his cabinet, and make thousands of political appointments, among a number of other things.
What one book should Trump read to prepare him for the task ahead?
Send your answers to hello@theatlantic.com, and our favorites will be featured in Friday's Politics & Policy Daily.
-Written by Elaine Godfrey (@elainejgodfrey) and Candice Norwood (@cjnorwoodwrites)