The Atlantic Politics & Policy Daily: Clinton Concedes: 'This Is Painful and Will Be for a Long Time'
The Democratic nominee delivered remarks in New York after losing the presidential race.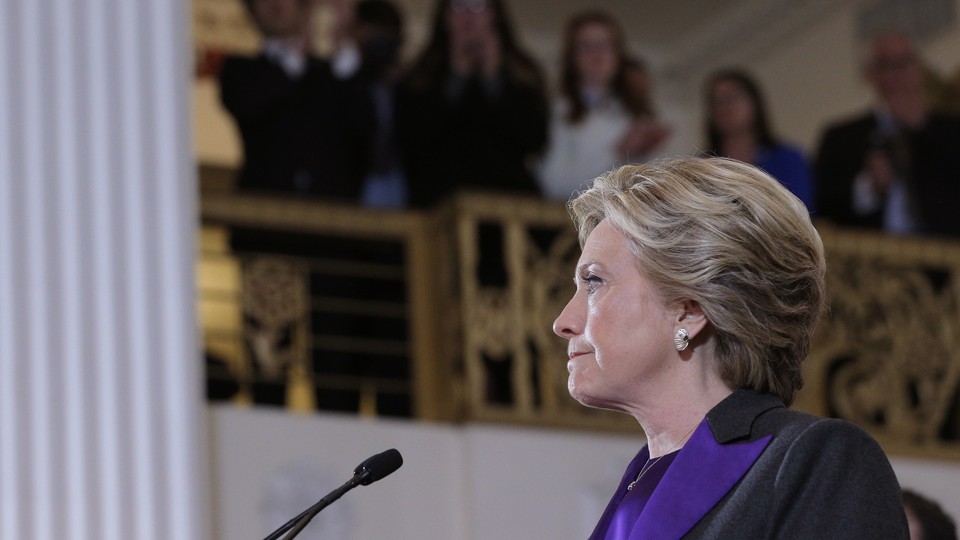 Today in 5 Lines
Donald Trump is the president-elect. Hillary Clinton delivered her concession speech in New York, calling on Americans to keep "an open mind" about Trump and give him "a chance to lead." President Obama echoed Clinton's call for unity in public remarks from the White House, reminding the nation that they are "Americans first." House Speaker Paul Ryan called Trump's win "an enormous political feat" in an address from his hometown of Janesville, Wisconsin. And U.S. stocks are back up after plummeting Tuesday evening when a Trump victory became possible.
---
Today on The Atlantic
'The Age of Trump': Many questioned Donald Trump's probability of winning the presidential race, but despite his controversial campaign, he exceeded expectations. What happens next, however, is unknown. (Molly Ball)

The New Normal: Trump's controversial statements about women will not soon be forgotten. But his political success runs the risk of normalizing this disturbing behavior toward women. (Clare Foran)

An Uncertain Future: Donald Trump built his campaign on ideologies that contradict the principle of American pluralism. Now, it is at risk of disappearing, but "it is a flame worth keeping alive." (Adam Serwer)
Follow stories throughout the day with our Politics & Policy portal.
---
Snapshot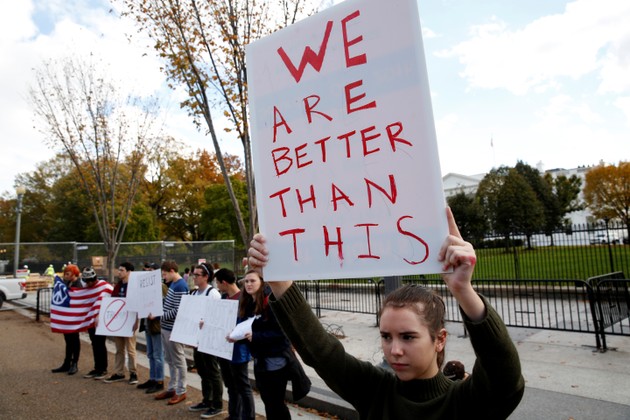 ---
What We're Reading
ICYMI: While Donald Trump took away Hillary Clinton's chance for a historic presidential victory, six women did make history on Tuesday by winning their state and congressional races. (Ryan Broderick, BuzzFeed)
The Day After: Despite Hillary Clinton's preparation and historic candidacy, she was an "incredibly polarizing figure" who failed to spark the enthusiasm and inspiration President Obama did—particularly among female voters. (Maeve Reston, CNN)
What Happens to Paul Ryan?: The House speaker distanced himself from Donald Trump during the 2016 presidential election. After a contentious year, will Trump and his anti-establishment allies let bygones be bygones? (Rachael Bade and Jake Sherman, Politico)
Victory for White Tribalism: Slate's Jamelle Bouie writes that Donald Trump didn't win with a populist or anti-elite message; rather, he ran "as a nationalist fighter for white America"—part of a larger movement of backlash against the country's progress.
Going Green: Tuesday night was the biggest night for marijuana reform since 2012, with three states passing recreational marijuana initiatives. But will the incoming administration reverse state-level legalization efforts? (Christopher Ingraham, The Washington Post)
---
Visualized
Extra, Extra: Check out how major media outlets handled the announcement of Donald Trump's victory. "Historic" and "unthinkable" were among the two most-used words. (Christopher Cannon and Cedric Sam, Bloomberg)
---
Question of the Week
This has been a highly unusual, contentious, and seemingly never-ending election year. But soon, it'll all be over. If you had to give this election a movie title or TV series title, what would it be?
Send your answers to hello@theatlantic.com, and our favorites will be featured in Friday's Politics & Policy Daily.
-Written by Elaine Godfrey (@elainejgodfrey) and Candice Norwood (@cjnorwoodwrites)