The Atlantic Politics & Policy Daily: There Can Be Only One
On Tuesday, America votes for its 45th president.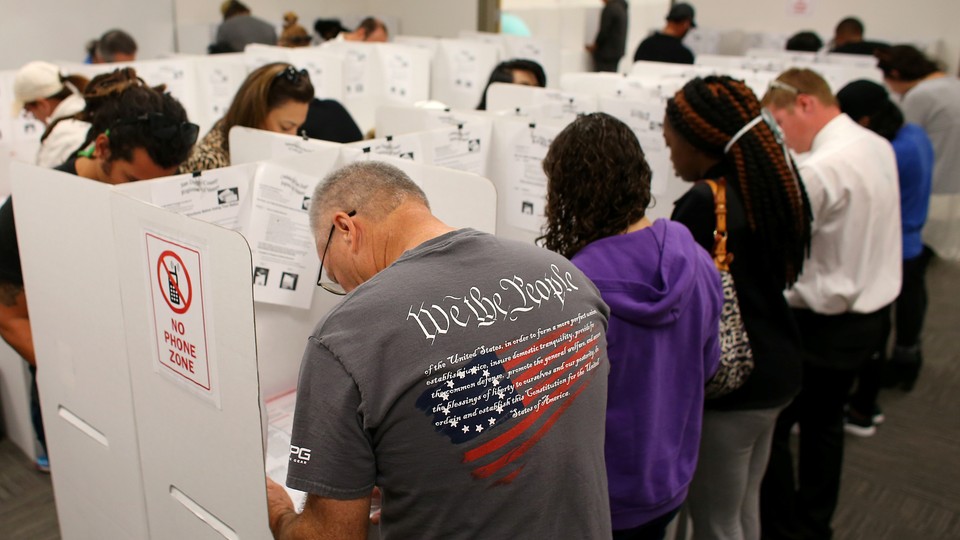 Today in 5 Lines
Hillary Clinton and Donald Trump are making their closing arguments ahead of Election Day: The Democratic nominee is pitching an optimistic view of America's future, while the Republican nominee is denouncing the political establishment. Janet Reno, the first female U.S. attorney general, died at age 78. President Obama warned Americans not to be "bamboozled" by Trump in a speech at the University of Michigan. The Justice Department said it would send more than 500 people to monitor polling locations across the country. Jury selection was postponed in the trial of Dylann Roof, the man accused of fatally shooting nine people at Emanuel African Methodist Episcopal Church in Charleston in 2015.
---
Today on The Atlantic
The Clinton Disciples: A number of women gathered last week to encourage voter turnout for Hillary Clinton. Many of them see the candidate as more than the potential first female president; they also see someone who "looks, thinks, lives, and talks kind of like them." (Nora Kelly)

The Damage Is Done: Trump's campaign has "trafficked in anti-Semitic rhetoric, symbols, and organizations unlike any other seen in recent years." In doing so, he's hurt the GOP's relationship with Jewish voters—and the damage may last for years to come. (Julian E. Zelizer)

Making Waves: Demographic and geographic factors will play a big role in the outcome of the 2016 election. Here are the four groups that will determine the results. (Ronald Brownstein)
Follow stories throughout the day with our Politics & Policy portal.
---
Snapshot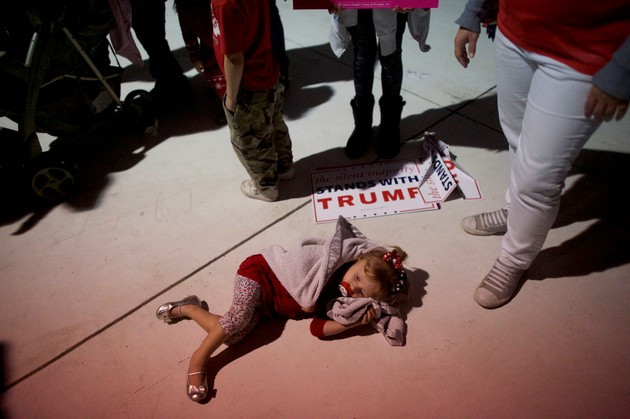 ---
What We're Reading
'They Always Wanted Trump': Hillary Clinton's team couldn't believe their luck when Donald Trump emerged as the Republican front-runner—but they found themselves woefully unprepared to campaign against him. (Gabriel Debenedetti, Politico)
The Gaslighting of America: The Washington Post's Ben Terris recalls witnessing a Donald Trump staffer grab a female reporter last spring—an incident that would serve to highlight Trump's early campaign strategy of gaslighting his critics.
'Fight Over Finance': Financial experts have historically moved from Wall Street to leadership roles in Washington, D.C., but some liberals are pushing back against the trend, which they argue leads to government decision-making that favors corporations. (Alec MacGillis, The New Yorker)
650,000 Emails, Eight Days: On Sunday, the FBI announced it would not charge Hillary Clinton over newly discovered emails related to the former secretary of state. Trump has questioned the bureau's thoroughness in reviewing them all in eight days. But it turns out, vetting emails in that time is possible. (Andy Greenberg, Wired)
Changing Times: The 2016 election may serve as a turning point for the United States, as demographics continue to shift and white voters make up less of the electorate. Success will come to whichever party can adapt more quickly. (Domenico Montanaro, NPR)
---
Visualized
Bueller? Bueller?: Working-class white Americans could be the key to a Trump win on Tuesday—but will they show up? These graphs break down America's voting-age population and the largest voter groups by county. (Ford Fessenden, The New York Times)
---
Question of the Week
This has been a highly unusual, contentious, and seemingly never-ending election year. But soon, it'll all be over. If you had to give this election a movie title or TV series title, what would it be?
Send your answers to hello@theatlantic.com, and our favorites will be featured in Friday's Politics & Policy Daily.
-Written by Elaine Godfrey (@elainejgodfrey) and Candice Norwood (@cjnorwoodwrites)