The Atlantic Politics & Policy Daily: Election Reaches Its Crescendo, Obama Warns Against Innuendo
The president said "we don't operate on innuendo" in his first public remarks about the FBI's decision to review additional Clinton-related emails.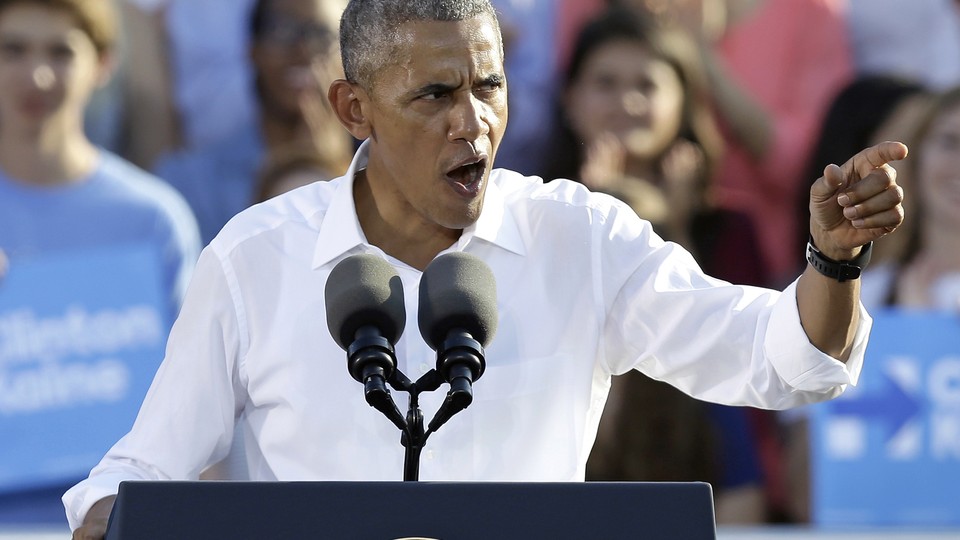 Today in 5 Lines
President Obama defended Hillary Clinton in his first public comments about the FBI's decision to examine additional emails related to the former secretary of state, saying, "We don't operate on innuendo." Authorities arrested 46-year-old Scott Michael Greene, the suspect in the fatal shootings of two police officers in Des Moines, Iowa, early Wednesday morning. Gawker Media reached a $31 million settlement with Hulk Hogan in an invasion of privacy lawsuit, ending a years-long dispute. The Federal Reserve kept interest rates the same, but warned that rates could increase in December. French authorities bused 1,616 child migrants out of the Calais migrant camp known as "the Jungle" in the country's final push to empty the camp.
---
Today on The Atlantic
The FBI vs. American Democracy: Adam Serwer explains how "cutthroat bureaucratic infighting" has become a Washington tradition, starting in 1972 with the Watergate Scandal and continuing with FBI Director James Comey's handling of Hillary Clinton's emails.

'A Black Church Burned': Authorities are investigating the burning of Hopewell Missionary Baptist Church in Greenville, Mississippi. Questions remain about who set the fire, if anyone did, and whether it was intentional, but as Emma Green writes, one thing is clear: "At some point, someone decided to attach the name of Trump to a burned black church."

Keep Holding On: Hillary Clinton has fought hard to win over three key swing states, but has invested little time or resources to those that will give her an Electoral College majority. Now, the latter are vulnerable to Trump, who has made a last-minute push for support in the states. (Ronald Brownstein)
Follow stories throughout the day with our Politics & Policy portal.
---
Snapshot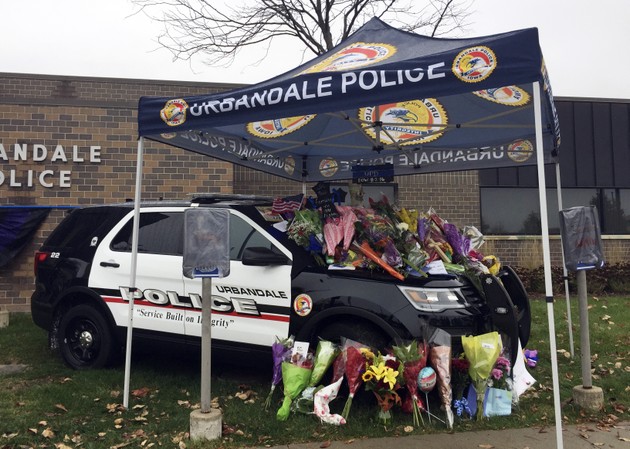 ---
What We're Reading
Once Upon a Time: A decade ago, Hillary Clinton and Donald Trump nurtured a transactional friendship, but now the two are fighting tooth and nail in the most contentious election in recent memory. Here's how their rocky relationship mirrors the story of New York. (Maureen Dowd, The New York Times Magazine)
Undecided in Colorado: Voters in the Centennial State are experiencing acute anxiety about this high-stakes presidential election: They don't like either one of the candidates, but they want to vote—and make it count. (John Frank, The Denver Post)
Moral Majority to Minority: Southern Baptists were once a strong political voice in the United States, but their influence has steadily declined. Despite the shift, Russell Moore, the president of the Ethics and Religious Liberty Commission of the Southern Baptist Convention, is encouraging members to be the country's moral compass. (Kelefa Sanneh, The New Yorker)
Make Duke Go Away: Olivia Nuzzi captures a scene from an annual German festival in Louisiana that was attended by David Duke. The former Ku Klux Klan leader proved to be "a horrifying distraction" for attendees who just wanted to have fun and enjoy a few beers. (Esquire)
Will Latinos Show Up?: Hillary Clinton's team is confident that Latino voters will turn out in record numbers to vote for her on November 8, but what happens if they don't? (Adrian Carrasquillo, BuzzFeed)
---
Visualized
Who's More Popular?: Donald Trump and Hillary Clinton are said to be two of the most unlikable presidential candidates in U.S. history. Here's how they compare in popularity to other countries, politicians, and government agencies. (Aaron Williams and Tim Meko, The Washington Post)
---
Question of the Week
FBI Director James Comey told Congress that the agency will examine additional emails that "appear to be pertinent" to its investigation of Hillary Clinton's private-email use. What's the one thing you hope the FBI will never find in your email?
Send your answers to hello@theatlantic.com, and our favorites will be featured in Friday's Politics & Policy Daily.
-Written by Elaine Godfrey (@elainejgodfrey) and Candice Norwood (@cjnorwoodwrites)