The Atlantic Politics & Policy Daily: Who Gets to Be in the Room Where It Happens?
President-elect Donald Trump continues his search for Cabinet members.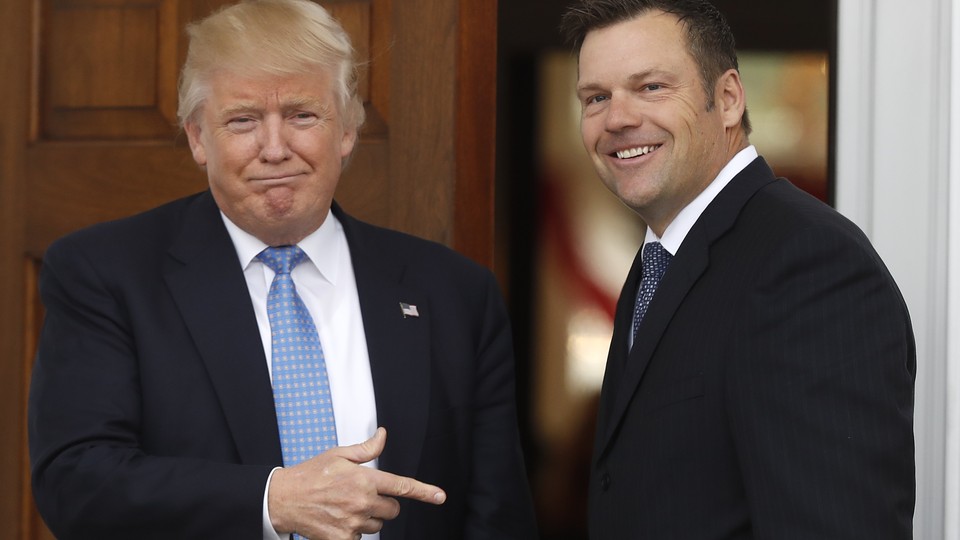 Today in 5 Lines
President-elect Donald Trump held an off-the-record meeting with several prominent TV network executives and anchors at Trump Tower and continued to meet with potential Cabinet candidates, including former Texas Governor Rick Perry and former House Speaker Newt Gingrich. An AP photographer captured a photo of Kansas Secretary of State Kris Kobach arriving at a meeting with Trump on Sunday and holding a document that outlines a plan for questioning "high-risk" immigrants about Sharia law and the U.S. Constitution. Authorities are searching for a suspect wanted in the fatal shooting of San Antonio Police Detective Benjamin Marconi, one of three officers shot in ambush attacks across the country on Sunday. And Pope Francis released a letter granting priests the power to forgive the "grave sin" of abortion.
---
Today on The Atlantic
A Self-Fulfilling Prophecy: The founders of the United States feared that "unfettered majority rule" could lead to the selection of a demagogue as president. They created the Electoral College as a way "in part to prevent the election of someone like Donald Trump." (Peter Beinart)

'America's Pope Francis': Blase Cupich plays one of the most influential roles in the Catholic Church, which includes restructuring the archdiocese of Chicago. Now, as a newly appointed Cardinal, how will he balance his responsibilities in Rome with his personal mission to help the Windy City? (Emma Green)

Breaking the Norm: Outgoing U.S. presidents have typically avoided criticizing their successors, but in a press conference Sunday, President Obama said he would consider breaking this tradition when it comes to "core questions about our values and our ideals." (David A. Graham)
Follow stories throughout the day with our Politics & Policy portal.
---
Snapshot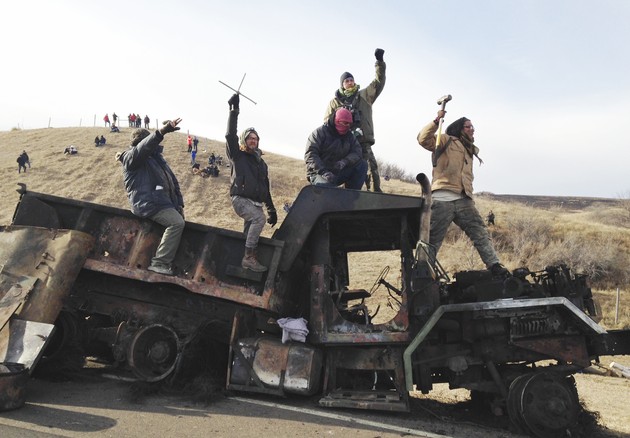 ---
What We're Reading
'Normalizer in Chief': As a "GOP loyalist" and Donald Trump's new chief of staff, Republican National Committee chairman Reince Priebus will need to find a way to help the president-elect and his team lead an establishment they have threatened to overturn. (Mark Leibovich, The New York Times Magazine)
A Summer of Bloodshed: For this oral history, Wired spoke with 31 people to retell the events of three days this past summer that shook the country following the shooting deaths of two black men and five Dallas police officers. (Bryn Stole, Brandt Williams, Mitch Mitchell and Lexi Pandell)
Promises, Promises: During his campaign, President-elect Donald Trump said the historic Roe v. Wade decision would be overturned "automatically" once he appointed a pro-life justice to the Supreme Court. But reversing that landmark decision is not so easy. Here's why. (Greg Stohr, Bloomberg)
A Gathering of White Nationalists: On Saturday, members of a movement that purports to have a "psychic connection" with the president-elect held a conference in Washington, D.C., and they're excited about the change a Trump presidency could bring. (Jessica Taylor, NPR)
What's Next for Trump Democrats?: In states like Michigan, Wisconsin, and Iowa, Donald Trump earned the support of white voters who normally vote for Democrats. Can the Republican party hang on to those voters? (Henry Olsen, National Review)
---
Visualized
'Hail Trump!': Audience members cheered Trump's victory and offered Nazi salutes at Saturday's "alt-right conference" at the Ronald Reagan Building in Washington, D.C. (Dan Lombroso and Yoni Appelbaum, The Atlantic)
From Start to Finish: These 232 photos, 131 quotes, and 43 numbers tell the story of one of America's most contentious presidential elections. (Politico)
---
Question of the Week
2016 was a long year, no matter what end of the political spectrum you're on. But what's one thing that happened in the world of politics that you're thankful for this year?
Send your answers to hello@theatlantic.com, and our favorites will be featured in Wednesday's Politics & Policy Daily.
-Written by Elaine Godfrey (@elainejgodfrey) and Candice Norwood (@cjnorwoodwrites)