The Atlantic Politics & Policy Daily: Wake Me Up When November Ends
America heads to the polls.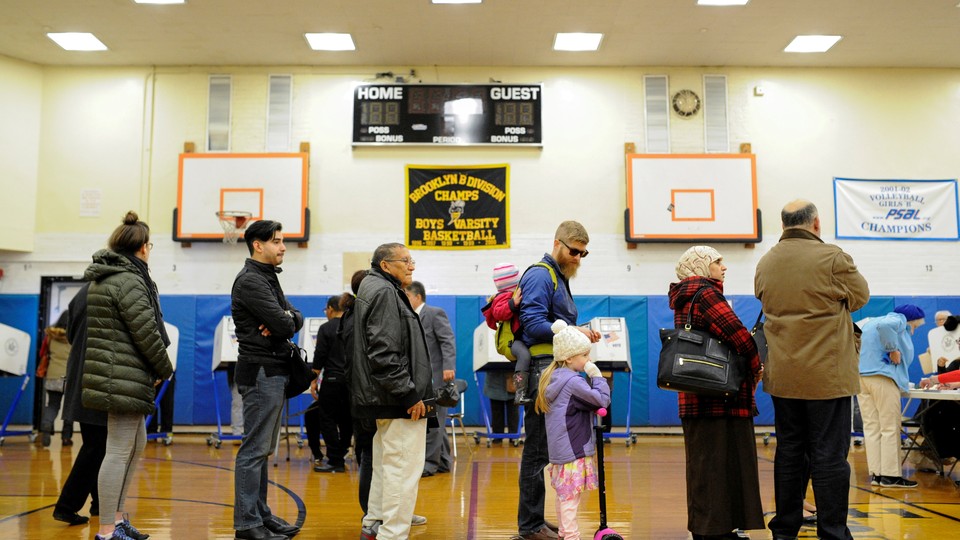 Races to Watch
Marco Rubio is fighting for his Senate seat against Democratic rival Representative Patrick Murphy in Florida. Incumbent Senator Mark Kirk of Illinois is facing a strong challenge from Democratic Representative Tammy Duckworth. In North Carolina, Republican Senator Richard Burr is in a tight race against Democrat Deborah Ross. Democrat Evan Bayh is attempting to reclaim his old Senate seat from Republican Representative Todd Young in Indiana. In Missouri, Democrat Jason Kander is giving Republican Senator Roy Blunt a run for his money. Catherine Cortez Masto, the former Nevada attorney general, and Republican Representative Joe Heck are vying to replace Senate Minority Leader Harry Reid, who's held the seat for 30 years. New Hampshire Governor Maggie Hassan is challenging Republican Senator Kelly Ayotte for her Senate seat in one of the most closely watched races of the year. Pennsylvania Senator Patrick Toomey is trying to fend off Democrat Katie McGinty, a former Bill Clinton adviser. And in Wisconsin, Democrat Russ Feingold is challenging Republican Senator Ron Johnson to retake his old Senate seat.
---
The Atlantic's Election Day Coverage
---
In Case You Missed It
Molly Ball on Hillary Clinton's march to victory. Russell Berman on the states that could approve the recreational use of marijuana. David A. Graham with a devil's glossary of the 2016 campaign. Paige Brettingen on why two states are at odds over the future of the death penalty. Elaine Godfrey on Donald Trump's lack of popularity among Philadelphia voters.
Follow stories throughout the day with our Politics & Policy portal.
---
Snapshot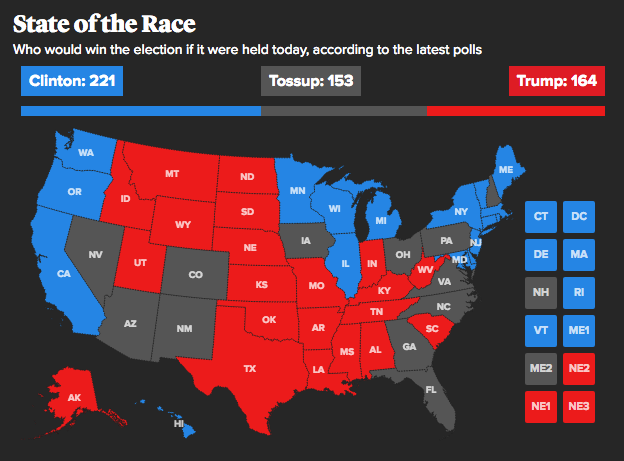 ---
What We're Reading
Bigger Than Them: Behind Trump and Clinton, Shane Goldmacher writes, is "a mountain of men and women who are, in many ways, the real warriors of 2016." These are people who put their personal lives on hold to contribute to what they feel is a meaningful cause. (Politico)
'Lost Cause': Post-election analysis frequently focuses on the winners of a race, but these maps by ProPublica underscore the significance of when voters favor the losers of presidential elections. (Lena Groeger)  
The Road Ahead: Florida Senator Marco Rubio is poised to win his reelection race on Tuesday. In an interview with National Review, he reflects on his 2016 presidential campaign and discusses what comes next. (Tim Alberta)
Shaping America: Hillary Clinton and House Speaker Paul Ryan don't have a particularly close relationship, but if she wins the presidency, "their relationship could become Washington's most important in determining whether the federal government functions over the next four years." (Robert Costa and Philip Rucker, The Washington Post)
When Is It Over?: Check out these maps to see when polling locations close around the country. (Anjali Singhvi and Jugal K. Patel, The New York Times)
---
Blooper Reel
No presidential race is complete without a few flubs by the candidates—and this election was no exception. There was the time Ted Cruz called a basketball hoop a "basketball ring." Marco Rubio once went full robot during a campaign rally. And remember when Ben Carson asked a bunch of fifth-graders to point out the worst student in class? To relive those moments and others, visit our gaffe track. (David A. Graham, The Atlantic)
---
Question of the Week
This has been a highly unusual, contentious, and seemingly never-ending election year. But soon, it'll all be over. If you had to give this election a movie title or TV series title, what would it be?
Send your answers to hello@theatlantic.com, and our favorites will be featured in Friday's Politics & Policy Daily.
-Written by Elaine Godfrey (@elainejgodfrey) and Candice Norwood (@cjnorwoodwrites)