The Atlantic Politics & Policy Daily: Spotted: Melania Trump on the Trail
The Republican nominee's wife gave a speech in Berwyn, Pennsylvania in a rare campaign appearance.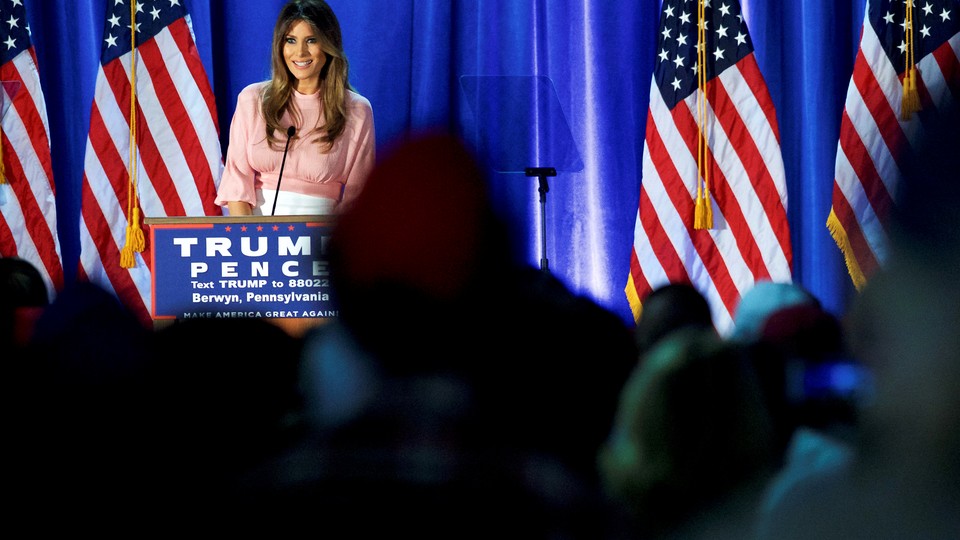 Today in 5 Lines
Melania Trump said that as first lady she would be an advocate for women and children, and teach American youth "kindness" and "respect" in a rare appearance on the campaign trail. Hillary Clinton's campaign announced that President Obama and First Lady Michelle Obama will join Clinton and her family at a rally in Philadelphia on Election Eve. The U.S. Department of Education fined Penn State University $2.4 million, saying the school failed to comply with a law that requires the reporting of campus crimes. Officials said two American soldiers, along with three Afghan troops and 26 civilians, were killed during a raid against the Taliban in Afghanistan. Opening arguments began in the trial of Michael Slager, the white police officer who fatally shot Walter Scott in North Charleston, South Carolina in 2015.
---
Today on The Atlantic
Get Your Kicks: Route 66, which stretches 2,440 miles, is a symbol of the American Dream and often evokes nostalgia among people in the United States. But for African Americans traveling in the 1900s, the road "bore witness to some of the nation's worst acts of racial terrorism." (Candacy Taylor)

A Political Battlefield: The years-long fight over voting rights in North Carolina—and voter suppression efforts by state Republicans—could be affecting black early-voting turnout. Recent reports show a decrease in black voter turnout compared to the 2012 election. (Vann R. Newkirk II)

History in the Making: Hillary Clinton may become the first female president of the United States. And it if happens, it'll be thanks to the dozens of women who ran for the position before her. (Adrienne LaFrance)
Follow stories throughout the day with our Politics & Policy portal.
---
Snapshot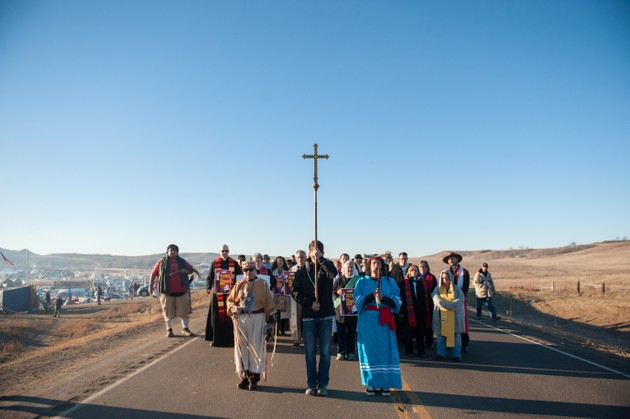 ---
What We're Reading
Changing Places: The 2016 election "has upended the politics of U.S. foreign policy more dramatically than any other in recent memory." Trump continues to deviate from the traditional Republican approach, while Clinton's more hawkish stance appears to align with the GOP's interests. (Molly O'Toole and Dan De Luce, Foreign Policy)
Rejecting Global Warming: For years, Republicans who deny climate change have dismissed growing scientific evidence that contradicts their beliefs. But as record-breaking weather becomes more frequent, Andy Kroll writes, "now, their church is crumbling." (Rolling Stone)
A Diamond in the Rough: National Review's Tim Alberta explains how Donald Trump's running mate, Mike Pence, went from "an endangered small-state governor to the most popular Republican in the country."
Testing Humanity: In the Arizona desert, where many undocumented immigrants die of dehydration, a Tucson-based organization runs water supply stations for those in need. But some say this approach encourages migrants to break the law. (Warren Richey, The Christian Science Monitor)
The Curse Is Broken: Washington Post's David Nakamura tells the story of how his father, an Ernie Banks baseball card, and an encounter with the Obamas may have contributed to the Chicago Cubs' World Series win.
---
Visualized
The Dirty Dozen: Who will the next president have by their side when he or she transitions into the White House? Keep your eye on these Clinton and Trump advisers. (Ben Schreckinger, Politico)
---
Question of the Week
FBI Director James Comey told Congress that the agency will examine additional emails that "appear to be pertinent" to its investigation of Hillary Clinton's private-email use. What's the one thing you hope the FBI will never find in your email?
Send your answers to hello@theatlantic.com, and our favorites will be featured in Friday's Politics & Policy Daily.
-Written by Elaine Godfrey (@elainejgodfrey) and Candice Norwood (@cjnorwoodwrites)